Burgundian Grand Cru Grandeur
A constellation of legends.
---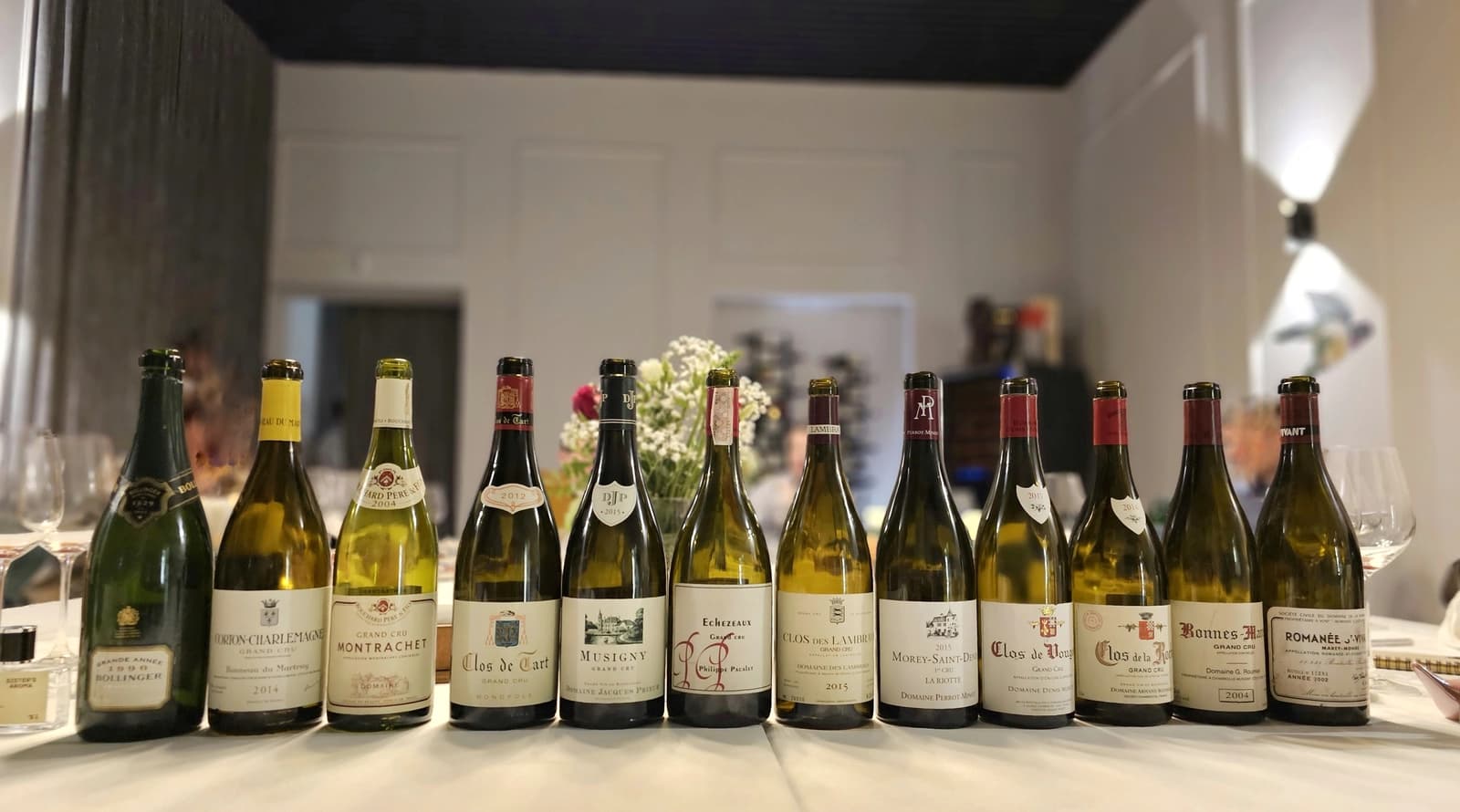 In this recap, we delve into a recent wine-tasting event featuring a curated selection of some of the finest wines from renowned vineyards and producers. The focus was on exploring the depth and diversity of flavours, the unique characteristics of each terroir, and the meticulous winemaking processes behind these esteemed labels. Our journey included constellation of Grand Crus from legendary producers. This write-up aims to share insights and observations from the tasting, offering a technical perspective on each wine and its appellation.
Scores
| | rms | sdev | favourite |
| --- | --- | --- | --- |
| Bollinger | 4.2159 | 0.0286 | 0.00 |
| Martray | 4.4609 | 0.0079 | 1.00 |
| Père | 4.2326 | 0.0221 | 0.00 |
| Clos de Tart | 4.2271 | 0.0176 | 0.00 |
| Prieur | 4.1915 | 0.0129 | 0.00 |
| Pacalet | 4.3209 | 0.0076 | 1.00 |
| Lambrays | 4.4956 | 0.0052 | 1.00 |
| Perrot-Minot | 4.4115 | 0.0032 | 0.00 |
| Mortet | 4.5947 | 0.0025 | 0.00 |
| Rousseau | 4.8343 | 0.0089 | 8.00 |
| Roumier | 4.5895 | 0.0054 | 3.00 |
| DRC | 4.3252 | 0.0262 | 0.00 |
How to read this table:
rms is root mean square or quadratic mean. The problem with arithmetic mean is that it is very sensitive to deviations and extreme values in data sets, meaning that even single 5 or 1 might 'drastically' affect the score.
sdev is standard deviation. The bigger this value the more controversial the wine is, meaning that people have different opinions on this one.
favourite is amount of people who marked this wine as favourite of the event.
Bollinger Grande Année 1990
Type

white sparkling, brut

Region

Champagne AOC, France

Producer

Wine

Vintage

1990

Disgorged

N/A

On lees

N/A

Grapes

Pinot Noir, Chardonnay

Alcohol

12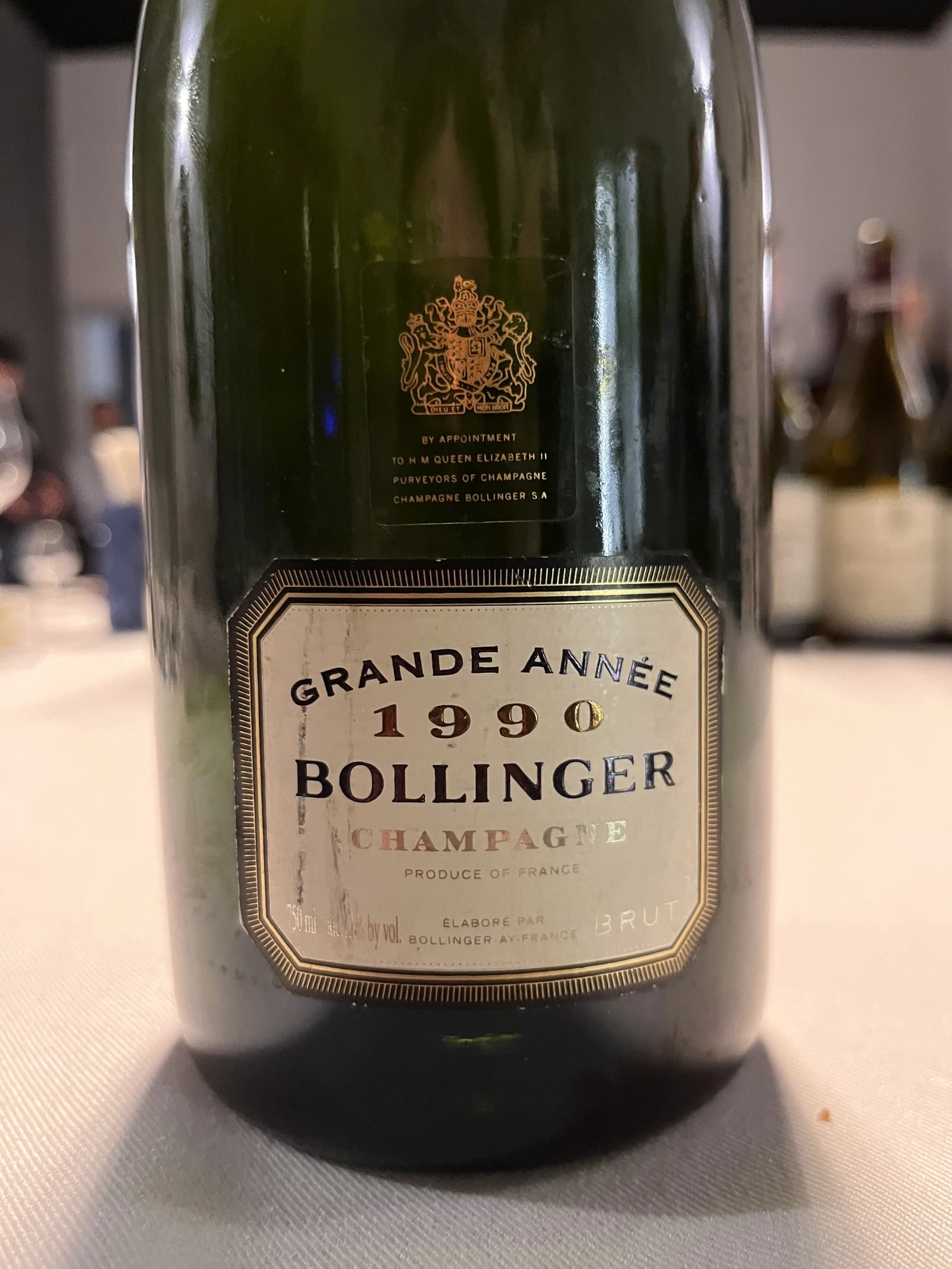 Bollinger, a renowned French Champagne house, has been a symbol of luxury sparkling wines since its establishment in 1829 in Aÿ, France. Founded by Hennequin de Villermont, Paul Renaudin, and Jacques Bollinger, it remains one of the few independent Champagne houses, continuously managed by the Bollinger family since 1889. Bollinger's uniqueness lies in its deep roots in the Champagne region, dating back to 1585 with the Hennequin family. This storied history, coupled with their commitment to maintaining family management and independence, sets them apart in an industry increasingly dominated by large conglomerates.
Over the years, Bollinger has built its vineyards at the heart of the finest crus in Champagne. Champagne Bollinger's 179 hectares of vines are made up of 85% Grand and Premier crus and are farmed by our teams of growers across 7 separate vineyards: Aÿ, Avenay, Tauxières, Louvois and Verzenay for pinot noir, around the Montagne de Reims, Cuis for chardonnay on the Côte des Blancs and Champvoisy for meunier in the Vallée de la Marne.
Another of Bollinger's distinctive features are two plots, the Clos Saint-Jacques and Chaudes Terres, which have never succumbed to phylloxera. These ungrafted vines are entirely tended by hand and reproduced using a form of layering called provignage, thereby providing the means to preserve this extraordinary heritage from which the very exclusive Vieilles Vignes Françaises cuvée is produced.
La Grande Année, crafted exclusively from Grand and Premier cru grapes, epitomizes Champagne Bollinger's commitment to traditional expertise. Fermented in oak barrels, sealed with natural cork, and manually riddled, it spends around a decade in Bollinger's chalky cellars. Bollinger maintains the ancient practice of oak vinification, enhancing aroma finesse and allowing prolonged lees ageing. Each bottle of La Grande Année, embodying a rare Champagne tradition, undergoes manual riddling and disgorgement.
This wine secured the 🏅 11th place in our wine tasting lineup.
Domaine Bonneau du Martray Corton-Charlemagne Grand Cru 2014
Type

white still, dry

Region

Corton-Charlemagne AOC, France

Vintage

2014

Grapes

Chardonnay

Alcohol

13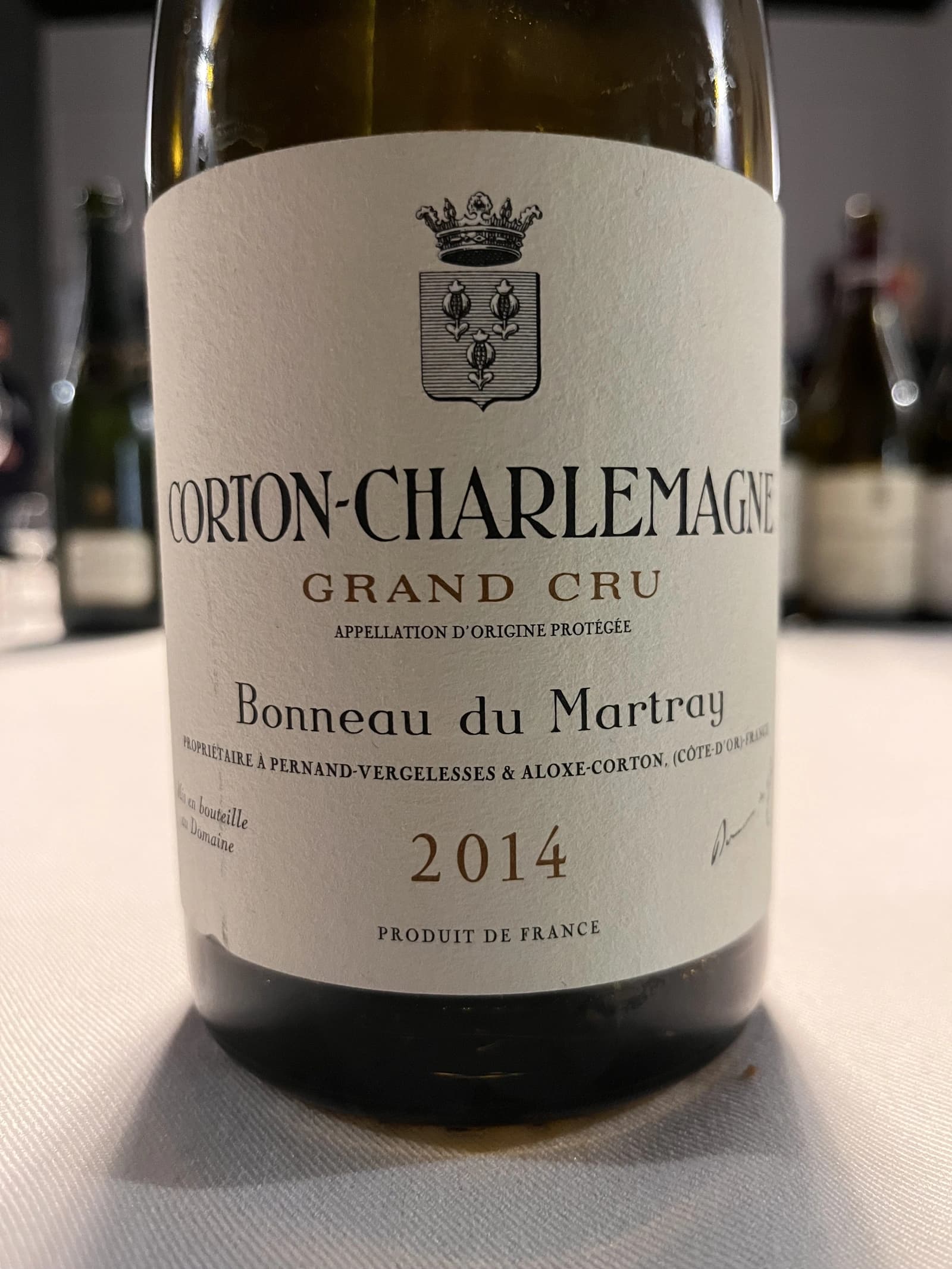 Corton-Charlemagne Grand Cru, unique in its westward orientation, offers an exceptional microclimate. Located approximately 300 meters above sea level, the vines are spared from the morning fog, with the Saône plain to the east providing early light, and westerly draughts from the valleys ensuring continuous ventilation. This prime positioning, at the intersection of light and wind, allows the grapes to mature optimally - more a product of light than heat - leading to wines of remarkable character and ageing potential.
Domaine Bonneau du Martray, a revered wine grower and producer in Pernand-Vergelesses, Côte de Beaune, Burgundy, is distinguished as the only estate in Burgundy solely producing wine from Grand Cru vineyards. Managed by Jean-Charles de la Moriniere since 1994, the estate has shifted towards biodynamic viticultural practices under his leadership, focusing on enhancing wine intensity and quality through reduced yields and abandoning herbicides. In 2017, Stan Kroenke acquired the Domaine, which is renowned for producing only two wines from its extensive vineyard holdings, including a significant portion in Corton-Charlemagne.
Domaine Bonneau du Martray's vineyard, extending from the top to the bottom of the hill in Corton-Charlemagne, showcases a diverse soil composition of clays, silts, marls, and different types of limestone. This variety imparts distinct characteristics to the wine: crystalline appearance with floral and citrus notes from the top parcels, structure and grain from the central vines, and mineral-rich power from the lower parcels. The winemaking process begins with light crushing of the berries before pressing for gentle aromatic extraction. Fermentation occurs in both new and aged French oak barrels, followed by ageing on fine lees through a second winter. After a second racking to remove the remaining lees, the wine is transferred to tanks for two more months to ensure homogenization before bottling during a waning moon phase.
This wine secured the 🏅 5th place in our wine tasting lineup.
P.S. Make sure to land on the producer's site as its beautifully crafted.
Bouchard Père et Fils Montrachet Grand Cru 2004
Type

white still, dry

Region

Montrachet AOC, France

Vintage

2004

Grapes

Chardonnay

Alcohol

13.5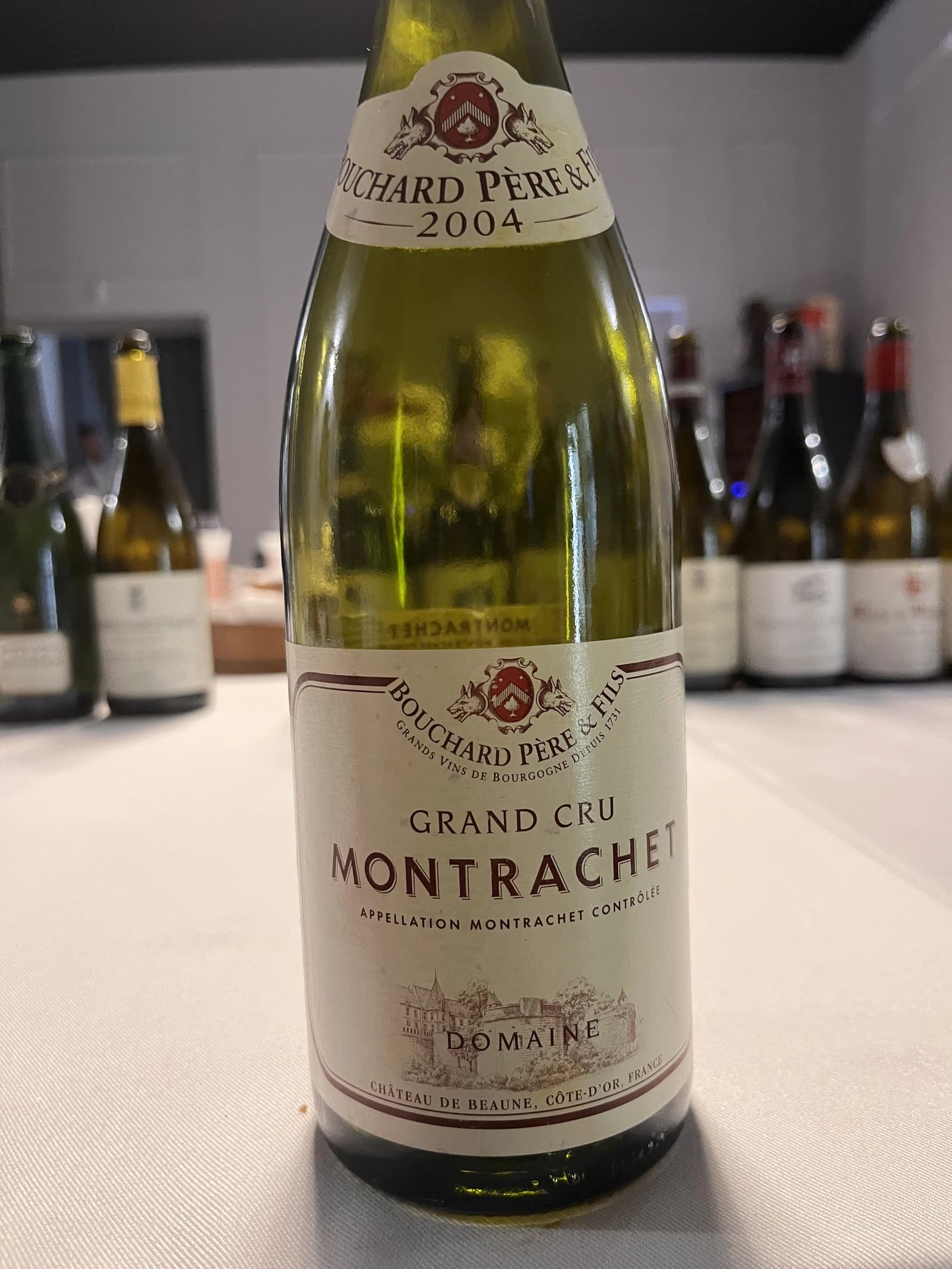 The Montrachet Grand Cru appellation, nestled in the heart of Burgundy's Côte de Beaune, is the epitome of world-class Chardonnay production. Encompassing just 7.99 hectares, this small appellation is divided between the communes of Puligny-Montrachet and Chassagne-Montrachet. What sets Montrachet apart in the Burgundian landscape is its unique terroir: a perfect south-eastern exposure, a gentle slope providing excellent drainage, and a complex soil composition of limestone and marl. These factors converge to create a microclimate ideal for producing Chardonnay of unparalleled concentration, complexity, and ageing potential. The appellation's fame and limited production make its wines among the most sought-after and revered in the world.
Domaine Bouchard Père & Fils, established in 1731, stands as one of Burgundy's oldest wine estates, embodying a deep history and unwavering dedication to showcasing the nuances of Burgundian terroir. What distinguishes this producer is its extensive vineyard holdings, including an impressive array of Premier and Grand Cru sites. Bouchard's approach combines respect for tradition with modern precision, ensuring each vineyard's character is vividly expressed in the bottle. Their commitment to terroir-driven winemaking, meticulous vineyard management, and the depth and breadth of their cellar collections are reasons connoisseurs and experts are drawn to their wines. Bouchard Père & Fils is not just about heritage; it's about a continuous pursuit of excellence and expression of Burgundy's diverse terroir.
The Bouchard Père et Fils Montrachet Grand Cru 2004 is a product of a meticulously cultivated 0.89-hectare plot, acquired by the winery in 1838. Emphasizing traditional and careful handling, the grapes are manually harvested in small 13 kg cases, followed by manual sorting to ensure the highest quality. The pressing process is conducted in two phases: initially, the first juice is extracted, followed by a cycle of pressing every two hours. This intricate process is complemented by a maturation period of 12-13 months in French oak barrels, with the proportion of new oak being up to 15%, a figure that varies with each vintage. This approach reflects the winery's commitment to balancing tradition and precision in crafting their esteemed Montrachet Grand Cru.
This wine secured the 🏅 9th place in our wine tasting lineup.
Clos de Tart Clos de Tart Grand Cru Monopole 2012
Type

red still, dry

Region

Clos de Tart AOC, France

Producer

Vintage

2012

Grapes

Pinot Noir

Alcohol

14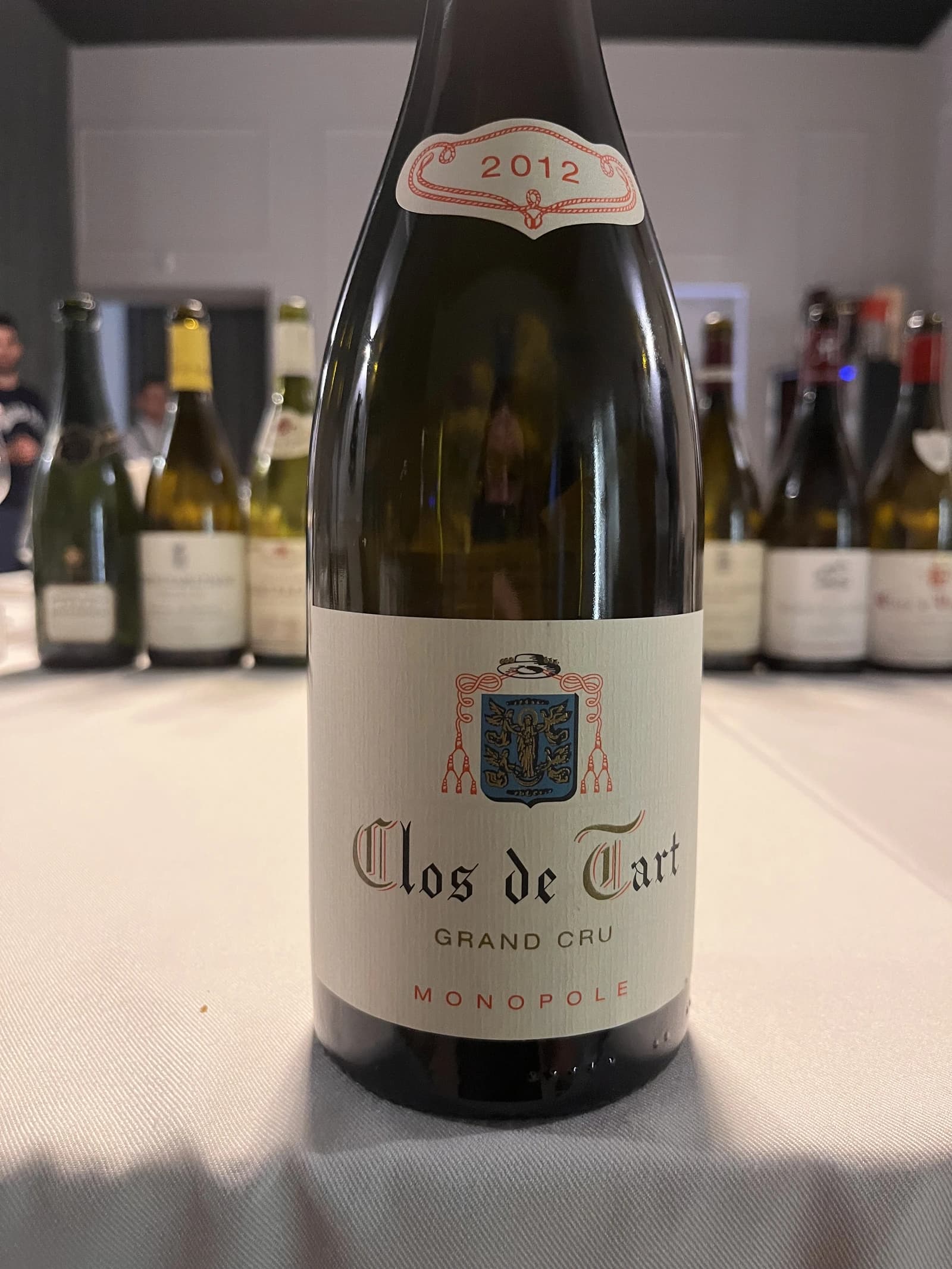 Clos de Tart, a prominent wine estate in the Côte de Nuits, Morey-Saint-Denis, is renowned for its rich history and viticultural heritage. The estate is distinguished by its walled vineyard, or 'Clos', a Burgundian tradition, which encompasses a 7.53-hectare area enclosed by a 1.2-km-long dry-stone wall. This wall, restored in 2006, symbolizes the estate's identity and continuity. The vineyard, boasting an average vine age of sixty years, some even centennial, stands as a testament to the estate's commitment to preserving the essence and soul of the terroir.
Frédéric Engerer, CEO of Artémis Domaines, and Alessandro Noli, Estate Director, have been pivotal in transitioning the vineyard to biodynamic viticulture, reflecting a deep respect for the land and a commitment to organic farming methods.
Clos de Tart is located mid-slope, between 269m and 302m in altitude, with a south-easterly aspect. The vineyard's unique North/South vine planting, contrary to the prevalent East/West orientation in Burgundy, is strategic for optimal sun exposure and erosion prevention. The clayey-limestone soil is geologically complex, comprising various limestone types and marl, creating multiple microclimates within the estate. These microclimates are each harvested separately, highlighting the diverse terroir of the estate.
Burgundy faced numerous climatic hardships in 2012, including frosts, difficult flowering, and hailstorms. However, the Clos de Tart vineyard emerged mostly unscathed, producing grapes with thick, botrytis-resistant skins, excellent acidity, and phenolic ripeness. The winemaking process for this vintage was characterized by a careful selection of grapes from different microclimates. The proportion of whole bunches varied by plot, influenced by the soil composition. On average, 55% of whole bunches were used for the Grand Cru. The fermentation was carried out in wooden vats with capacities tailored to each micro terroir, using 100% wild yeast for the alcoholic fermentation and allowing natural malolactic fermentation. The wine was aged in barrels for 17.5 months, with a two-stage ageing process that first focused on individual batches and then on the blended wine.
This wine secured the 🏅 10th place in our wine tasting lineup.
Domaine Jacques Prieur Musigny Grand Cru 2015
Type

red still, dry

Region

Musigny AOC, France

Producer

Vintage

2015

Grapes

Pinot Noir

Alcohol

13.5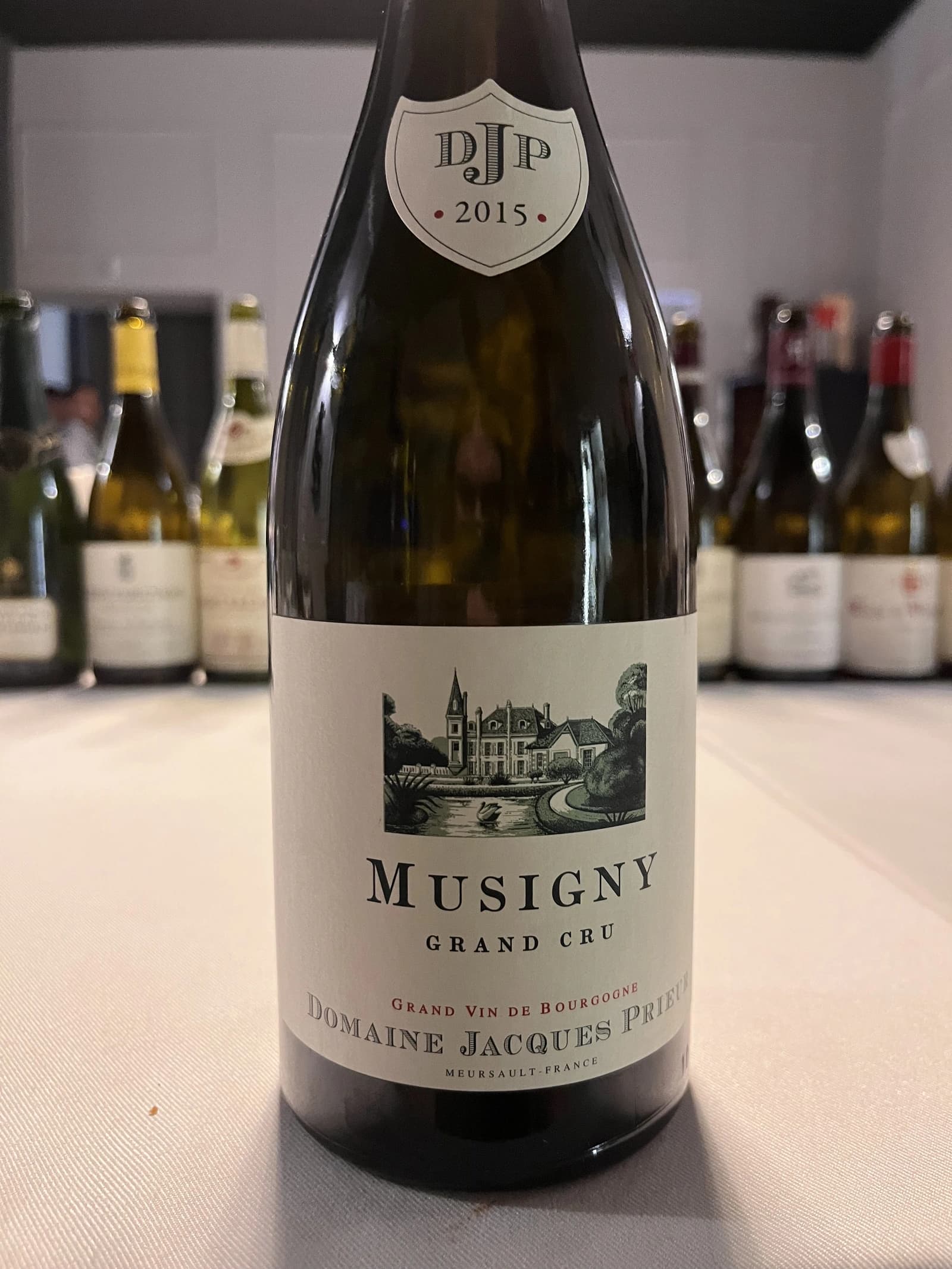 The story of Domaine Jacques Prieur dates back to 1868, with the marriage of Claude Duvergey and Marie Taboureau. Originating from families in viticulture, Claude founded Maison Duvergey-Taboureau and later transitioned into vineyard acquisition, demonstrating foresight during the phylloxera crisis. His significant acquisitions included Clos de Mazeray Monopole, Volnay Santenots, Clos Vougeot, and Chambolle-Musigny. The domaine expanded under his guidance, and in 1956, it was named after Jacques Prieur, born from the union of Hélène Taboureau and Henri Prieur. Jacques Prieur was a co-founder of the Chevaliers du Tastevin and instrumental in instituting the "Paulée de Meursault."
In 1988, the Labruyère family, among others, joined to maintain the estate's integrity. Today, the Labruyère family, alongside the Prieur heirs, continue to uphold the domaine's legacy.
The Musigny Grand Cru, located in the prestigious Chambolle-Musigny, is known for its ethereal and graceful wines. Chambolle-Musigny's vineyards, positioned high on the slope, benefit from cooler temperatures and more exposed limestone, leading to lighter, more elegant wines. The Musigny appellation, specifically, enjoys a South-East exposure and a confined micro-climate, characterized by a thin, stone-rich soil that contributes to the wine's distinct floral notes and persistent finish.
The 2015 vintage at Domaine Jacques Prieur was marked by exceptional sunlight, low rainfall, and high temperatures, accelerating the vegetative cycle. Harvesting began early in September, with the Pinot Noir grapes from Musigny showing great promise.
For the Musigny Grand Cru, the grapes were handpicked, meticulously sorted, and fully destemmed. The maceration lasted 20 days in temperature-controlled wood vats, with two daily punch-downs during active fermentation. The wine underwent 100% malolactic fermentation and was aged for 21 months in new oak barrels. This process resulted in refined red wines with a distinct character.
This wine secured the 12th place in our wine tasting lineup.
Philippe Pacalet Echezeaux Grand Cru 2013
Type

red still, dry

Region

Échezeaux AOC, France

Producer

Vintage

2013

Grapes

Pinot Noir

Alcohol

13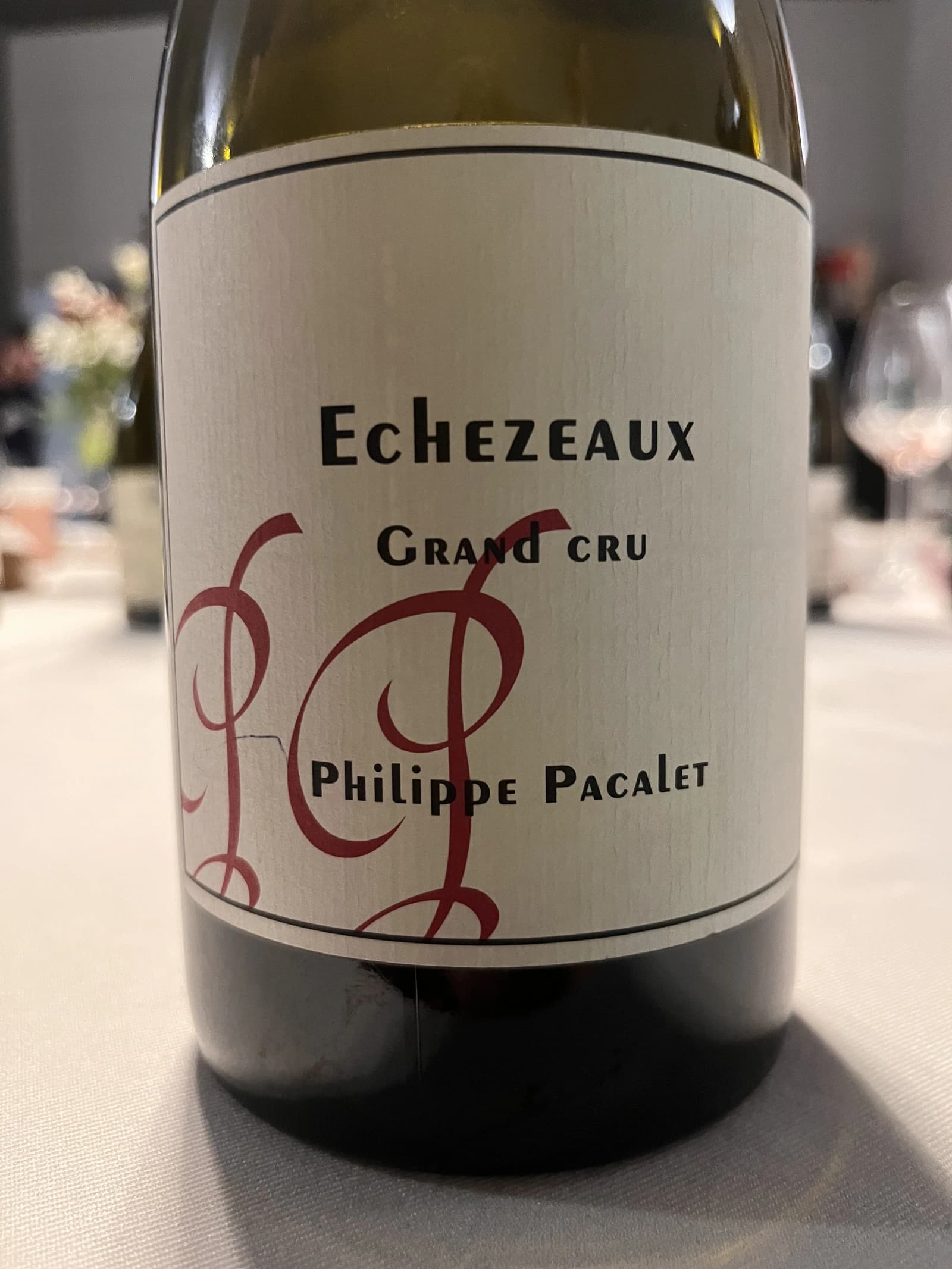 Philippe Pacalet, a distinguished figure in the natural wine movement, has made a profound impact on Burgundian winemaking. Despite his winemaking lineage dating back to 1780, Pacalet did not inherit land. Instead, he became a 'micro-négociant', renting vineyards in the Côte de Beaune and Côte de Nuits, crafting wines in a facility acquired from the De Montille family in Beaune. Influenced by his uncle, Marcel Lapierre, and the teachings of Jules Chauvet, Pacalet has been a passionate advocate for natural wine, managing Domaine Prieuré Roch and crafting wines in Château Rayas and Domaine Leroy.
Pacalet's philosophy is grounded in minimal intervention, focusing on expressing each terroir's unique characteristics. He eschews industrial yeasts and minimizes sulphur use, opting for whole bunch fermentation and believing that the stems' ripeness is integral to the grapes' readiness. His meticulous approach includes hand harvesting and fermenting with natural yeasts on the grape skin, wooden vat fermentation, and low new oak usage to maintain the wine's delicate fruit and floral characters. His wines are unfiltered and unfined, bottled manually, emphasizing authenticity and a vivid expression of each plot.
The Echezeaux Grand Cru 2013 is produced from a plot with clay-limestone soil, having a sandy and ferric quality, and an advantageous sunny, southeast exposure. The vineyard, with 45-year-old vines, maintains a plant density of 10,000 vines/ha and yields around 33 hl/ha.
The viticulture is environmentally friendly and sustainable, reflecting Pacalet's commitment to organic practices. The vinification process involves usage of whole grapes, with twice-daily punch-downs for three weeks. The fermentation is driven by indigenous yeasts without artificial thermoregulation. The malolactic fermentation occurs in the barrel. The aging process spans 17 months on lees in a "reduction" style without racking, including riddling without sulphur dioxide.
This wine secured the 🏅 8th place in our wine tasting lineup.
Domaine des Lambrays Clos des Lambrays Grand Cru 2015
Type

red still, dry

Region

Clos des Lambrays AOC, France

Producer

Vintage

2015

Grapes

Pinot Noir

Alcohol

13.5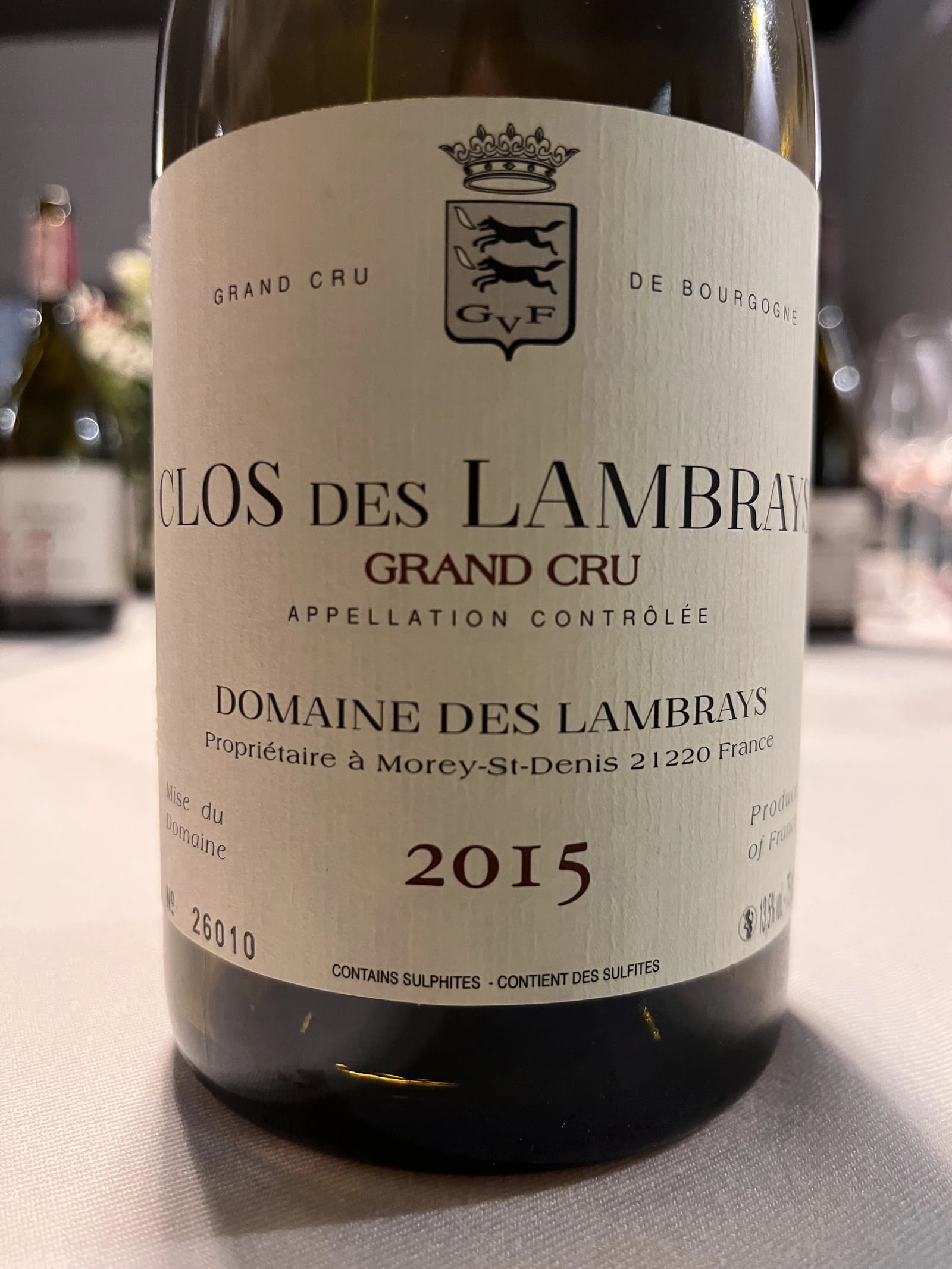 Clos des Lambrays, nestled in the village of Morey-Saint-Denis in the Côte de Nuits, enjoys advantageous positioning on smooth slopes with varied sun exposures and topographical diversity. The soil composition of limestone and rich, red clay along with marls at the top and a clay-limestone mix at the bottom contribute significantly to the complexity and elegance of the wine.
The Clos des Lambrays, with a history dating back to 1365, is a significant part of the Domaine des Lambrays' heritage. The domaine's journey through the centuries has been marked by the meticulous efforts of its various owners to preserve and reconstitute the vineyard, especially after the French Revolution led to its fragmentation. The modern era saw the Rodier family, followed by Mr. Louis and Fabien Saier, Mr. Rolland Pelletier de Chambure, the Freunds, and eventually the LVMH Group in 2014, each playing a crucial role in maintaining and enhancing the estate's reputation and quality. The domaine, known for its historical castle, ancient cellar, and picturesque gardens, contributes to the aesthetic and historical richness of the wine.
The 2015 Clos des Lambrays Grand Cru originates from two large parcels with different vine ages. Approximately two-thirds of the blend is 50+ years old, while the rest is 25+ years old. 100% whole cluster fermentation. The wine is aged in oak barrels (for an undisclosed amount of time), with half of them being renewed annually.
This wine secured the 🏅 4th place in our wine tasting lineup.
Domaine Perrot-Minot Morey-Saint-Denis 1er Cru La Riotte 2015
Type

red still, dry

Region

Morey-Saint-Denis AOC, France

Producer

Vintage

2015

Grapes

Pinot Noir

Alcohol

13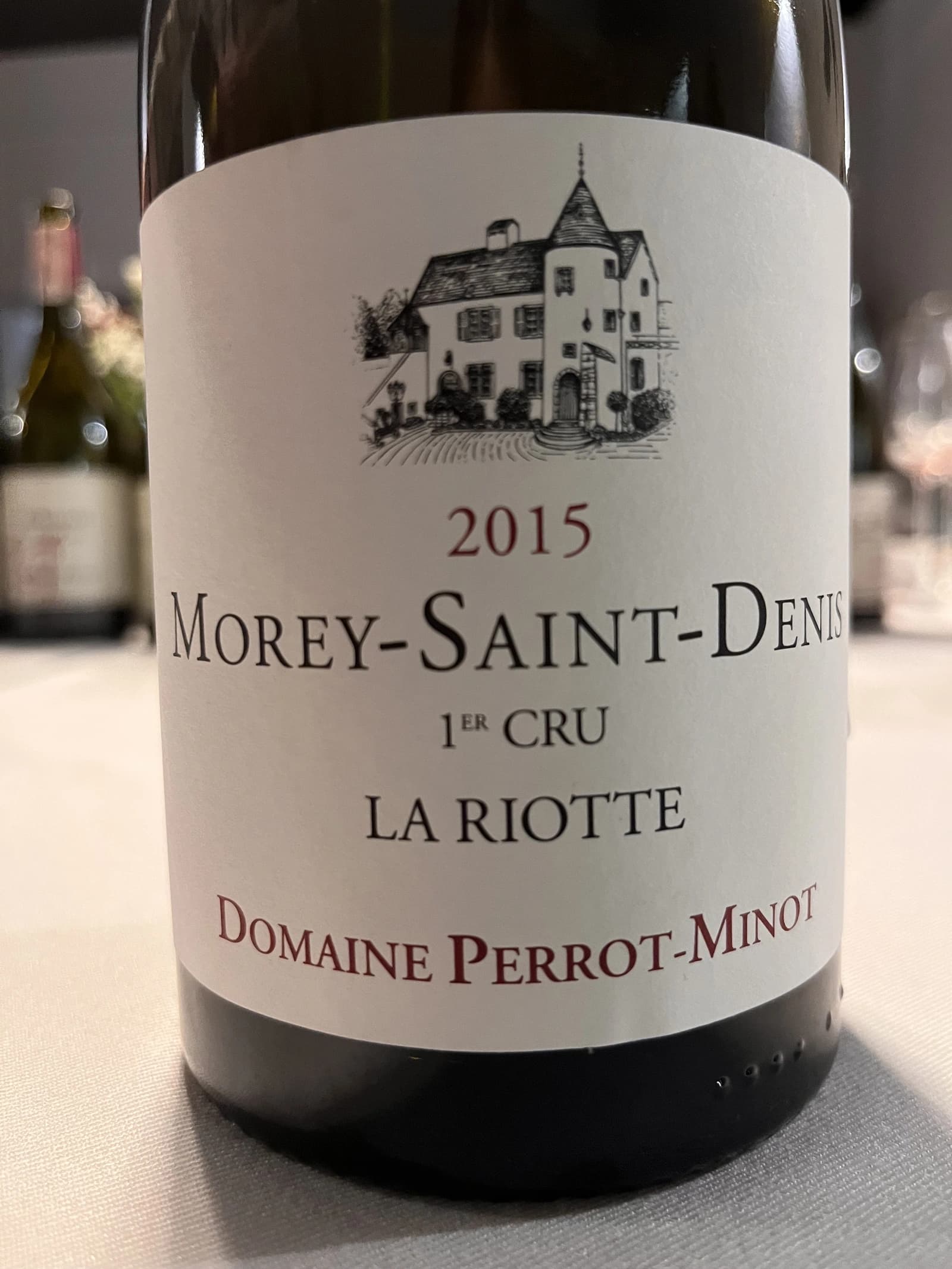 The estate's origins date back to the mid-nineteenth century, but significant expansion and organization occurred in the early 20th century under Amédée Merme and his son Armand. The focus was on enhancing the estate's reputation through quality wine production.
In the 1970s, Marie-France Merme and Henri Perrot-Minot took over, continuing the tradition of quality and innovation. Their son, Christophe Perrot-Minot, joined as manager in 1993 after gaining extensive experience as a wine trader.
Today, the estate spans 13 hectares across prestigious terroirs in Morey-Saint-Denis, Gevrey-Chambertin, Chambolle Musigny, Vosne Romanée, and Nuits-Saint-Georges.
Christophe Perrot-Minot emphasizes biodiversity, using organic farming practices and reducing conventional product use. Systematic ploughing and earthing up of vines in winter are key practices. The estate employs short guyot pruning to limit grape production and ensure optimal ripening. Leaf thinning and green harvesting are adjusted annually to optimize fruit ripening. The harvest is entirely handpicked with a dual sorting process, both in the vineyard and at the sorting table. Grapes are halved for quality checks, with a focus on selecting only the healthiest and most ripe.
The 1er Cru La Riotte vineyard in Morey-Saint-Denis comprises 0.5 hectares with vines averaging 55 years old. It is characterized by stony and marly soils, conducive to deep rooting of vines. These soils contribute to the production of delicate, straight, and spicy wines.
This wine secured the 🏅 6th place in our wine tasting lineup.
Domaine Denis Mortet Clos de Vougeot Grand Cru 2017
Type

red still, dry

Region

Clos de Vougeot AOC, France

Producer

Vintage

2017

Grapes

Pinot Noir

Alcohol

13.5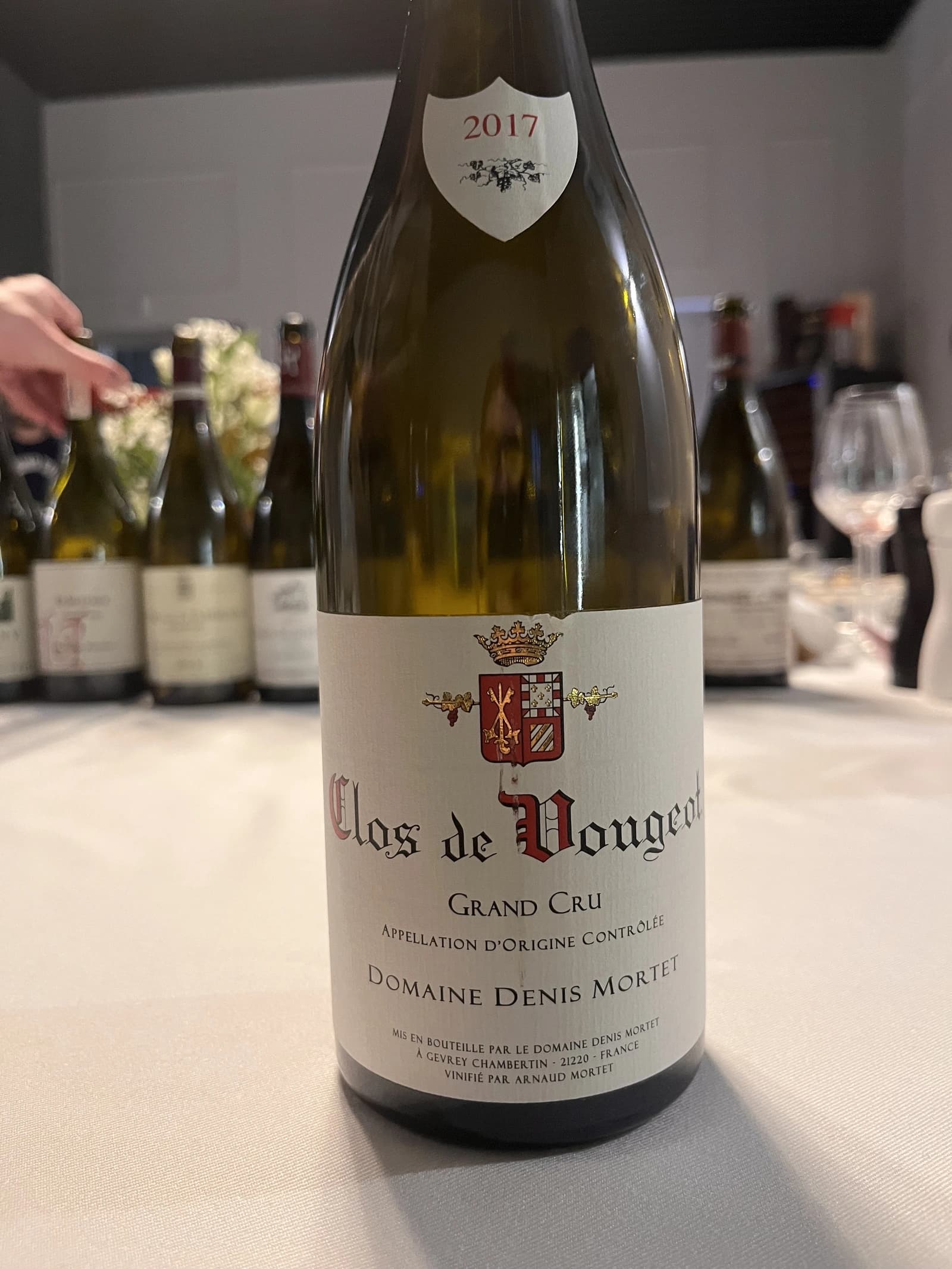 Since 2006, Laurence Mortet and her children, Clémence and Arnaud, have been upholding the family legacy at Domaine Denis Mortet, which dates back to 1956. Arnaud, with a deep connection to the Burgundy region and his family heritage, emphasizes authenticity and respect for tradition in both vineyard and cellar practices.
The estate, initially just 1 hectare in 1956 under Charles Mortet, expanded to 4.5 hectares by 1992 under Denis Mortet, encompassing Gevrey-Chambertin, Chambolle-Musigny, and Vougeot. Further expansions occurred in the 1990s and 2000s, with the estate now spanning around 16 hectares, including various appellations and vineyard plots.
Located at an altitude of 240 meters, the Clos de Vougeot vineyard in Domaine Denis Mortet lies in the lower part of the plot. The soil is deep and marly, from the Tertiary era, with a high concentration of clays and fine silt, contributing to the wine's dense and earthy characteristics.
The estate practices Single Guyot pruning, and mechanical ploughing, and uses neither chemical fertilizers nor weed killers, only organic soil-enrichers. The vineyard is comprised of old vines, averaging 50 years, with an annual replacement of 3000 to 4000 vines.
Handpicked grapes are placed in small plastic crates, with stringent sorting and partial de-stemming. Alcoholic fermentation uses only natural yeasts, and both pumping-over and cap-punching are carefully controlled. Arnaud Mortet emphasizes minimal intervention, respecting the fruit, and has introduced whole bunch fermentation for grapes from old vines since 2010.
The wine matures for 18 months in oak barrels, 70% in new barrels and 30% in 1-wine barrels, ensuring a balance between wood influence and the expression of terroir.
This wine secured the 🥈 2nd place in our wine tasting lineup.
Domaine Armand Rousseau Clos de la Roche Grand Cru 2014
Type

red still, dry

Region

Clos de la Roche AOC, France

Producer

Vintage

2014

Grapes

Pinot Noir

Alcohol

13.5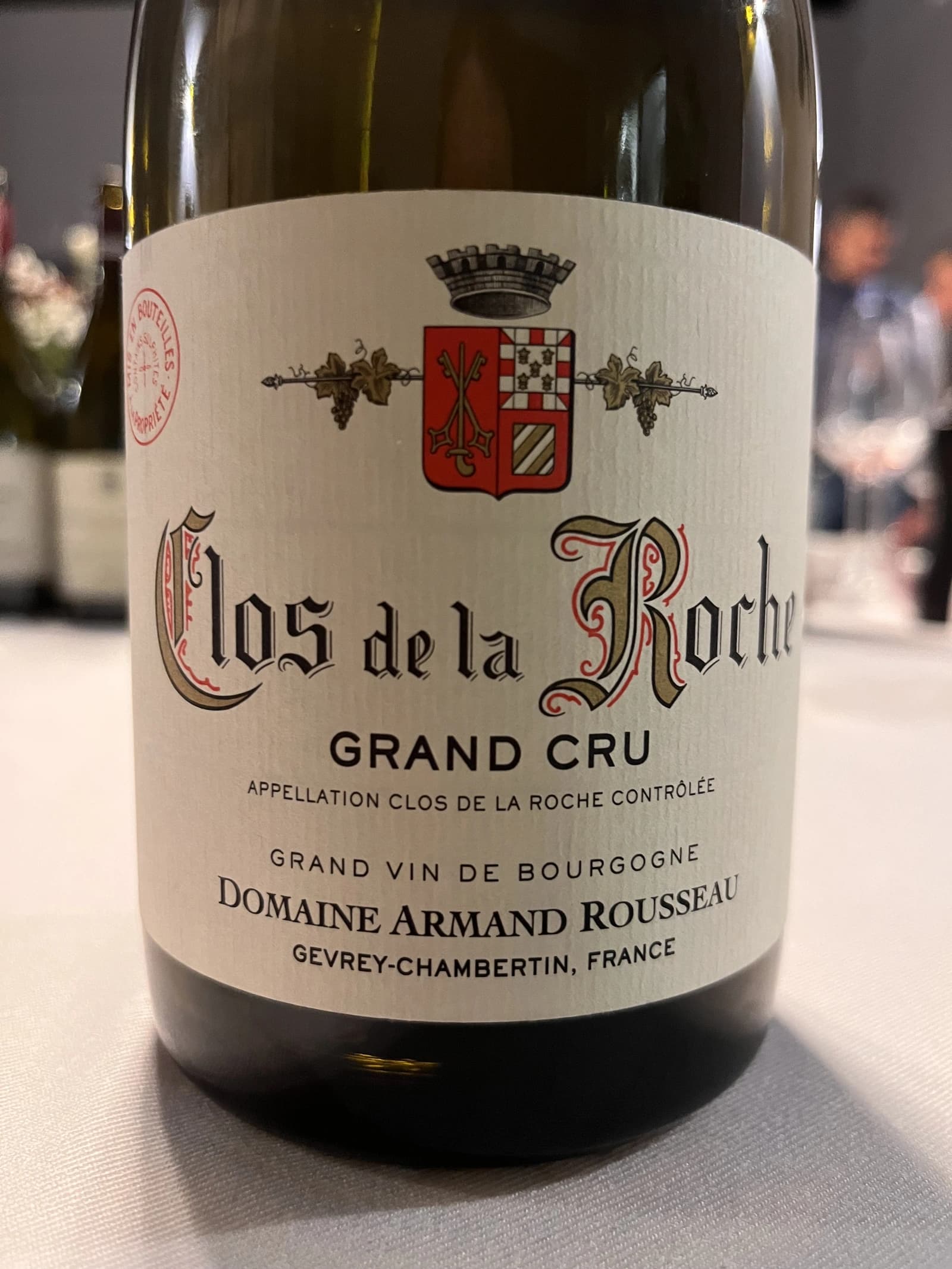 Domaine Armand Rousseau, a family-run estate for four generations, is managed by Eric Rousseau alongside his daughter Cyrielle. Established on the principles of hard work and passion, the Rousseau family has cultivated some of the finest terroirs in the Côte de Nuits.
Spanning 15 hectares, the estate encompasses Village, Premier Cru, and Grand Cru vineyards in Gevrey Chambertin and Morey-Saint-Denis. The Rousseau family is known for their deep respect for the terroir and a philosophy of simplicity and quality in winemaking, aiming to create quintessentially Burgundian wines that showcase the 'Rousseau signature'.
The Rousseau family adheres to traditional winemaking techniques, including 90% destemming and fermenting in open stainless steel vats for 18 to 20 days. Temperature control is strict, with a maximum of 31 to 34°C to preserve the delicate qualities of the Pinot Noir. Following alcoholic fermentation, the wine undergoes a gentle pressing and is then settled for 24 hours before being transferred to oak barrels for malolactic fermentation and ageing.
Clos de la Roche (it was granted Grand Cru status in 1936), situated in Morey-Saint-Denis, is the only appellation in the Domaine not part of Gevrey-Chambertin. This 16.84-hectare vineyard features limestone and calcareous-clay soils from the mid-Jurassic period, with large stone blocks just beneath the soil surface, which contribute to the name of the plot. Domaine Armand Rousseau acquired two parcels in Clos de la Roche, one in 1920-1921 and another in 1975. In total, the family owns 1.48 hectares of this vineyard.
This wine secured the 🥇 1st place in our wine tasting lineup.
Domaine G. Roumier Bonnes-Mares Grand Cru 2004
Type

red still, dry

Region

Bonnes-Mares AOC, France

Producer

Vintage

2004

Grapes

Pinot Noir

Alcohol

13.5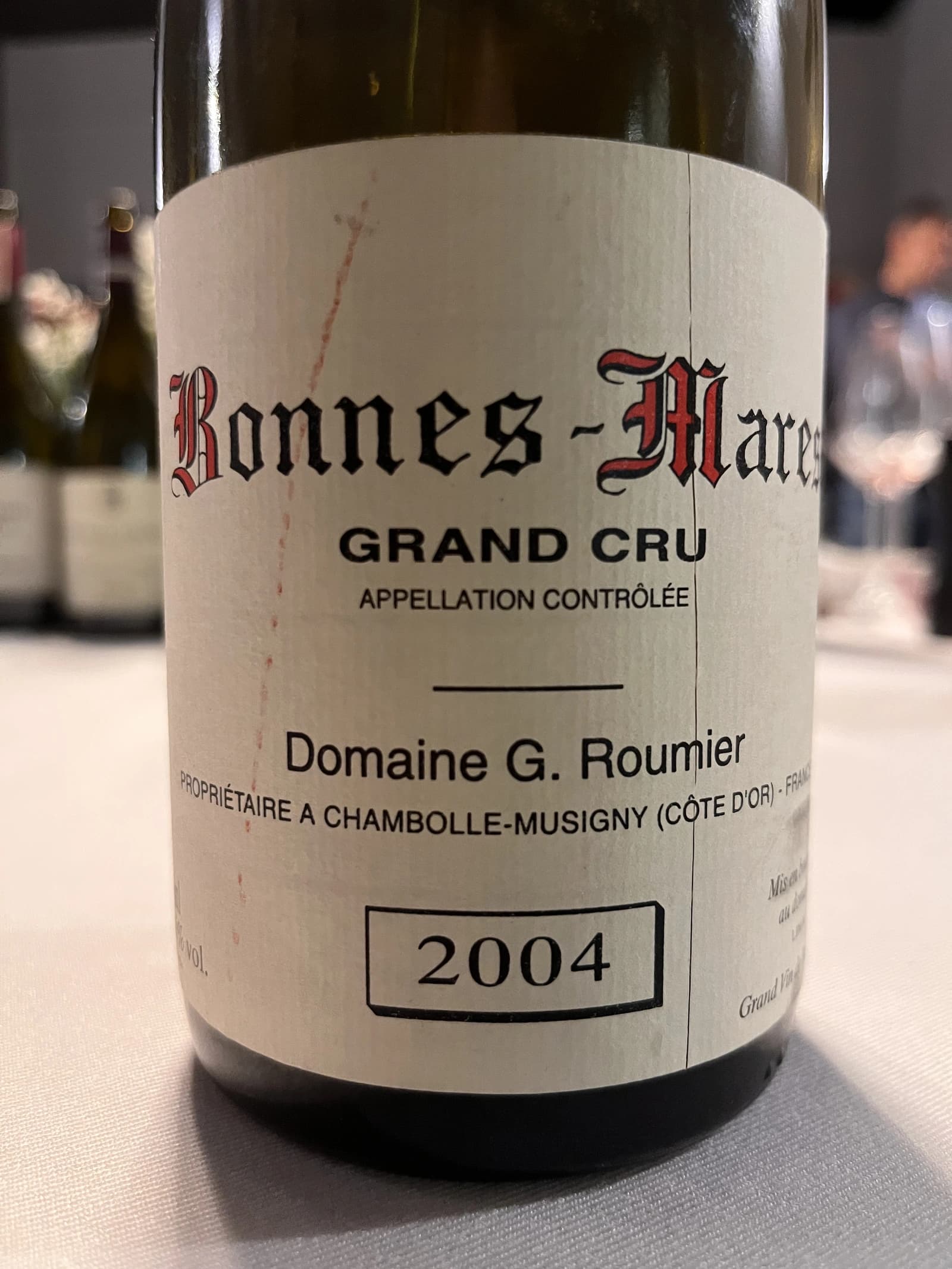 Founded in 1924 by Georges Roumier, the Domaine has been a family-operated estate for generations. Georges began domaine bottling in 1945, a practice that significantly elevated the estate's reputation. Christophe Roumier, representing the third generation, joined in 1982 and took full charge in 1992, continuing the legacy of producing seductively fruity wines with excellent ageing potential.
Over the years, the Domaine has expanded its vineyard holdings, particularly in the Bonnes-Mares area, combining vineyards from both Chambolle-Musigny and Morey-Saint-Denis. The estate now covers 11.52 hectares across several notable appellations.
Bonnes-Mares, covering 15.05 hectares, is a large Grand Cru located in both Chambolle-Musigny and Morey-Saint-Denis. The vineyard is known for its "dark side," offering a unique hybrid between the characteristics of Chambolle and Morey. The soil composition is complex, contributing to the floral and mineral expressions of the wines produced here. Domaine Georges Roumier holds 1.89 hectares in Bonnes-Mares, spread across different sections of the vineyard. This includes recent expansions, adding diversity to their Bonnes-Mares expressions.
The fruit for the Bonnes-Mares Grand Cru comes from two different parcels, with vines averaging 40 years old. The grapes are harvested and vinified separately, with more than half of the fruit being destemmed. The wine is aged in oak barrels, 30% of which are new, highlighting Domaine's moderate approach to new wood usage. This technique enhances the wine's complexity and ageing potential.
This wine secured the 🥉 3rd place in our wine tasting lineup.
Domaine de la Romanée-Conti Romanée-Saint-Vivant Grand Cru 2002
Type

red still, dry

Region

Romanée-Saint-Vivant AOC, France

Vintage

2002

Grapes

Pinot Noir

Alcohol

13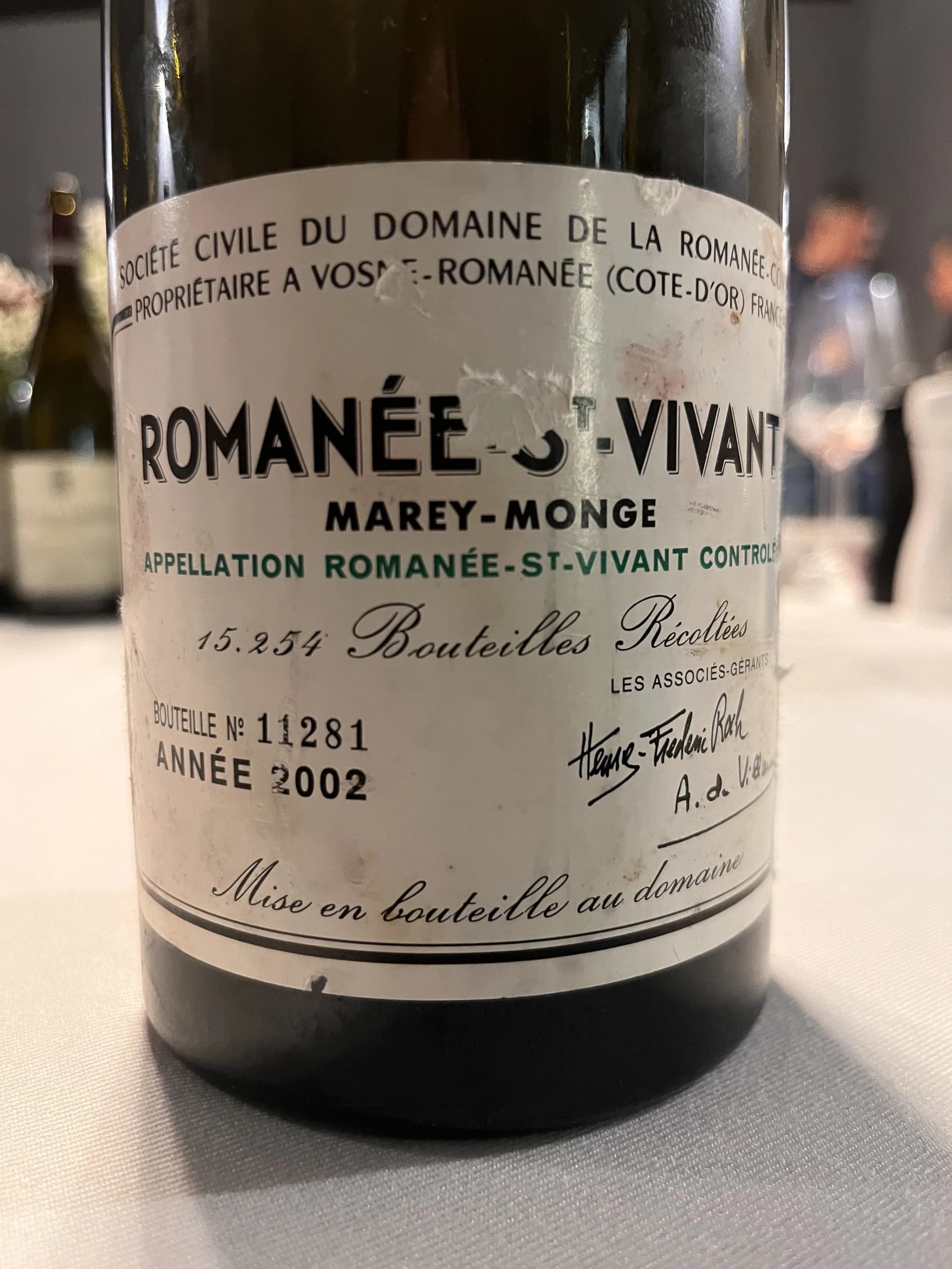 This section is not under construction.
This wine secured the 🏅 7th place in our wine tasting lineup.
Resources
Raw scores
| | Bollinger | Martray | Père | Clos de Tart | Prieur | Pacalet | Lambrays | Perrot-Minot | Mortet | Rousseau | Roumier | DRC |
| --- | --- | --- | --- | --- | --- | --- | --- | --- | --- | --- | --- | --- |
| Zorick U | 4.00 | 4.40 | 4.10 | 4.40 | 4.00 | 4.20 | 4.60 | 4.40 | 4.70 | 4.90 | 4.60 | 4.00 |
| Volodymyr A | - | 4.50 | 4.10 | 4.45 | 4.20 | 4.20 | 4.60 | 4.40 | 4.60 | 4.80 | 4.50 | 4.30 |
| Roman R | 4.30 | 4.50 | 4.20 | 4.30 | 4.30 | 4.40 | 4.50 | 4.40 | 4.60 | 4.80 | 4.60 | 4.50 |
| Max D | 4.10 | 4.50 | 4.40 | 4.10 | 4.20 | 4.20 | 4.50 | 4.30 | 4.50 | 4.60 | 4.60 | 4.20 |
| Vitalii M | 4.40 | 4.50 | 4.40 | 4.30 | 4.30 | 4.40 | 4.50 | 4.50 | 4.60 | 4.90 | 4.50 | 4.30 |
| Anna Z | 4.40 | 4.50 | 4.40 | 4.10 | 4.20 | 4.30 | 4.40 | 4.40 | 4.60 | 4.80 | 4.50 | 4.40 |
| A | 4.40 | 4.60 | 4.40 | 4.20 | 4.30 | 4.40 | 4.50 | 4.40 | 4.60 | 4.90 | 4.70 | 4.50 |
| Constantine | 4.00 | 4.45 | 4.20 | 4.20 | 4.30 | 4.40 | 4.50 | 4.50 | 4.55 | 4.90 | 4.70 | 4.50 |
| A2 | - | 4.25 | 4.00 | 4.00 | 4.00 | 4.40 | 4.35 | - | - | - | - | - |
| Boris B | 4.10 | 4.40 | 4.10 | 4.20 | 4.10 | 4.30 | 4.50 | 4.40 | 4.60 | 4.90 | 4.60 | 4.20 |