Type

white sparkling, brut

Region

Champagne AOC, France

Producer

Vintage

1990

Disgorged

N/A

On lees

N/A

Grapes

Pinot Noir, Chardonnay

Alcohol

12

Sugar

unknown

Price

XXX UAH

Cellar

not available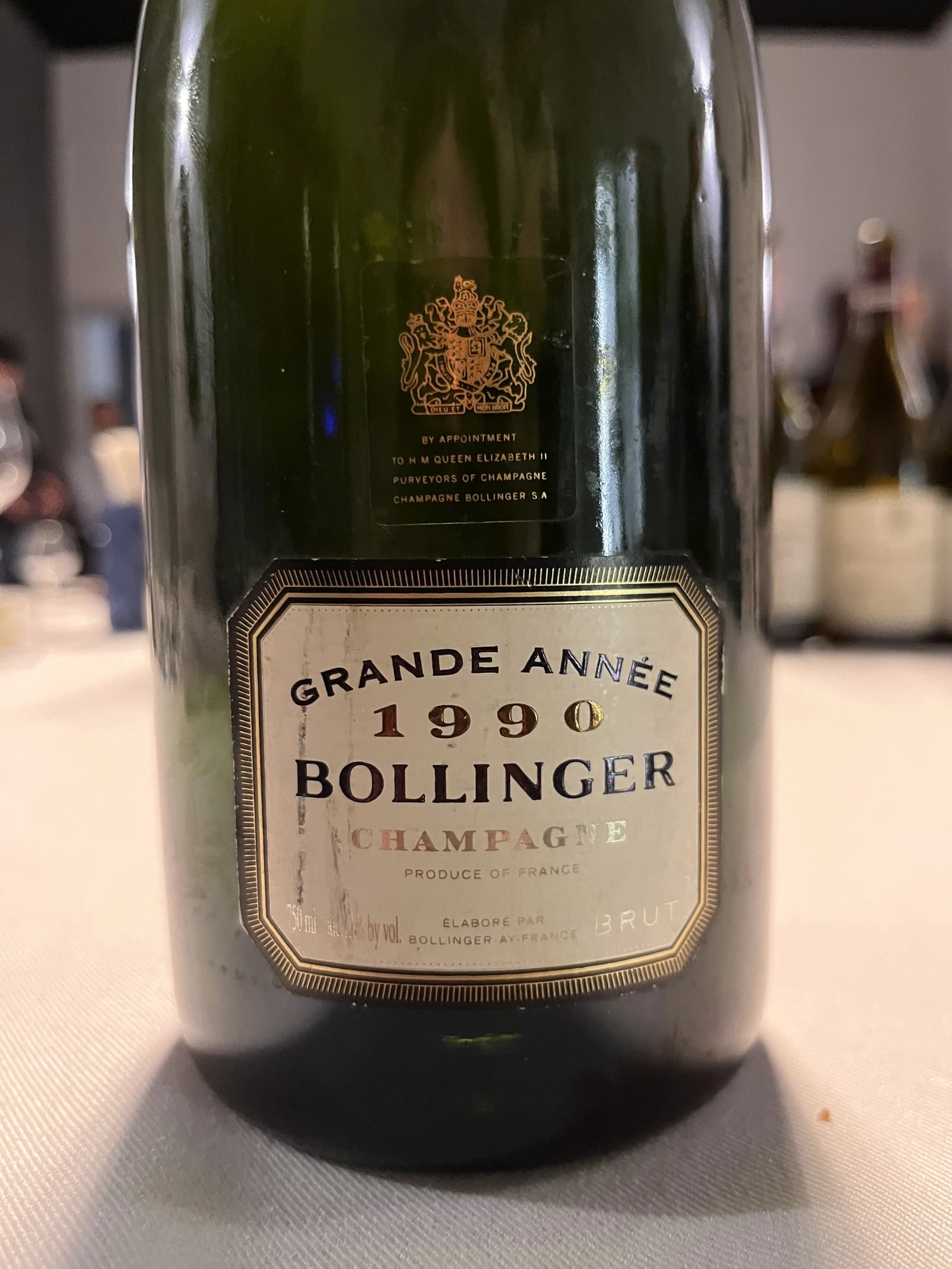 La Grande Année, crafted exclusively from Grand and Premier cru grapes, epitomizes Champagne Bollinger's commitment to traditional expertise. Fermented in oak barrels, sealed with natural cork, and manually riddled, it spends around a decade in Bollinger's chalky cellars. Bollinger maintains the ancient practice of oak vinification, enhancing aroma finesse and allowing prolonged lees ageing. Each bottle of La Grande Année, embodying a rare Champagne tradition, undergoes manual riddling and disgorgement.
Ratings
8.25 / 10·750 ml·@MI6 · Burgundian Grand Cru Grandeur
This wine unfolds with an intense bouquet, featuring Jerez, nuts, apple pie, honey, and mushrooms. Its good acidity and lingering small bubbles indicate it's still alive (maybe just a tiny bit). The structure is solid, contributing to a long, flavorful, and complex aftertaste. Overall, it offers an intriguing and satisfying tasting experience.
Wine #1 on Burgundian Grand Cru Grandeur event.
Bollinger
Bollinger, a renowned French Champagne house, has been a symbol of luxury sparkling wines since its establishment in 1829 in Aÿ, France. Founded by Hennequin de Villermont, Paul Renaudin, and Jacques Bollinger, it remains one of the few independent Champagne houses, continuously managed by the Bollinger family since 1889. Bollinger's uniqueness lies in its deep roots in the Champagne region, dating back to 1585 with the Hennequin family. This storied history, coupled with their commitment to maintaining family management and independence, sets them apart in an industry increasingly dominated by large conglomerates.
Over the years, Bollinger has built its vineyards at the heart of the finest crus in Champagne. Champagne Bollinger's 179 hectares of vines are made up of 85% Grand and Premier crus and are farmed by our teams of growers across 7 separate vineyards: Aÿ, Avenay, Tauxières, Louvois and Verzenay for pinot noir, around the Montagne de Reims, Cuis for chardonnay on the Côte des Blancs and Champvoisy for meunier in the Vallée de la Marne.
Another of Bollinger's distinctive features are two plots, the Clos Saint-Jacques and Chaudes Terres, which have never succumbed to phylloxera. These ungrafted vines are entirely tended by hand and reproduced using a form of layering called provignage, thereby providing the means to preserve this extraordinary heritage from which the very exclusive Vieilles Vignes Françaises cuvée is produced.