Corton-Charlemagne Grand Cru - 2014
Domaine Bonneau du Martray
8.80 / 10
Type

white still, dry

Region

Corton-Charlemagne AOC, France

Vintage

2014

Grapes

Chardonnay

Alcohol

13

Sugar

0.8

Price

22900 UAH

Cellar

not available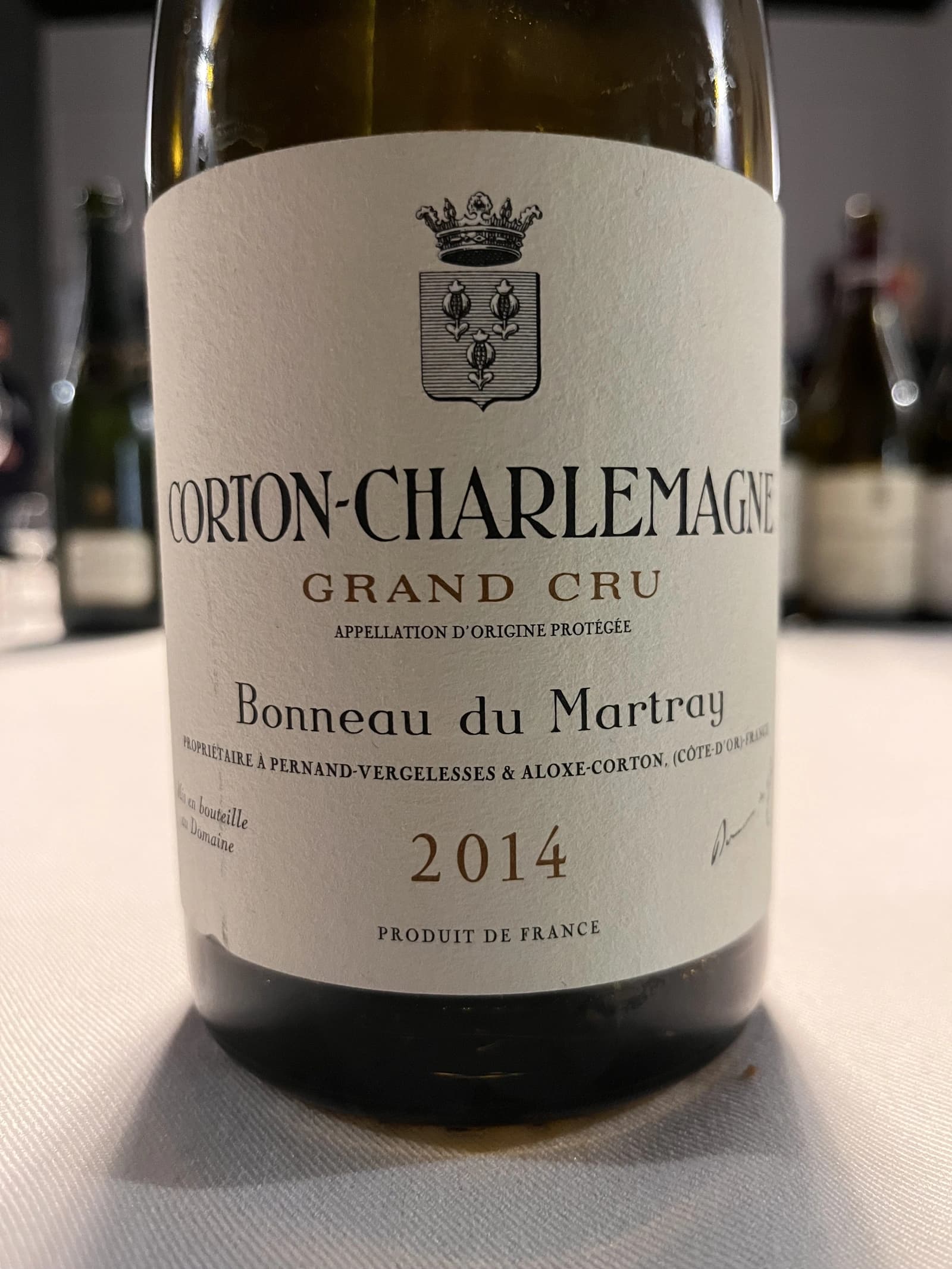 Domaine Bonneau du Martray's vineyard, extending from the top to the bottom of the hill in Corton-Charlemagne, showcases a diverse soil composition of clays, silts, marls, and different types of limestone. This variety imparts distinct characteristics to the wine: crystalline appearance with floral and citrus notes from the top parcels, structure and grain from the central vines, and mineral-rich power from the lower parcels. The winemaking process begins with light crushing of the berries before pressing for gentle aromatic extraction. Fermentation occurs in both new and aged French oak barrels, followed by ageing on fine lees through a second winter. After a second racking to remove the remaining lees, the wine is transferred to tanks for two more months to ensure homogenization before bottling during a waning moon phase.
Ratings
8.80 / 10·750 ml·@MI6 · Burgundian Grand Cru Grandeur
Initially, this wine presents a somewhat restrained and reductive nose, marked by dill and gunpowder. As it opens, layers of fresh yellow fruits like cherry plums, white flowers, honey, salted butter, and oak emerge, showcasing its complexity. The structure is well-crafted, with beautifully integrated oak and a notable mineral profile. It's a delicious and precise wine, marked by good acidity and a long, satisfying finish.
Wine #2 on Burgundian Grand Cru Grandeur event.
Domaine Bonneau du Martray
Corton-Charlemagne Grand Cru, unique in its westward orientation, offers an exceptional microclimate. Located approximately 300 meters above sea level, the vines are spared from the morning fog, with the Saône plain to the east providing early light, and westerly draughts from the valleys ensuring continuous ventilation. This prime positioning, at the intersection of light and wind, allows the grapes to mature optimally - more a product of light than heat - leading to wines of remarkable character and ageing potential.
Domaine Bonneau du Martray, a revered wine grower and producer in Pernand-Vergelesses, Côte de Beaune, Burgundy, is distinguished as the only estate in Burgundy solely producing wine from Grand Cru vineyards. Managed by Jean-Charles de la Moriniere since 1994, the estate has shifted towards biodynamic viticultural practices under his leadership, focusing on enhancing wine intensity and quality through reduced yields and abandoning herbicides. In 2017, Stan Kroenke acquired the Domaine, which is renowned for producing only two wines from its extensive vineyard holdings, including a significant portion in Corton-Charlemagne.