Bonnes-Mares Grand Cru - 2004
9.20 / 10
Type

red still, dry

Region

Bonnes-Mares AOC, France

Producer

Vintage

2004

Grapes

Pinot Noir

Alcohol

13.5

Sugar

unknown

Price

XXX UAH

Cellar

not available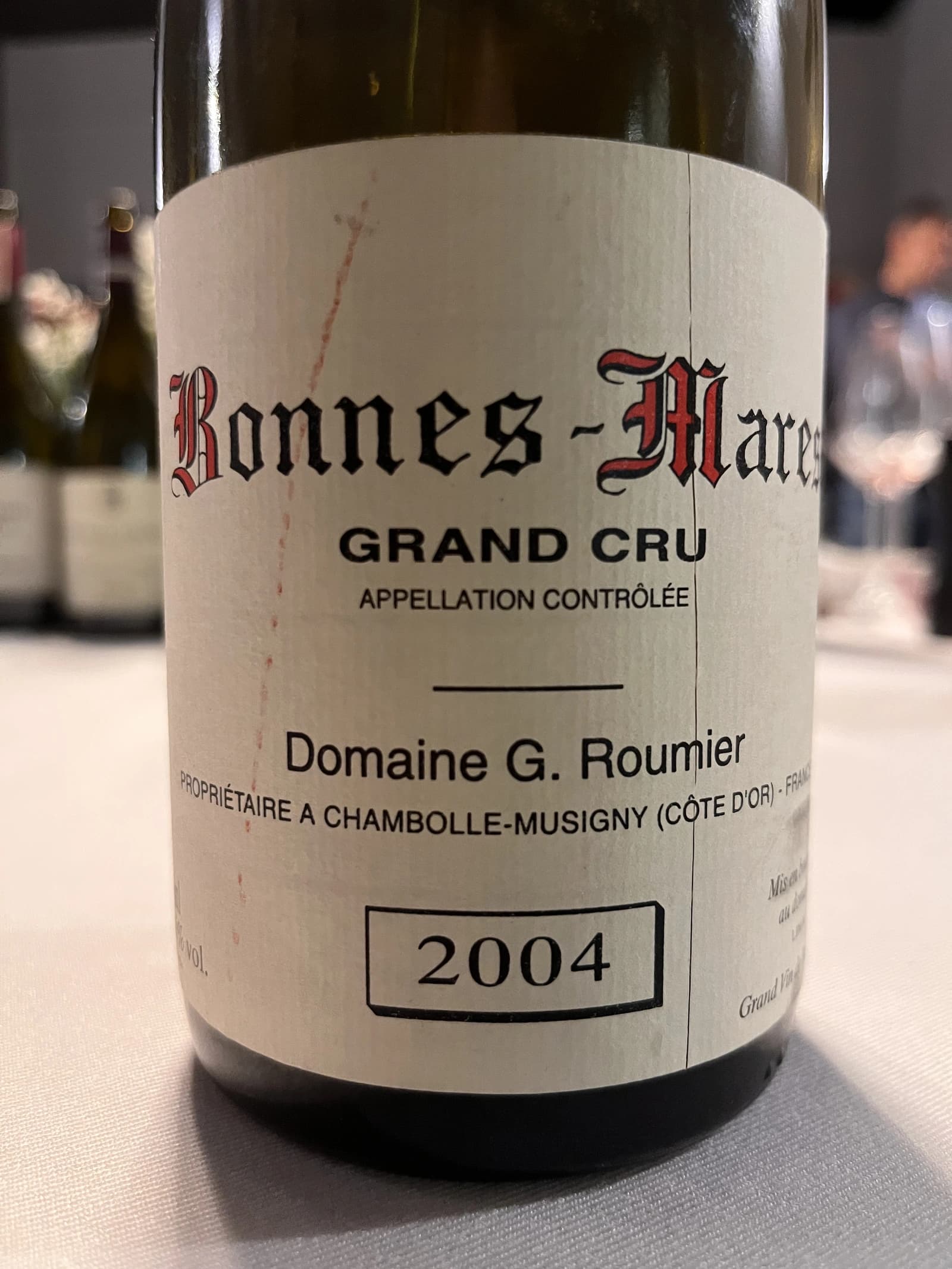 Bonnes-Mares, covering 15.05 hectares, is a large Grand Cru located in both Chambolle-Musigny and Morey-Saint-Denis. The vineyard is known for its "dark side," offering a unique hybrid between the characteristics of Chambolle and Morey. The soil composition is complex, contributing to the floral and mineral expressions of the wines produced here. Domaine Georges Roumier holds 1.89 hectares in Bonnes-Mares, spread across different sections of the vineyard. This includes recent expansions, adding diversity to their Bonnes-Mares expressions.
The fruit for the Bonnes-Mares Grand Cru comes from two different parcels, with vines averaging 40 years old. The grapes are harvested and vinified separately, with more than half of the fruit being destemmed. The wine is aged in oak barrels, 30% of which are new, highlighting Domaine's moderate approach to new wood usage. This technique enhances the wine's complexity and ageing potential.
Ratings
9.20 / 10·750 ml·@MI6 · Burgundian Grand Cru Grandeur
This 19-year-old wine captivates with a mesmerizing bouquet, intertwining the zesty allure of bergamot oil and the earthy essence of dried tobacco. Its aroma is a tapestry of dark and red fruit stew, evoking the damp, life-infused ambience of a wet forest floor. This is complemented by a medley of medicinal notes, mushrooms, savoury meat, and supple leather.
Remarkably fresh for its age, the wine displays a finesse in its balance and intensity. Its complexity is profound, culminating in a very long aftertaste that echoes with the grounding notes of earth and leather, the richness of dark fruits, and the distinctive character of Ya'An hei cha.
Wine #11 on Burgundian Grand Cru Grandeur event.
Domaine G. Roumier
Founded in 1924 by Georges Roumier, the Domaine has been a family-operated estate for generations. Georges began domaine bottling in 1945, a practice that significantly elevated the estate's reputation. Christophe Roumier, representing the third generation, joined in 1982 and took full charge in 1992, continuing the legacy of producing seductively fruity wines with excellent ageing potential.
Over the years, the Domaine has expanded its vineyard holdings, particularly in the Bonnes-Mares area, combining vineyards from both Chambolle-Musigny and Morey-Saint-Denis. The estate now covers 11.52 hectares across several notable appellations.