Montrachet Grand Cru - 2004
8.25 / 10
Type

white still, dry

Region

Montrachet AOC, France

Vintage

2004

Grapes

Chardonnay

Alcohol

13.5

Sugar

unknown

Price

XXX UAH

Cellar

not available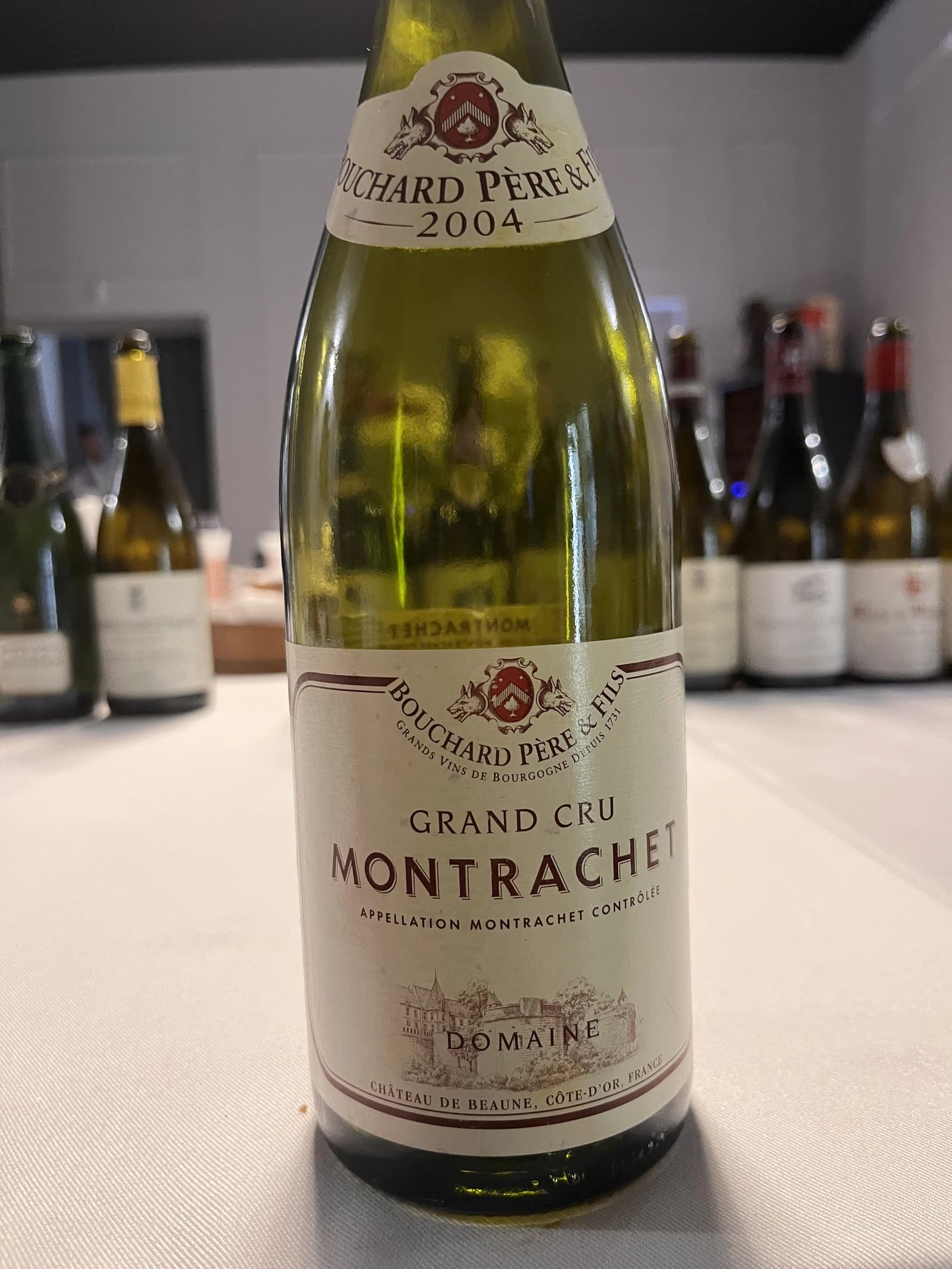 The Bouchard Père et Fils Montrachet Grand Cru 2004 is a product of a meticulously cultivated 0.89-hectare plot, acquired by the winery in 1838. Emphasizing traditional and careful handling, the grapes are manually harvested in small 13 kg cases, followed by manual sorting to ensure the highest quality. The pressing process is conducted in two phases: initially, the first juice is extracted, followed by a cycle of pressing every two hours. This intricate process is complemented by a maturation period of 12-13 months in French oak barrels, with the proportion of new oak being up to 15%, a figure that varies with each vintage. This approach reflects the winery's commitment to balancing tradition and precision in crafting their esteemed Montrachet Grand Cru.
Ratings
8.25 / 10·750 ml·@MI6 · Burgundian Grand Cru Grandeur
This 19-year-old bottle presents a curious profile, remaining remarkably fresh while still showcasing aged characteristics. The nose reveals a complex and beautiful blend of yellow fruits, honeyed goat cheese, and petroleum, alongside nuances (lol) of old slate and dried yellow fruits. On the palate, it's fresh and well-balanced, with an enjoyable hint of lime-like bitterness adding to its concentration. This wine's sophisticated nature might be challenging to fully unravel (at least, it was for me), but it's an undeniable pleasure.
P.S. I definitely expected much more from this wine considering appellation.
Wine #3 on Burgundian Grand Cru Grandeur event.
Bouchard Père et Fils
Domaine Bouchard Père & Fils, established in 1731, stands as one of Burgundy's oldest wine estates, embodying a deep history and unwavering dedication to showcasing the nuances of Burgundian terroir. What distinguishes this producer is its extensive vineyard holdings, including an impressive array of Premier and Grand Cru sites. Bouchard's approach combines respect for tradition with modern precision, ensuring each vineyard's character is vividly expressed in the bottle. Their commitment to terroir-driven winemaking, meticulous vineyard management, and the depth and breadth of their cellar collections are reasons connoisseurs and experts are drawn to their wines. Bouchard Père & Fils is not just about heritage; it's about a continuous pursuit of excellence and expression of Burgundy's diverse terroir.