Echezeaux Grand Cru - 2013
8.60 / 10
Type

red still, dry

Region

Échezeaux AOC, France

Producer

Vintage

2013

Grapes

Pinot Noir

Alcohol

13

Sugar

unknown

Price

XXX UAH

Cellar

not available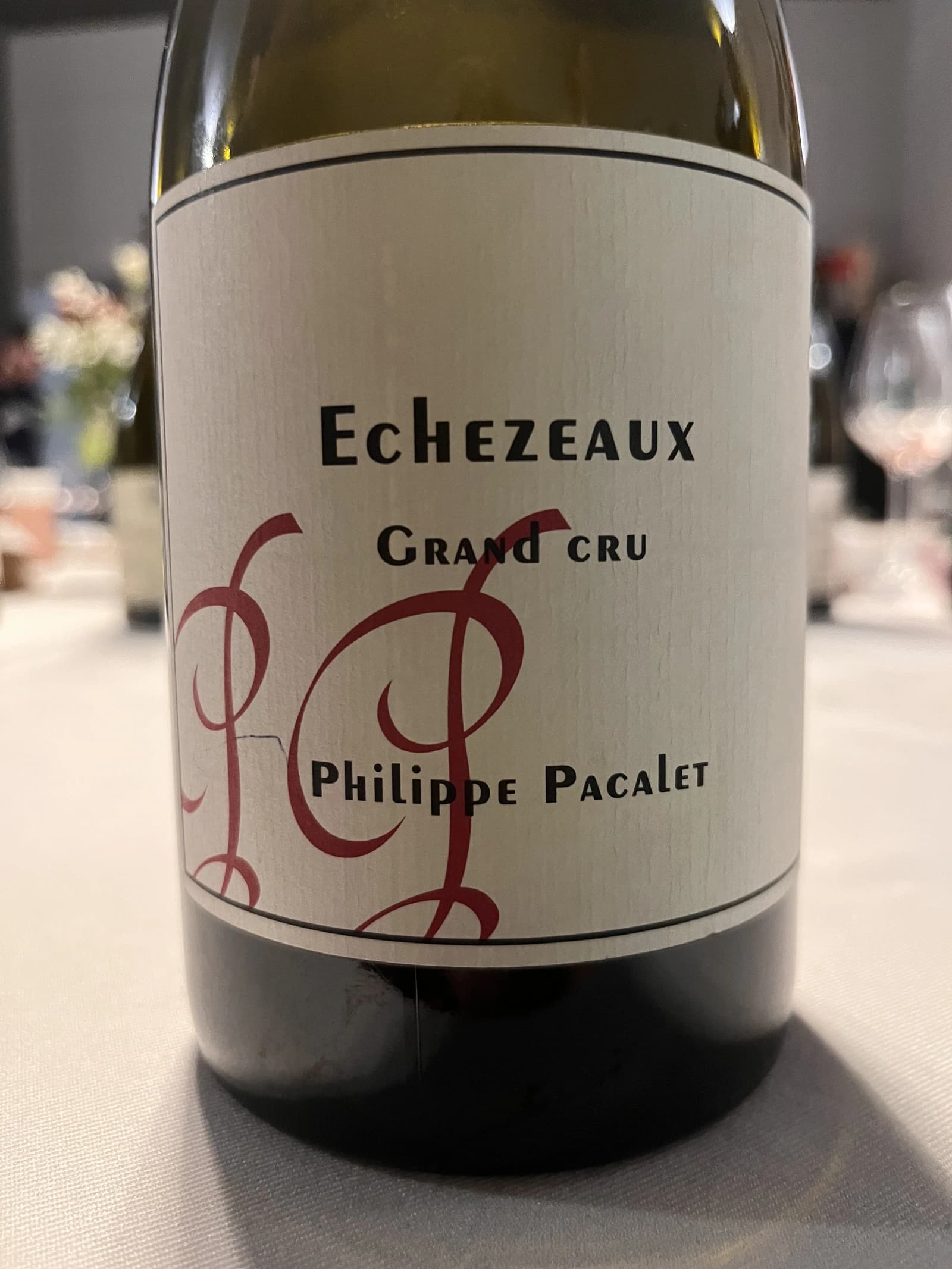 The Echezeaux Grand Cru 2013 is produced from a plot with clay-limestone soil, having a sandy and ferric quality, and an advantageous sunny, southeast exposure. The vineyard, with 45-year-old vines, maintains a plant density of 10,000 vines/ha and yields around 33 hl/ha.
The viticulture is environmentally friendly and sustainable, reflecting Pacalet's commitment to organic practices. The vinification process involves usage of whole grapes, with twice-daily punch-downs for three weeks. The fermentation is driven by indigenous yeasts without artificial thermoregulation. The malolactic fermentation occurs in the barrel. The aging process spans 17 months on lees in a "reduction" style without racking, including riddling without sulphur dioxide.
Ratings
8.60 / 10·750 ml·@MI6 · Burgundian Grand Cru Grandeur
On a canvas of serious labels we tasted before, Pacalet showcases a distinctly modern style - juicy and approachable in a younger state.
The wine exhibits a hint of VA, expertly interwoven to enhance complexity and enliven the palate. The bouquet is a captivating mix of fried sunflower seeds, underbrush, and a medley of red fruits. On the palate, it's quaffable and well-balanced, marked by good acidity and delicate yet pronounced tannins. The finish is long and rich in flavour, adding to its complexity and beauty.
While it might not be the quintessential example of its appellation, its charm lies in its ability to be enjoyed without preconceived notions, making it a delightful experience for those unburdened by expectations.
Wine #6 on Burgundian Grand Cru Grandeur event.
Philippe Pacalet
Philippe Pacalet, a distinguished figure in the natural wine movement, has made a profound impact on Burgundian winemaking. Despite his winemaking lineage dating back to 1780, Pacalet did not inherit land. Instead, he became a 'micro-négociant', renting vineyards in the Côte de Beaune and Côte de Nuits, crafting wines in a facility acquired from the De Montille family in Beaune. Influenced by his uncle, Marcel Lapierre, and the teachings of Jules Chauvet, Pacalet has been a passionate advocate for natural wine, managing Domaine Prieuré Roch and crafting wines in Château Rayas and Domaine Leroy.
Pacalet's philosophy is grounded in minimal intervention, focusing on expressing each terroir's unique characteristics. He eschews industrial yeasts and minimizes sulphur use, opting for whole bunch fermentation and believing that the stems' ripeness is integral to the grapes' readiness. His meticulous approach includes hand harvesting and fermenting with natural yeasts on the grape skin, wooden vat fermentation, and low new oak usage to maintain the wine's delicate fruit and floral characters. His wines are unfiltered and unfined, bottled manually, emphasizing authenticity and a vivid expression of each plot.