We found a bag full of wine. It calls for a party.
---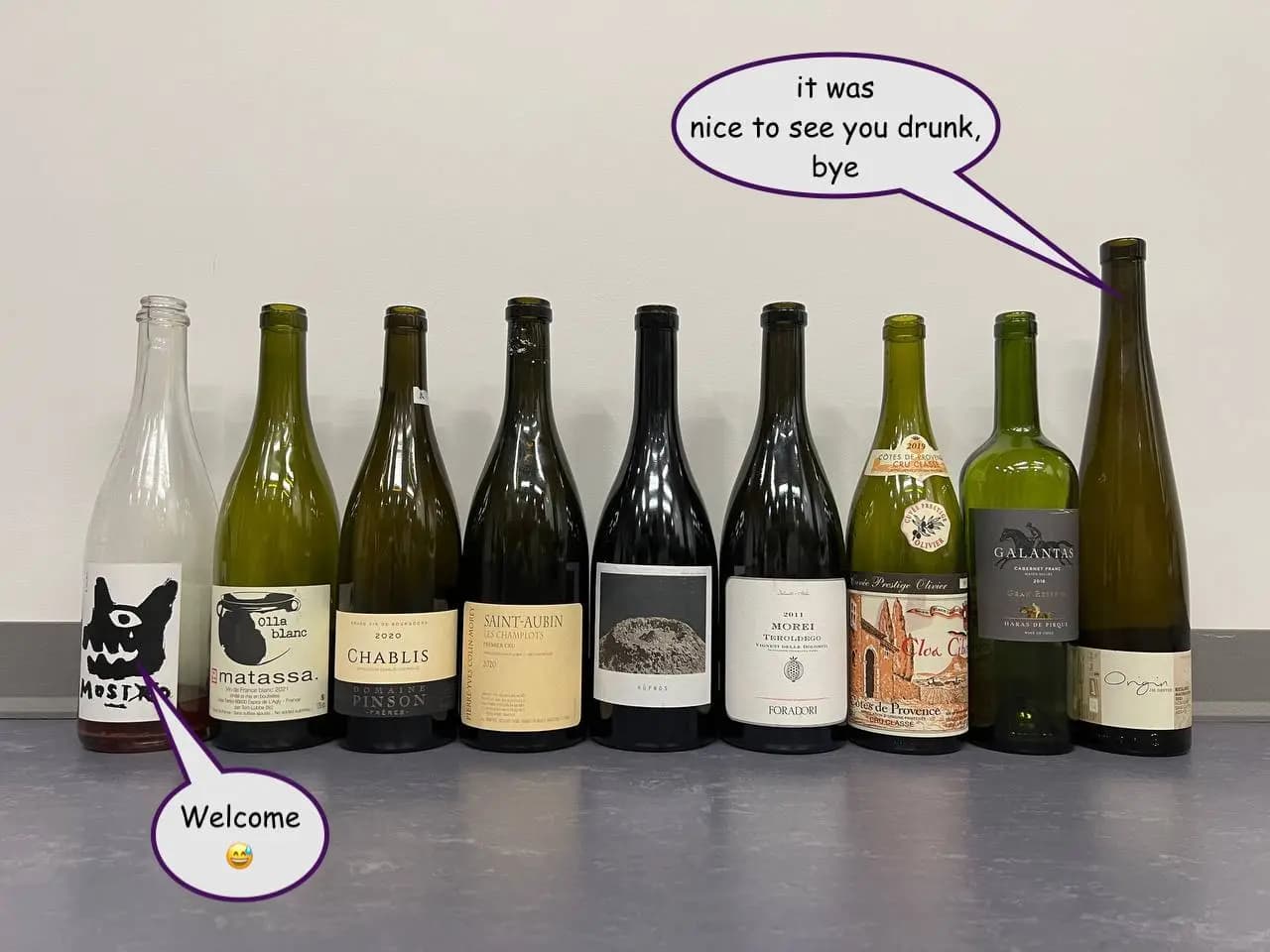 The Mixed Bag is a splendid format for wine tastings. On the one hand, it gives me lots of space to adapt the lineup according to participants. On the other hand, no one knows what to expect. Without further ado, meet our protagonists (some turned out to be villains, hehe).
Matassa Olla Blanc 2021
producer: Matassa
name: Olla Blanc
vintage: 2021
grapes: Grenache, Macabeo
appellation: Vin de Table
location: France
alcohol: 10
sugar: 0.4
price: 890 UAH
Tom's delicately salty entry-level orange, what a dream. Light as a feather so up into weightlessness.

— Drops
It's tempting to say that Matassa is a regular at our wine-tasting events. Yet according to my notes, it joined our parties only twice in the previous year, and this is the second appearance this year. Indeed, there are producers I forced you to drink more often. Curious to know their names? All the data is public.
There are two problems with Matassa. On the one hand, I genuinely love their wines, so only a handful of them survives to appear in our tasting glasses. On the other hand, Matassa rarely stays on the shelves for a long time. And unlike other countries, you can buy as many bottles as you want in Ukraine. There is no limit at all! Crazy.
Olla Blanc 2021 is a blend of Muscat Blanc à Petit Grains and Macabeu. Yes, the Good Wine label says it's a blend of Grenache and Macabeu, yet I believe it's a mistake, considering the production technology. The vines grow at 600 meters above sea level on limestone with a high iron content. After spontaneous fermentation, the wine ages on sur lie in 2,000l concrete vats. How long did it spend on skins? Different sources diverge. Some say it had a two-week whole-cluster maceration. Others state it was only one week. Unfortunately, there are no official technical sheets. So let's trust our senses.
Just 10% of alcohol. A deliciously perfect start to the evening.
Domaine Pinson Chablis 2020
producer: Domaine Pinson
name: Chablis
vintage: 2020
grapes: Chardonnay
appellation: Chablis AOC
location: Burgundy, France
alcohol: 12.5
sugar: N/A
price: 997 UAH
One of our regulars (and I am speaking about a real person here, not wine) was curious to taste a few classical examples of Chardonnay. Being a simple life form, I try to satisfy my fellow convives' requests. So here we are, with Domaine Pinson and Pierre-Yves Colin-Morey in a row.
To my limited experience with the region, this bottle is an excellent entry to the world of traditional Chablis. Compared to some other bottles I tasted from Domaine Pinson, this one is approachable with a typical profile despite some old oak (more on that later).
In addition to being simple, I am also lazy. If you are curious about the Chablis region, you should just duckduckgo it. Yet I am a generous copy-paster, so let me explain why Chablis is so unique in one word. Terroir.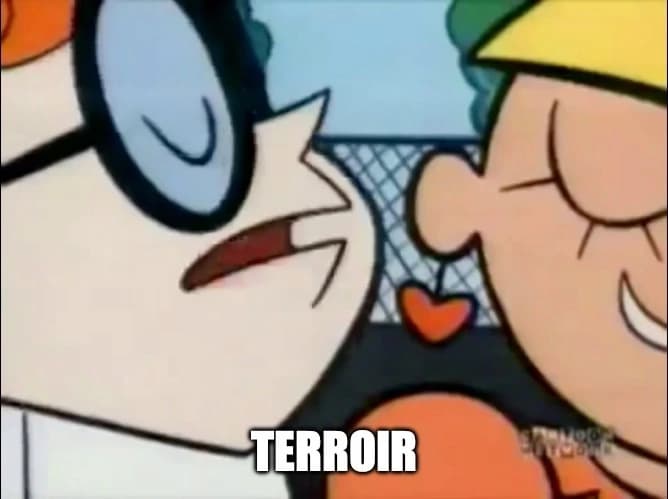 Chablis has a unique soil formed by the recession of a prehistoric basin that once covered parts of northern France, including the eastern Loire, southern Champagne, and most notably, Chablis. The limestone-based soil (known as Kimmeridgian marl) is layered with fossils of ancient aquatic life.
Domaine Pinson farmed in Chablis since 1640. In 1940 they became one of the first properties in Chablis to sell directly to the public. Louis Pinson led the adoption of estate bottling. Today Charlène Pinson and her father Laurent run the domain. They own 14 sustainable-farmed hectares of the crème de la crème of Chablis terroir, with prime holdings in six premier crus and the grandest cru of them all, Les Clos.
Domaine Pinson Chablis 2020 comes from two parcels in the heart of Chablis: one half from just below 1er Cru Mont de Milieu and another half from between 1er Cru Vaillons and 1er Cru Montmain. We are talking about 40+ years old Chardonnay vines growing on classic Kimmeridgian soil. Hand-harvested grapes. The wine spontaneously ferments and ages in stainless steel. I've heard some people talking about minimal oak influence, but I could not find a trustworthy source to state this.
Pierre-Yves Colin-Morey Saint-Aubin Premier Cru Les Champlots 2020
producer: Pierre-Yves Colin-Morey
vintage: 2020
grapes: Chardonnay
appellation: Saint-Aubin AOC
location: Côte de Beaune, Côte d'Or, Burgundy, France
alcohol: 13
sugar: 1
price: 3033 UAH
Off we go to a different part of Burgundy - Saint-Aubin, Côte de Beaune (southern part of Côte d'Or). And we also have an upgrade - a 1er Cru by Pierre-Yves Colin, one of Burgundy's (and the wine world's) most iconic winemakers.
After working as the winemaker at his father's domaine from 1994 to 2005, Pierre-Yves established his own domaine alongside his wife, Caroline Morey. And while they inherited quite a few vineyards from their families, Pierre-Yves had to prove himself before his father, Marc Colin, allowed him to take over the vineyard in Bâtard-Montrachet. Today, it's the only Grand Cru owned by Pierre-Yves Colin-Morey.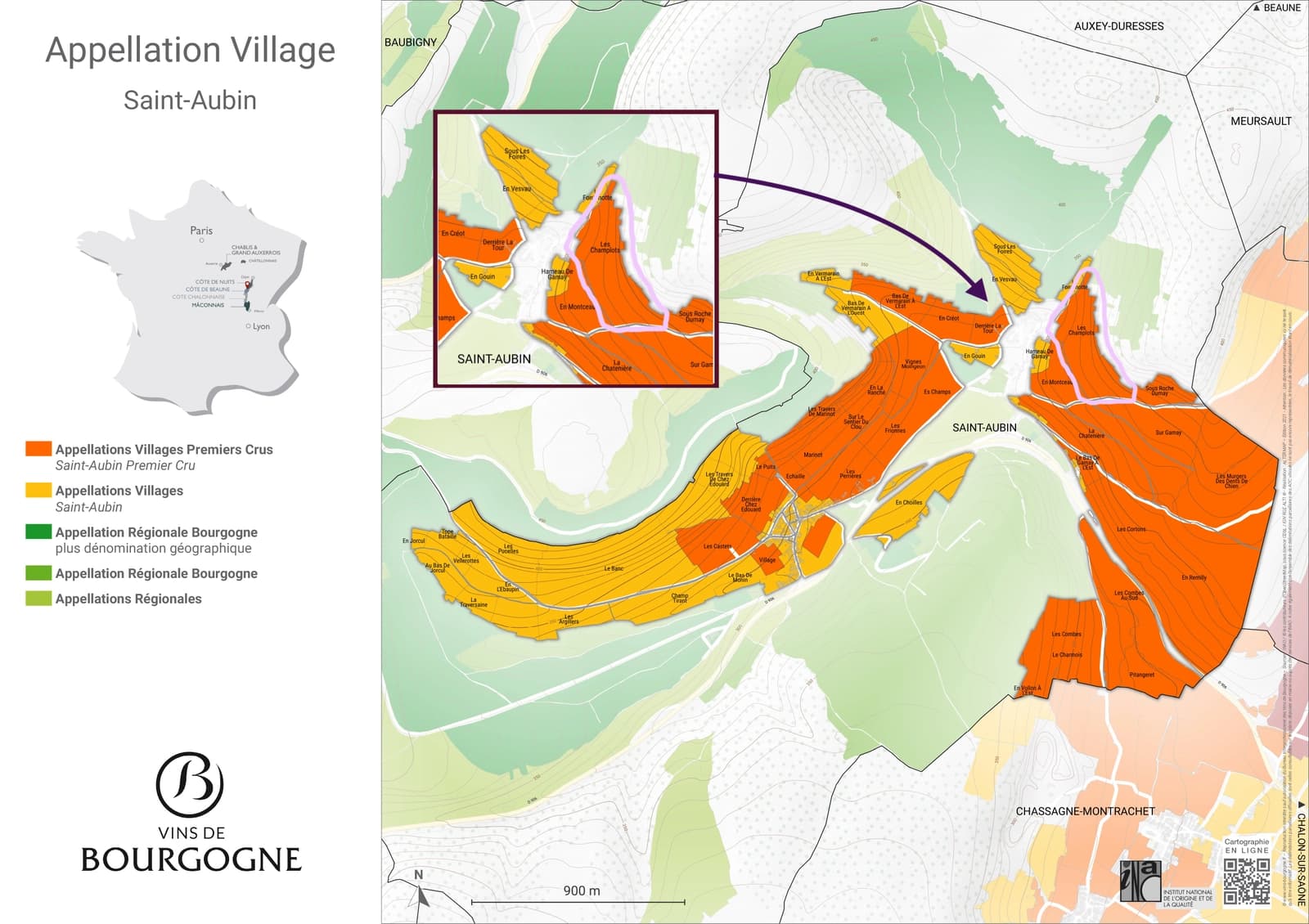 His fastidious farming (lutte raisonnée1), incredible attention to detail, use of larger demi-muid barrels, and long elevage - all that makes each one of his bottlings a clear expression of its terroir and a study in mineral-driven Chardonnay. Unlike many locals, Pierre-Yves uses 350L barrels (instead of 225L) and also ages his wines for a longer period of 18 months (vs 12 months).
Sous Le Végétal Hüpnos 2019
producer: Sous Le Végétal
name: Hüpnos
vintage: 2019
grapes: Muscat de Samos
appellation: Oinos
location: Greece
alcohol: 13
sugar: 2.4
price: 1250 UAH
I reckon we need something to reset our senses. One might say that the earth exploded, leaving myriads of tiny islands between Greece and Turkey. Samos, a largely mountainous island, is almost touching Anatolia, only separated from it by 1 mile (sic!) Mycale Strait. In 2017 Jason Ligas and Patrick Bouju created a collaborative wine project Sous Le Végétal (under vegetation), on this beautiful green island. Through the variety of Muscat de Samos grapes, they try to express the spirit of the local terroir.
What you usually notice while looking at Sous Le Végétal bottles is the off-the-Earth labels created by Anthony Duchene, a French artist inspired by the volcanic granite soils.
Hüpnos (sleep in Greek) is 100% Muscat de Samos (aka Muscat Blanc à Petits Grains) from Karvounis and Agïi Sarandides. The vines grow on volcanic soils. One-half of the grapes are macerated on skins for 40 days and aged in stockinger barrels. All other grapes are pressed by their own weight (kudos to gravity), aka "free-run juicy", and aged in stainless steel tanks.
Foradori Morei Teroldego 2011
producer: Foradori
name: Morei Teroldego
vintage: 2011
grapes: Teroldego
appellation: IGP Vigneti delle Dolomiti
location: Trentino-Alto Adige, Italy
alcohol: 12.5
sugar: 0.6
price: 1946 UAH
Elisabetta Foradori bears a reputation as a very nice and elegant person who mixes seriousness with cheerfulness. Every person I know who met her comes back in awe.
As a winemaker, her career started not by her own will but from unexpected circumstances. Her father's early death hurled her life into family estate management. Initially, out of a sense of duty and then from newly born passion, she became a rising star.
Though the 90s, Elisabetta Foradori was known as "the queen of Teroldego". Yet, by 2000 she lost all personal connection to her work and started to question everything, to experiment. That's how she came to biodynamics, amphoras, the decision to replant the majority of the land from pergola to guyot, and radical changes in vinification.
Today her children help with the winery. Emilio, the eldest, is responsible for viticulture and winemaking since 2013. Theo travels to represent the winery and to communicate with importers and distributors. And Myrtha transforms the winery into a full-blown polycultural farm. They even produce cheese these days!
Some people say that Teroldego needs at least ten years to open up. And today, we have a bottle of twelve-year-old Teroldego from Vigneto Morei, Campo Rotaliano, Mezzolombardo. It's a relatively small vineyard of 2.5 hectares scattered over alluvial soil with many pebbles. Morei means 'moro' or 'dark' in the Trentino dialect. The grapes are fermented in amphorae (Tinajas from Villarrobledo, Spain) for eight months on skins.
Clos Cibonne Cuvée Prestige Olivier Cru Classé 2019
producer: Clos Cibonne
vintage: 2019
grapes: Syrah, Grenache, Tibouren
appellation: Côtes de Provence AOC
location: Provence, France
alcohol: 15
sugar: 1
price: 1576 UAH (newest vintage)
These old-school labels scream about traditions. And these traditions have nothing in common with mass-market Provencial wines people associate with beaches. Clos Cibonne is one of 18 Cru Classé (e.g. officially designated as high-end) producers in Côtes de Provence. They own 15 hectares of vineyards, located 800 meters from the seashore.
Despite the irony in my tone, it's always fascinating to read about wineries with a history rooted deep. Clos Cibonne draws its name from Jean-Baptiste de Cibon, captain of Louis XVI's Royal Navy and the first owner of the vineyard. After he died in 1797, the property was sold to the Roux family.
In the 1930s, André Roux took over the winery and brought it to a new level. Thanks to Adnré Roux, Clos Cibonne acquired the status of Crus Classés Côtes de Provence when the classification was established in 1955. Aside from the official merits, Adnré Roux is also responsible for the focus on Tibouren. It is safe to say that, without him and his passion, this old grape variety would have disappeared.
Despite being famous for unique and serious rosé wines, today we have a powerful southern blend of Syrah (60%), Grenache (15%) and Tibouren (25%). The wine is aged in new 300-litre casks. In case you missed their rosé during the last Rose Petals Party - don't worry, as I am going to bring again soon.
Haras de Pirque Galantas Gran Reserva 2018
producer: Haras de Pirque
name: Galantas Gran Reserva
vintage: 2018
grapes: Cabernet Franc, Carménère
region: Maipo Valley
location: Chile
alcohol: 14.5
sugar: 2.97
price: 1027 UAH
After checking my notes, I realised we didn't taste Chilean wines at our events. Easy to fix that, right? And while we are here, I decided to bring a rather rare guest - Cabernet Franc blended with Carménère. For some reason, we tasted so many rare grapes but somehow omitted a few international ones.
Haras de Pirque is a passion for thoroughbred horses. Not only their label depicts a rider, but the winery itself has a unique horseshoe-shaped design. A famous Italian family runs the Haras de Pirque - Antinori, a family connected to winemaking since 1385 when Giovanni di Piero Antinori joined the Florentine Winemakers Guild. Long story short, today, the family owns a plethora of wine estates in Italy (mostly in Toscana) and two in the New World.
Galantas is produced from organic vineyards in the Maipo Andres Valley at 700 meters above sea level. It is a blend of Cabernet Franc (85%) and a small percentage of Carménère (15%). The four separate Cabernet Franc vineyard plots and the Carménère were fermented separately in stainless steel tanks and French oak. The cold, pre-fermentation maceration lasted from three to five days. After the fermentation, which utilized solely spontaneous yeasts, the wine went into 60‐gallon French oak barrels where it aged for a period of fourteen months.
Resources
Scores
| | rms | sdev | favourite | outcast | price | QPR |
| --- | --- | --- | --- | --- | --- | --- |
| Welcome | 4.1599 | 0.0825 | 1.00 | 0.00 | 690.00 | 4.3707 |
| Wine #1 | 4.1230 | 0.0181 | 1.00 | 0.00 | 890.00 | 3.2401 |
| Wine #2 | 4.1476 | 0.0491 | 4.00 | 0.00 | 997.00 | 2.9863 |
| Wine #3 | 4.1308 | 0.0620 | 4.00 | 2.00 | 3033.00 | 0.9544 |
| Wine #4 | 3.8997 | 0.0951 | 0.00 | 3.00 | 1250.00 | 1.6230 |
| Wine #5 | 4.1329 | 0.0652 | 1.00 | 1.00 | 1946.00 | 1.4913 |
| Wine #6 | 4.1379 | 0.0719 | 1.00 | 3.00 | 1576.00 | 1.8533 |
| Wine #7 | 3.9824 | 0.0585 | 0.00 | 1.00 | 1027.00 | 2.2507 |
| Farewell | 4.0000 | 0.0000 | 0.00 | 0.00 | 866.00 | 2.0000 |
How to read this table:
rms is root mean square or quadratic mean. The problem with arithmetic mean is that it is very sensitive to deviations and extreme values in data sets, meaning that even single 5 or 1 might 'drastically' affect the score.
sdev is standard deviation. The bigger this value the more controversial the wine is, meaning that people have different opinions on this one.
favourite is amount of people who marked this wine as favourite of the event.
outcast is amount of people who marked this wine as outcast of the event.
price is wine price in UAH.
QPR is quality price ratio, calculated in as 100 * factorial(rms)/price. The reason behind this totally unprofessional formula is simple. At some point you have to pay more and more to get a little fraction of satisfaction. Factorial used in this formula rewards scores close to the upper bound 120 times more than scores close to the lower bound.
| | Welcome | Wine #1 | Wine #2 | Wine #3 | Wine #4 | Wine #5 | Wine #6 | Wine #7 | Farewell |
| --- | --- | --- | --- | --- | --- | --- | --- | --- | --- |
| Daria B | - | 4.10 | 4.20 | 4.20 | 3.80 | 4.00 | 3.80 | 3.80 | - |
| Oleksandr R | 4.20 | 3.90 | 4.00 | 4.08 | 3.90 | 3.60 | 4.10 | 3.70 | - |
| Ivietta K | - | 4.00 | 4.40 | 4.20 | 3.90 | 4.20 | 4.10 | 4.20 | - |
| Dmytro D | - | 4.20 | 4.30 | 4.00 | 3.70 | 4.30 | 3.90 | 4.30 | - |
| Kateryna S | 4.50 | 4.00 | 4.50 | 4.30 | 3.90 | 4.30 | 4.50 | 4.30 | - |
| Anna Kh | 4.30 | 4.15 | 3.60 | 3.90 | 3.75 | 4.50 | 4.55 | 4.30 | - |
| Rostyslav Ya | 4.30 | 4.20 | 4.00 | 3.80 | 3.90 | 4.40 | 4.50 | 4.10 | - |
| Oksana R | - | 4.40 | 4.20 | 3.60 | 4.40 | 4.10 | 4.00 | 3.80 | - |
| Dimitry G | - | 4.30 | 4.20 | 4.50 | 3.10 | 3.70 | 4.30 | 3.70 | - |
| Yaroslav M | - | 4.10 | 4.10 | 4.20 | 4.30 | 4.20 | 4.00 | 4.00 | - |
| Elvira K | 4.00 | 4.10 | 4.20 | 4.30 | 4.00 | 4.00 | 3.70 | 3.70 | - |
| Boris B | 3.60 | 4.00 | 4.00 | 4.40 | 4.00 | 4.20 | 4.10 | 3.80 | 4.00 |
Footnotes
Lutte raisonnée (literally 'reasoned struggle') is an approach to viticulture which permits the application of agrochemicals only when absolutely necessary and not as a matter of routine. Practically, that means no chemicals unless there is a high risk of losing harvest or vines altogether. ↩