Vino Rosso LFB44.2018/19 - NV
7.00 / 10
Type

red still, dry

Region

Vino (IT), Italy

Producer

Vintage

NV

Grapes

Barbera

Alcohol

13

Sugar

2.1

Price

380 UAH

Cellar

not available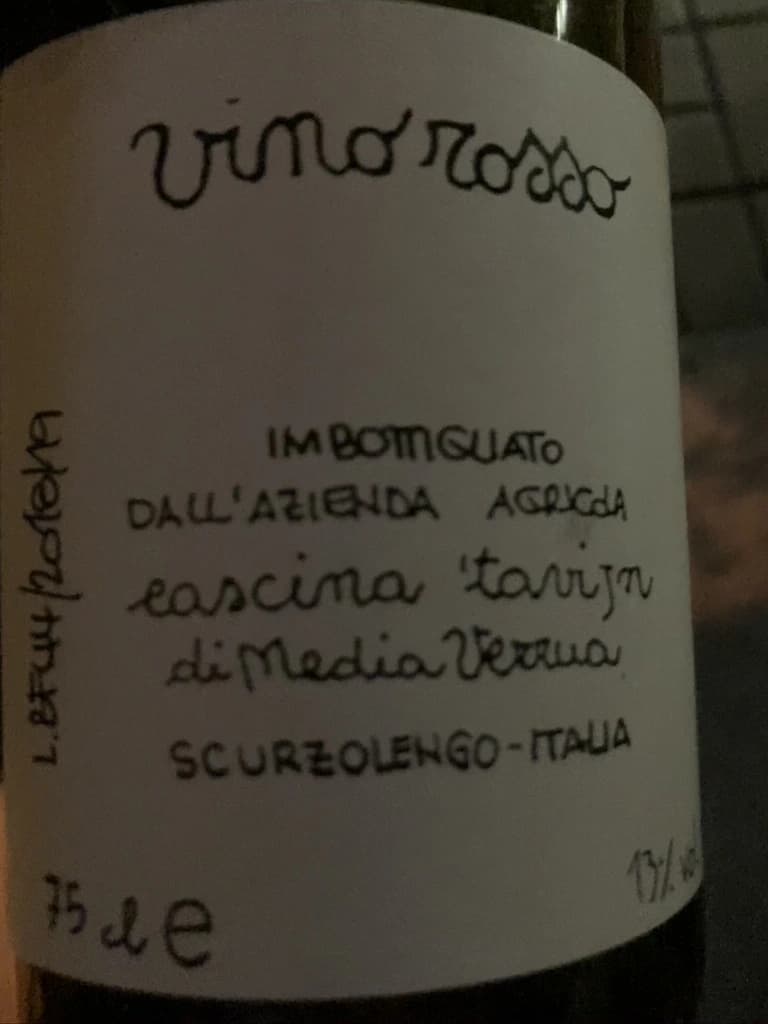 Ratings
7.00 / 10·750 ml
Had a chance to taste 2019 'vintage' of this confusingly named wine (under the same name they also have Slarina). Compared to 2020, it is much more funky, but still friendly and enjoyable. Apparently second fermentation started spontaneously in the bottle, so first sips are accompanied by sparkling sensation. Fruit-forward, with horse sweat and barnyard notes. Nice, a good wine for a rainy evening.
Cascina Tavijn
Cascina Tavijn, located in the overlooked Asti province of Piemonte, Italy, is a testament to the passionate and experimental spirit of its padronina, Nadia Verrua. Despite its modest size of approximately seven hectares, the winery stands out for its ambitious and diverse wine production. Nadia's approach is deeply rooted in the region's unique varietals, primarily focusing on Barbera, Grignolino, and Ruché. These indigenous grapes, particularly Grignolino and Ruché, have gained a cultish rise in popularity, reflecting the winery's influence in reviving and celebrating local varieties.
Nadia's journey in winemaking has been marked by a progressive shift from adhering to regional DOC and DOCG labels to a more liberated approach, allowing her greater creativity and expression in her wines. This evolution is evident in her historic wines, which have been renamed in honour of her parents – 'Ottavio' for Grignolino, 'Teresa' for Ruché, and 'La Bandita' for Barbera. Her experimental nature extends to the use of other varietals like Cortese, Moscato, Slarina, and Freisa, sourced from various means, including purchased fruit and newly planted vines. Nadia's commitment to natural winemaking is also notable, with a focus on limiting the use of sulfites and embracing organic farming practices.
The playful and colourful label designs by Gianluca Cannizzo, underpinning Nadia's vibrant personality and innovative approach, further emphasize the winery's unique character. Cascina Tavijn's wines, particularly their special bottlings, showcase the rich diversity and potential of the Asti region's indigenous grapes, making them a noteworthy contributor to the Italian wine landscape.