Viña Tondonia Blanco Reserva - 2008
7.50 / 10
Type

white still, dry

Region

Rioja DOC, Spain

Vintage

2008

Grapes

Malvasia di Candia Aromatica

Alcohol

12.5

Sugar

unknown

Price

unknown

Cellar

not available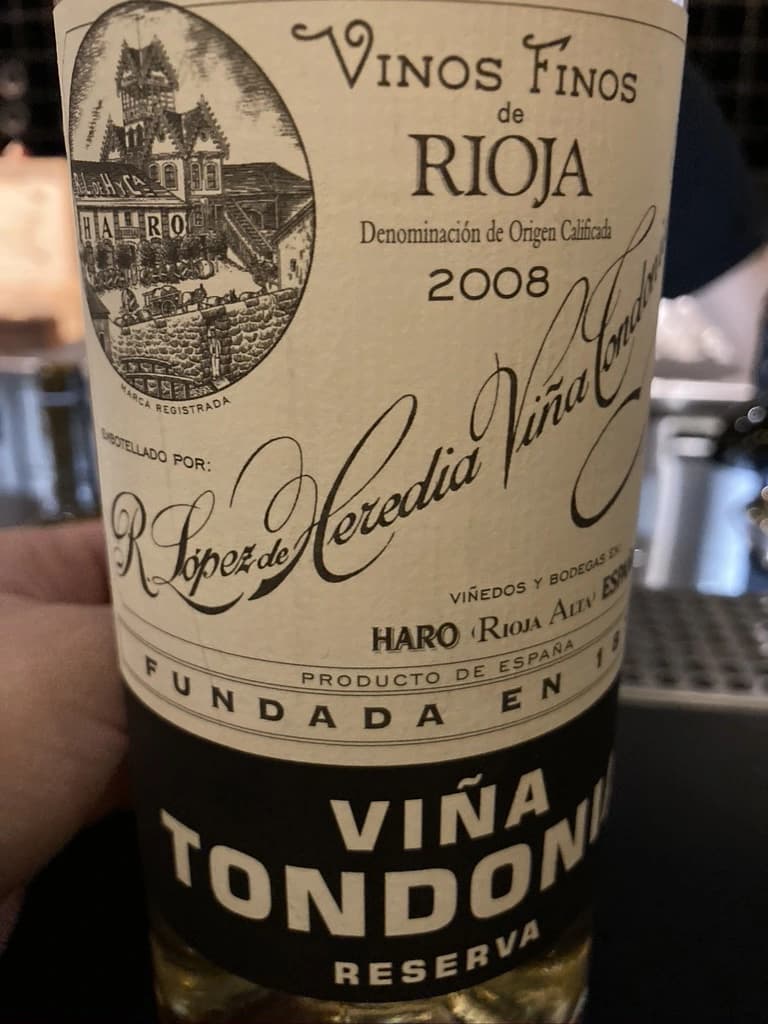 Ratings
7.50 / 10·750 ml
3.8 As with rosé, hard to guess the age, as this wine feels much younger than it actually is. It seems that most of their wines are like this.Opulent aroma, nuts grapefruit, butter. Very charming. Powerful taste, but short aftertaste, which ruins experience for me.
R. López de Heredia
We are in Haro, the mythical capital of the Rioja Alta region. Its ascension to a prestigious winemaking region was ignited by phylloxera. A curious insect, brought by accident from North America to Europe, devasted vineyards across the continent. The Great French Wine Blight drove many winemakers to alternative regions. The French settled in Rioja because they found potential there.
Rioja, like many other regions, has seen its ups and downs, reflecting Spain's history. Though, having potential is not enough. The wine doesn't make itself. Don Rafael López de Heredia y Landeta was an enthusiastic student when French negociants visited Rioja in search of alternative grape sources. He followed their footsteps and fell in love with Haro as he saw potential in the combination of soil and climate. Around 1877 he began the design and construction of the complex, known today as the López de Heredia bodega, the oldest in Haro and one of the first three houses in the Rioja region.
López de Heredia is famous for being true to their heritage and house style. Unprecedented old-school wine, a time machine trapped in a bottle. Today, María José López de Heredia runs the bodega. She says "tradition" doesn't mean immobility or opposition to change. The world and nature follow their own rhythm. So they need to be flexible while maintaining eternal principles and criteria.
López de Heredia produces wines in four ranges - Viña Tondonia, Viña Bosconia, Viña Cubillo and Viña Gravonia. All are named after vineyards.
Viña Cubillo has only one wine - a red Crianza. The three years that Cubillo spends in cask, plus four to five years in bottle before release, exceeds the legal levels for even Gran Reserva.
Viña Gravonia also consists of only one wine - a white Crianza. It is 100% Viura from 24 ha in the Gravonia (Zaconia) vineyard near the banks of the river Ebro. This vineyard ticks every conceivable box to produce white grapes which achieve ripeness and intricate character. It is further enhanced by four years in a cask and at least the same again resting in a bottle before release.
Viña Bosconia has two variants - Reserva and Gran Reserva. The former appears in a Burgundy bottle. It could be a hint of the elegant yet full-bodied wine within. The Gran Reserva is made only in exceptional years and is released only 20 years after the vintage.
Viña Tondonia is the most famous and largest vineyard of López de Heredia. It's made up of 100 ha of red and white grapes. Five wines are produced: Tinto Reserva, Tinto Gran Reserva, Blanco Reserva, Blanco Gran Reserva and Rosado Gran Reserva.