Imagine a completely black and opaque glass filled with wine. Can you tell if it's red or white? Turns out, it's not that easy to guess.
---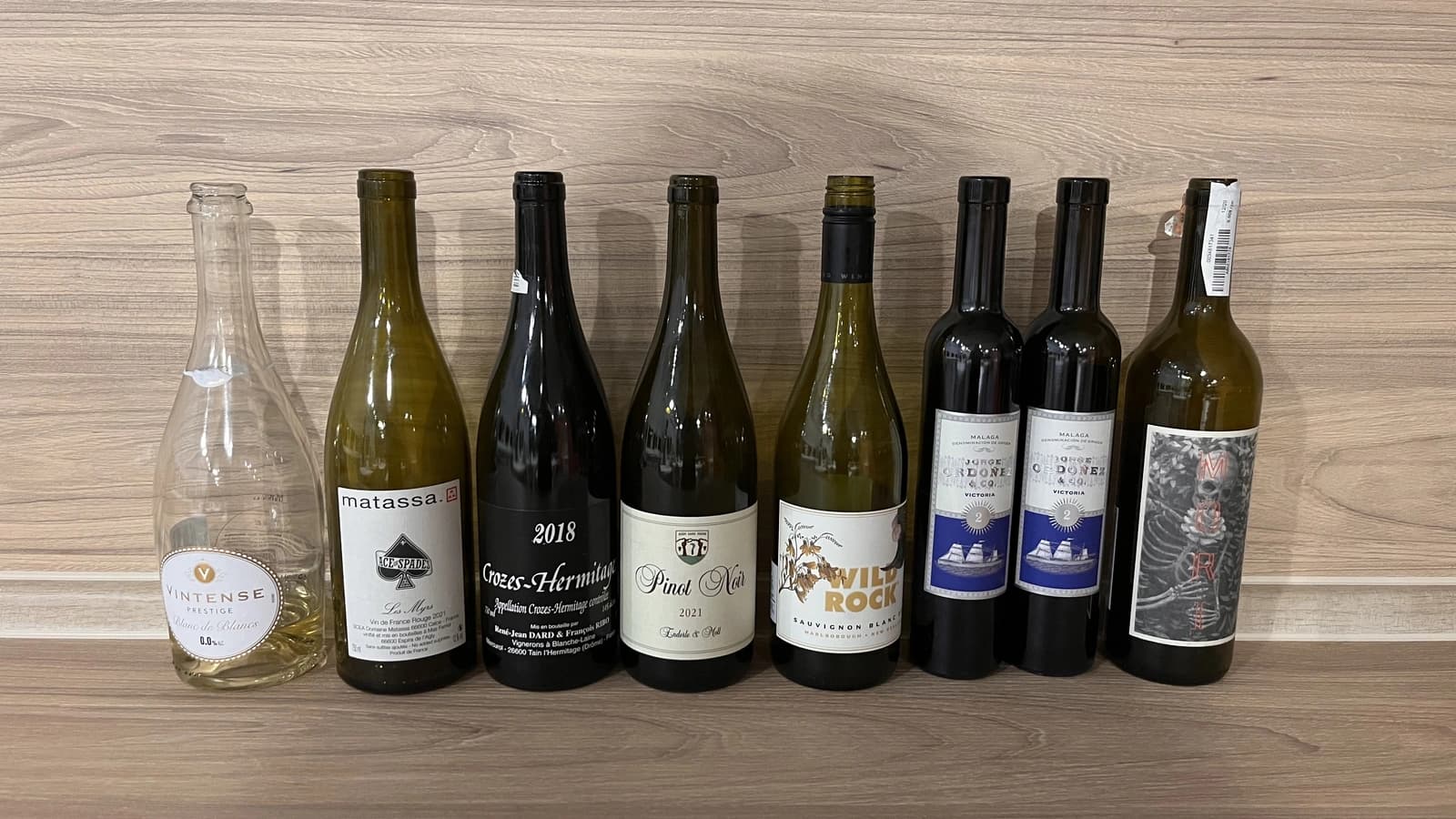 We sometimes forget how important color and temperature are in assessing wines.

— James Laube
A (professional) sensory analysis of wine breaks it down using the eyes, nose, and mouth. We often focus more on the smell and the taste of a particular wine, not talking much about its visuals. Yet, the sight reveals a lot of information about wine: grape varietal, the region it comes from, some of the winemaking aspects, and its age. Our brain perceives this information even if we don't acknowledge it or even if we don't know its meaning. Aside from removing the last source of subjective judgement, what else would happen if we won't see the wine? And if both red and white wines are served at room temperature in opaque glasses, would we be able to guess at least the colour? I've heard, from various sources, that it's not as easy as it seems. So let's try! Again.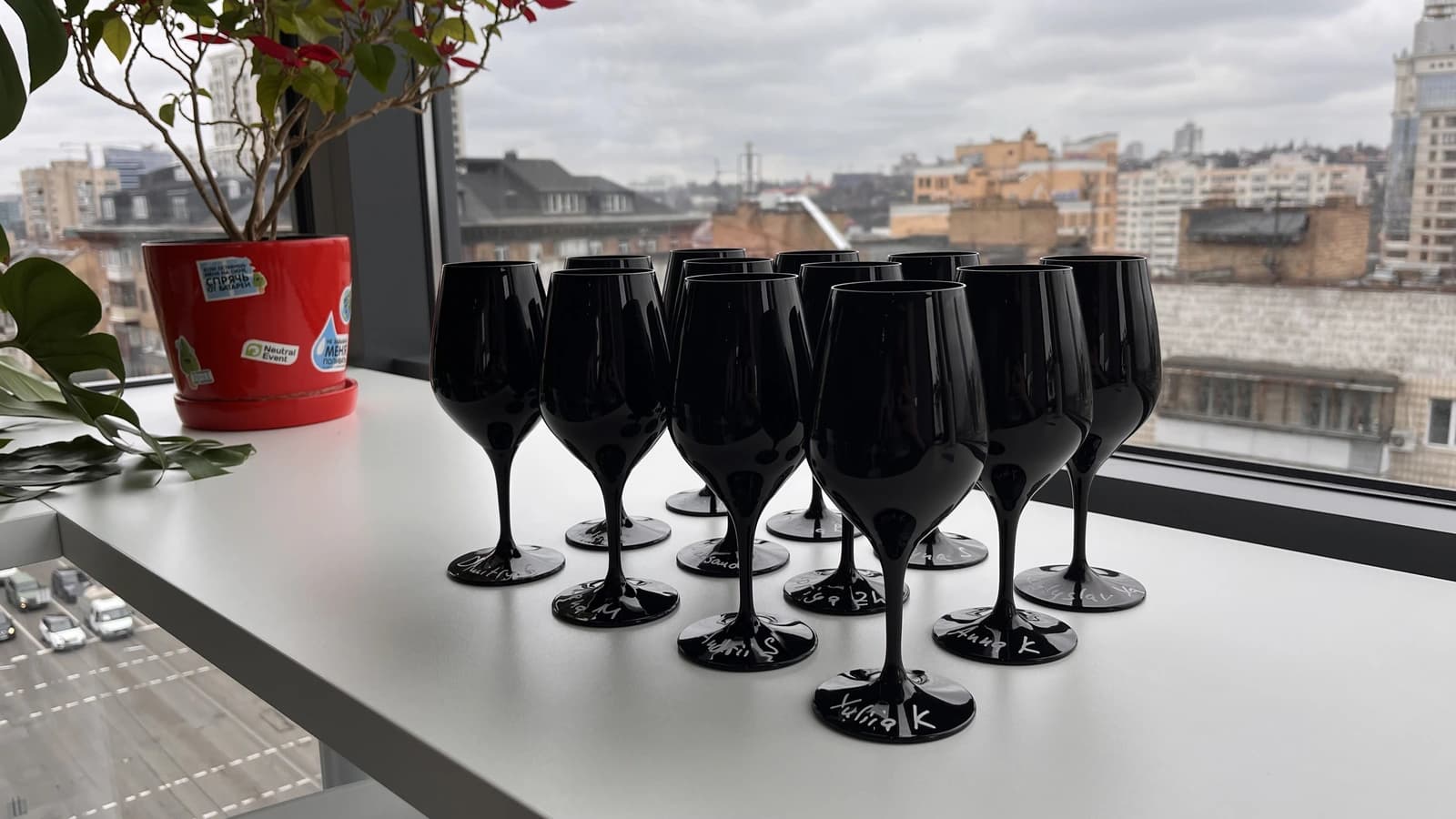 Wines:
Vintense Prestige Blanc de Blancs NV
Yes, an alcohol-free wine served blind. What? Don't look at me like I am some sort of a monster. Vintense is a Belgian brand focused specifically on the alcohol-free segment. As they say, 100% pleasure and 0.0% alcohol. Take a look at the scores to compare advertisements with our perception.
To get alcohol-free wine, first, it must be fermented as usual. After alcoholic fermentation, the wines are selected for de-alcoholisation. The low pressure under a vacuum is applied to the wine, thus allowing the evaporation of alcohol at a low temperature (no more than 40°). This avoids the loss of volatile aromas and maintains the organoleptic qualities in the original wine. The key flavours and aromas of the wine are preserved. The winemaker doesn't share technical specifications, but my hunch is that they simply carbonated the resulting wine to make it sparkling. 100% Chardonnay. Our welcome drinks become bizarre.
Results
Everyone agreed that it was sparkling.
Half of the participants thought it was rosé.
Only one person realised that it was non-alcoholic drink.
Matassa Ace of Spades Les Myrs 2021
producer: Matassa
name: Ace of Spades Les Myrs
vintage: 2021
grapes: Monastrell, Cariñena
appellation: Vin de Table
location: France
alcohol: 12
sugar: 0.4
price: 869 UAH
Initially, I planned to bring Brutal Rouge 2021, a delicious blend of red and white grapes. But I felt like there must be a limit to my experiments. Besides, the last time I tasted Ace of Spades Les Myrs 2021, we argued if it was easy to guess the colour in a blind tasting. Easy to find out the answer.
Matassa is a small, naturally farmed estate located in the township of Calce in the Val d'Agly region of Roussillon, Pyrenee-Orientales, France. The estate is owned by three incredible people - Tom Lubbe, his wife Nathalie Gauby and Sam Harrop MW. Tom and Sam are from New Zealand, while Nathalie is from Roussillon. And Matassa is located in Roussillon… Sounds suspicious. Cherchez la femme!
Le Myrs Ace Of Spades is a blend of Cariñena (Carignan) and Monastrell (Mourvèdre). The name "Les Myrs" refers to the dark soils of the vineyard, where they came from. It has a short maceration of 4 days and is aged for 5 months on its lees in concrete tanks. It is bottled without filtering or fining, and of course, without additives or sulphur.
Results
Nothing interesting because everyone believed it was an orange wine.
René-Jean Dard et François Ribo Crozes-Hermitage Blanc 2018
Following the reasoning from the previous Opaque Tasting, I decided to continue discovering whites from Rhône Valley. This time we are in Crozes-Hermitage, located in Northern Rhône. This is the biggest production-wise. It often lies in the shadow of the inner Hermitage AOC. Most of the wines are reds made of Syrah. Yet around 10% of all wines produced in Crozes-Hermitage are white wines made of Marsanne and/or Roussanne.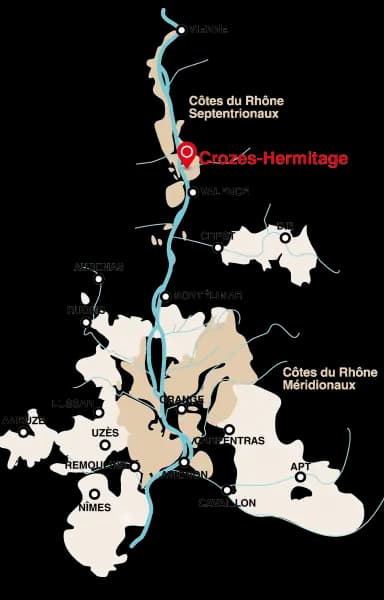 To my understanding (and limited experience with the region), René-Jean Dard et François Ribo bedazzled and belied the general reputation of their labels' AOCs thanks to lower-extraction SO2​-free expressions of local grapes. They have been making natural wines since 1983.
The Crozes-Hermitage Blanc is a blend of Marsanne (80%) and Roussanne (20%) from the Les Bâties vineyard. The vines are around 30 years old and are planted on a slope of clay soils oriented to the southwest. The winemaking is traditional, without additives with direct pressing. Ageing is carried out in demi-muids and barrels. The wine is bottled without filtration or added sulfur.
Results
Almost everyone agreed that it's white.
One person was confident it's red.
Two others were confused.
Enderle&Moll Pinot Noir 2021
producer: Enderle&Moll
name: Pinot Noir
vintage: 2021
grapes: Pinot Noir
appellation: Deutscher Wein
location: Germany
alcohol: 11.5
sugar: 0.7
price: 662 UAH
A small German winery from Baden founded in 2006 by two wine college graduates Sven Enderle and Florian Moll. They were fortunate enough to get their hands on some pretty old plots of Pinot Noir sites (planted in 1953). They follow a philosophy of Low Intervention and Sustainable Vineyard Management.
Enderle and Moll are considered to be a cult even by Jancis Robinson. Some consider them the best Pinot Noir producers in Germany. I lack qualification and experience to support this claim, so I am going to challenge it through tasting.
A classic northern Pinot Noir without any hitch. I am trying to be a lawful citizen here.
Results
3 participants were confident it's orange.
7 participants were confident it's red.
And one participant was confident it's white.
Two people guessed Pinot Noir.
Wild Rock Sauvignon Blanc 2021
producer: Wild Rock
name: Sauvignon Blanc
vintage: 2021
grapes: Sauvignon Blanc
region: Marlborough
location: Marlborough, New Zealand
alcohol: 13
sugar: 5
price: 531 UAH
And here we come. I know that several participants of this evening started their journey to the wine world from the bottom of New Zealand Sauvignon Blanc. Maybe I am a snob, but I see nothing naughty in a well-made tropical Sauvning Blanc.
There are two reasons to pick this bottle. First of all, I wanted to take something relatively easy to guess. After all, Wild Rock makes a typical gooseberry-driven Sauvignon Blanc. Secondly, I wanted to bring something with not a single naked ass (of course, I am talking about divine buttcheeks of Psyche depicted on every bottle of Gulfi). Makes sense, right?
Results
Funny, but only one person said with confidence that it's Sauvignon Blanc from New Zealand.
Despite acknowledging the typical profile of this wine, others didn't guess.
At least, everyone were on the same page regarding the colour of this wine - white.
(x2) Jorge Ordoñez №2 Victoria 2021
producer: Jorge Ordoñez
name: №2 Victoria
vintage: 2021
grapes: Zibibbo
appellation: Málaga DO
location: Andalusia, Spain
alcohol: 10.5
sugar: 186
price: 759 UAH
Now that the sugar level started to grow (hey, 5g/L in the previous wine is no joke), we can meet a sweetie (not sweaty, mind you) wine from Málaga, Andalucia, Spain. And I have a decent pair for this fresh and sweet Zibibbo. I asked everyone to stay calm, taste the wine, and share their thoughts before I give everyone a lemon tart, thus revealing everything about the wine.
This is my quest to destroy the negative perception of sweet wines. Aye, there are tons of awful syrupy wines. They use sugar to mask their imperfections. On the other hand, it's just popular to hate sugar in any form.
But look, there is a vast world of high-quality sweet wines. They do not taste like a headache or blindness. They balance all the components - alcohol, sweetness and acidity level. The latter is so important to make a pleasant and delicious wine.
№2 Victoria is 100% Muscat of Alexandria. The oldest variety in the Muscat family and one of the few remaining genetically unmodified Vitis vinifera cultivars remaining in the world today. The Phoenicians transplanted this grape from Alexandria (Egypt) to Málaga (Spain) approximately 2,800 years ago.
The grapes come from the following vineyards: Frontilla, Panderón, Navarrete, Villazo, and Villalto. Vines are planted between 1902 and 1935. Traditional dry-farmed viticulture. Cultivated completely by hand, with minimal human intervention. The majority of the vines receive no treatments whatsoever. Many of the vineyards are planted directly into the rock (slate) immediately after the phylloxera.
Late-harvest (partially dehydrated) bunches are whole-cluster pressed in a pneumatic press. Fermentation occurs in small (1,500L) stainless steel tanks. When fermentation reaches 10% alcohol, the temperature of the tank is dropped dramatically to halt fermentation. A small amount of SO2​ is added to stop fermentation. Then the wine is aged for 8 months sur lie in stainless steel.
Fun fact. 4.5 kg of grapes are required to create just one bottle (375 ml). What a feast.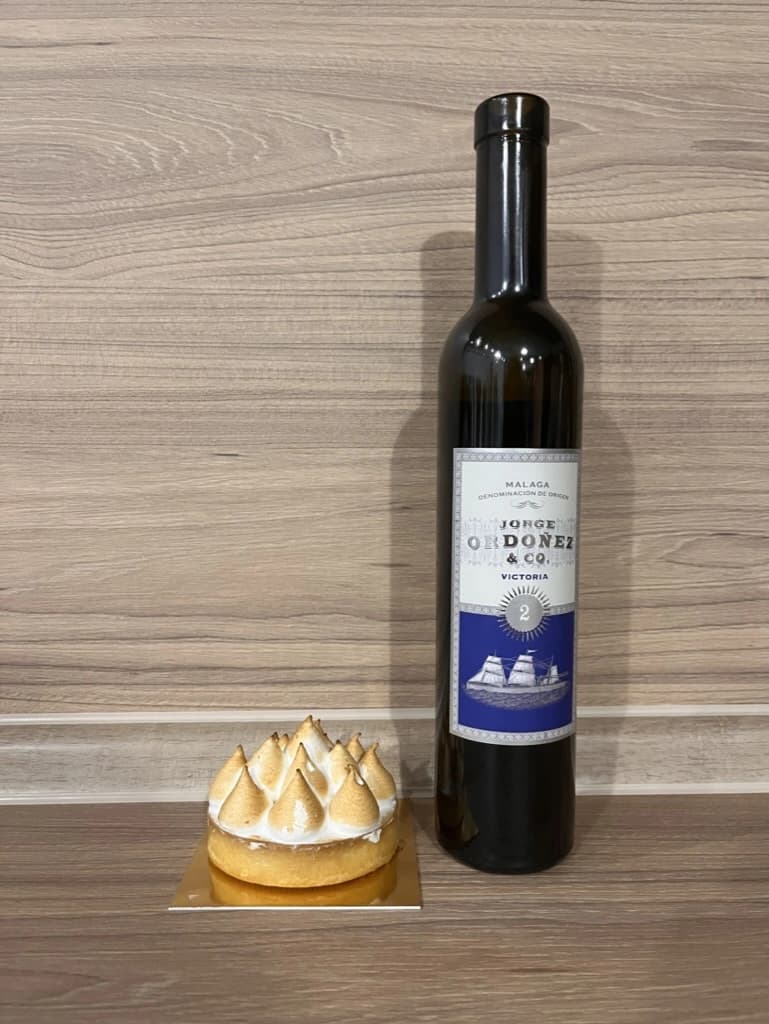 Momento Mori Give up the Ghost 2019
producer: Momento Mori
name: Give up the Ghost
vintage: 2019
grapes: Greco di Tufo
region: Gippsland
location: Victoria, Australia
alcohol: 12.3
sugar: 1.1
price: 1402 UAH
People demanded an extra bottle. It's hard to pick anything after sweet wine. But it seemed like this Greco di Tufo could be a good reset.
Scores
| | rms | sdev | favourite | outcast | price | QPR |
| --- | --- | --- | --- | --- | --- | --- |
| Wine #1 | 3.3277 | 0.0731 | 0.00 | 5.00 | 249.00 | 3.6367 |
| Wine #2 | 3.6891 | 0.1035 | 3.00 | 0.00 | 869.00 | 1.7132 |
| Wine #3 | 3.8328 | 0.1231 | 2.00 | 1.00 | 2190.00 | 0.8346 |
| Wine #4 | 3.8619 | 0.1558 | 2.00 | 1.00 | 662.00 | 2.8642 |
| Wine #5 | 3.5750 | 0.1191 | 0.00 | 1.00 | 531.00 | 2.3764 |
| Wine #6 | 3.5548 | 0.2697 | 2.00 | 4.00 | 1518.00 | 0.7842 |
| Bonus | 4.1289 | 0.0736 | 3.00 | 0.00 | 1402.00 | 2.0542 |
How to read this table:
rms is root mean square or quadratic mean. The problem with arithmetic mean is that it is very sensitive to deviations and extreme values in data sets, meaning that even single 5 or 1 might 'drastically' affect the score.
sdev is standard deviation. The bigger this value the more controversial the wine is, meaning that people have different opinions on this one.
favourite is amount of people who marked this wine as favourite of the event.
outcast is amount of people who marked this wine as outcast of the event.
price is wine price in UAH.
QPR is quality price ratio, calculated in as 100 * factorial(rms)/price. The reason behind this totally unprofessional formula is simple. At some point you have to pay more and more to get a little fraction of satisfaction. Factorial used in this formula rewards scores close to the upper bound 120 times more than scores close to the lower bound.
| | Wine #1 | Wine #2 | Wine #3 | Wine #4 | Wine #5 | Wine #6 | Bonus |
| --- | --- | --- | --- | --- | --- | --- | --- |
| Oleksandr R | 3.70 | 3.70 | 3.30 | 4.20 | 3.50 | 3.50 | 3.80 |
| Andrii S | 3.30 | 3.70 | 4.20 | 3.80 | 3.70 | 4.00 | - |
| Viktoriya Zh | 3.60 | 3.90 | 4.10 | 3.90 | 3.30 | 4.10 | - |
| Yulia K | 3.50 | 4.00 | 3.50 | 4.20 | 3.00 | 3.50 | - |
| Olena M | 3.00 | 3.90 | 3.70 | 3.90 | 3.50 | 3.30 | - |
| Kateryna S | 3.00 | 3.00 | 3.50 | 3.00 | 3.00 | 2.50 | - |
| Anna Kh | 3.40 | 3.80 | 4.50 | 3.20 | 3.50 | 3.30 | - |
| Rostyslav Ya | 3.10 | 3.90 | 3.90 | 4.00 | 3.90 | 4.10 | - |
| Oksana R | 3.00 | 3.40 | 3.60 | 3.70 | 3.60 | 3.80 | 4.00 |
| Dimitry G | 3.60 | 3.70 | 3.80 | 4.50 | 4.30 | 3.00 | 4.60 |
| Andrii Sh | 3.60 | 3.10 | 3.50 | 3.80 | 3.70 | 2.90 | 4.20 |
| Boris B | 3.00 | 4.00 | 4.20 | 3.90 | 3.70 | 4.20 | 4.00 |