Type

white sparkling, extra-brut

Region

Champagne AOC, France

Producer

Vintage

1996

Disgorged

2009-01

On lees

144 months

Grapes

Chardonnay, Pinot Noir

Alcohol

12

Sugar

5.1

Price

15900 UAH

Cellar

not available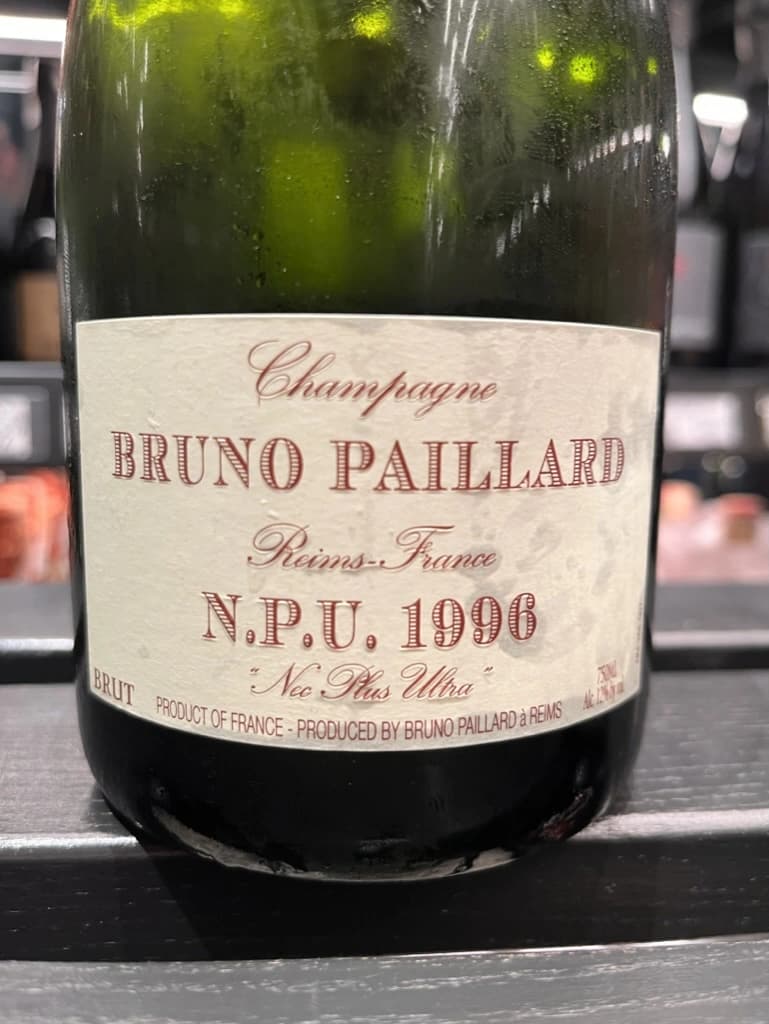 Ratings
9.00 / 10·750 ml·@Garage · Champagne Party by Elena and Roma Vol. 3
The 1996 Nec Plus Ultra is where the empty space is a saving grace. Aye, it talks in the language of baked cheese, beeswax, boiled eggs (in a very good sense, trust me), miso and tarragon (it follows me everywhere even when I close my eyes shut). But its freshness creates a vacuum that is filled with complexity, elegance and longevity. I was already tired, so maybe next time I would rate it higher. In any case, it's a remarkable wine and the age only makes it better.
Wine #8 on Champagne Party by Elena and Roma Vol. 3 event.
Bruno Paillard
Champagne Bruno Paillard, nestled in the Champagne region's heart in Reims, stands as a testament to the dedication and vision of its founder, Bruno Paillard. Born in 1953 into a family with deep roots in Champagne as brokers and growers in the Grand Crus villages of Bouzy and Verzenay, Bruno embarked on his journey in the wine industry as a broker in 1975. This experience provided him with extensive knowledge of Champagne, laying the foundation for his future endeavours.
In 1981, driven by the desire to create a unique and distinct Champagne, Bruno Paillard sold his prized Jaguar to fund his venture. Starting in a rented cellar, he meticulously selected grapes from independent growers, crafting Champagnes that reflected his personal style. This initial phase was marked by a focus on export, quickly garnering recognition for the quality of Bruno Paillard Champagnes, particularly among Anglo-Saxon critics from the 1990s onwards.
In 1994, Bruno began acquiring vineyards, starting with three hectares of Grand Crus in Oger in the Côte des Blancs. This marked the beginning of a patient and strategic expansion, culminating in a remarkable vineyard that today spans 32 hectares, including 12 hectares of Grand Crus. These vineyards provide more than half of the grapes needed by the Maison, with the rest still sourced from long-standing independent grower partners across more than 30 villages.
Alice Paillard, Bruno's daughter, joined the Maison in 2007, bringing a new dimension to the family business. Together, they have continued to produce Champagnes that are renowned for their depth, elegance, and distinctive expression. The Maison is committed to sustainable agriculture, reflecting a deep respect for the land and its terroir.
The Champagne Bruno Paillard portfolio includes several emblematic cuvées, each showcasing the Maison's commitment to quality and innovation. The "Dosage: Zero" cuvée epitomizes the house's pursuit of purity, offering a generous and saline expression. The "Blanc de Blancs Grand Cru" is an intensely aromatic Champagne, perfect for aperitifs and delicate dishes. The "N.P.U. - Nec Plus Ultra" represents the pinnacle of the Maison's craftsmanship, with only eight vintages meeting its stringent criteria for excellence.
Bruno Paillard's approach to Champagne production is characterized by a meticulous focus on ageing on lees and disgorgement (they are among the first ones to put the disgorgement date on their labels). The extended ageing process, which can be two to four times longer than the minimum required by the appellation, allows the wines to develop their full complexity. This commitment to quality extends to every aspect of production, from the sustainable cultivation of their vineyards to the careful selection of grapes and the precision of the winemaking process.
Champagne Bruno Paillard is a story of passion, dedication, and a relentless pursuit of excellence. From its humble beginnings to its current status as a revered Champagne house, the journey of Bruno Paillard and his daughter Alice continues to inspire and delight Champagne enthusiasts worldwide.