Brunello di Montalcino Piccoli Contenitori - 2016
9.60 / 10
Type

red still, dry

Region

Brunello di Montalcino DOCG, Italy

Producer

Vintage

2016

Grapes

Sangiovese

Alcohol

14.5

Sugar

1

Price

8900 UAH

Cellar

not available
Ratings
9.60 / 10·750 ml·@Garage · Stella di Campalto by Maksym Demchenko
This wine boasts an exquisite bouquet, brimming with red flowers, confiture, roasted coffee, spices, toffee, and herbs. Its structure is impeccable, striking a perfect balance with an endless aftertaste and ripe character. The tannins, though high, are remarkably integrated and delicately grippy. Enhanced by great acidity, it shows a bold, matured character compared to Cielo '18. With a few hours of aeration, it blossoms further, becoming even more magnificent.
Wine #3 on Stella di Campalto by Maksym Demchenko event.
Stella di Campalto
Stella di Campalto is a remarkable winemaker known for her dedication to organic and biodynamic viticulture at her family winery. She took over winemaking and viticulture in 1992, and by 1996, she had transitioned to certified organic farming. Biodynamic practices were introduced in 2002, with certification following in 2005. The estate is situated at the southeastern corner of the Montalcino zone and includes about 6 hectares of vineyards, with the rest of the 13-hectare property composed of olive groves and woodlands.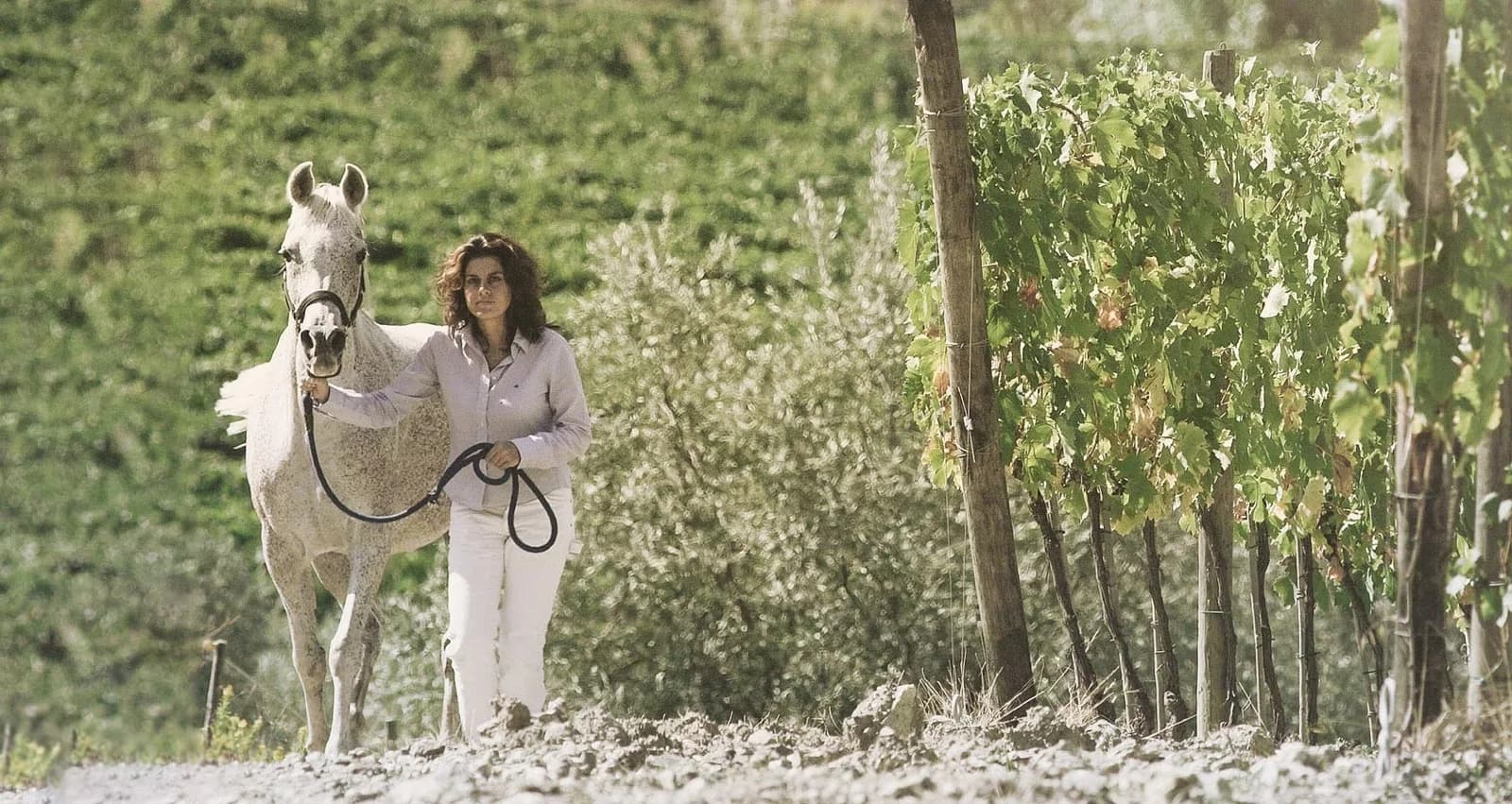 The estate itself, San Giuseppe, was originally established in 1910 but lay abandoned for decades until Stella di Campalto's family purchased it in the early 1990s. With no prior experience in winemaking, Stella embarked on a journey to revive the land, living under rustic conditions while she cultivated the vineyards and built the winery from scratch. Stella's approach to winemaking is deeply personal, with a strong connection to the land, which is reflected in the unique personalities of her wines.
Located near Monte Amiata in Tuscany, the land was initially not considered very desirable. However, its isolation became an asset, providing a unique terroir characterized by 12 different types of soil, ranging from quartz to volcanic black earth, contributing to the complexity of her wines. The vineyards benefit from their south and west-facing position towards the sea, above the Ombrone River, which is ideal for viticulture.
Stella employs various biodynamic practices, such as planting 25 different types of grains among the vines to maintain soil vitality and using traditional biodynamic treatments. Her approach to vine pruning is non-invasive, allowing the vines to reach their natural equilibrium. The winery itself is built into the hillside, allowing for a gravity-flow system that gently handles the grapes, and she employs spontaneous fermentation with native yeasts, keeping each vineyard block separate to maintain their individual characters.
Grapes release their skins, in their element. Three extra years of aging—simplicity happens. Let it go: press, macerate, mutate, elevate. Into the cellar, from earth to oak. An alchemical pause, perfectly poised. It takes time, an eternity: surprises happen when you stop looking, and wait.
Stella di Campalto initially produced only Rosso di Montalcino, gaining recognition for creating wines with distinct identities, which she refers to as "identity" wines. She often ages her wines longer than the DOCG requirements, blending them only when they are ready, in a process she likens to matchmaking. Her wines are known for their authenticity and elegance, with bright ruby red colours and complex yet delicate aromas, reminiscent more of Burgundy than Bordeaux.