Explore our detailed recap of a recent intimate wine tasting event featuring four select Burgundy wines: two reds and two whites from the 2015 and 2009 vintages.
---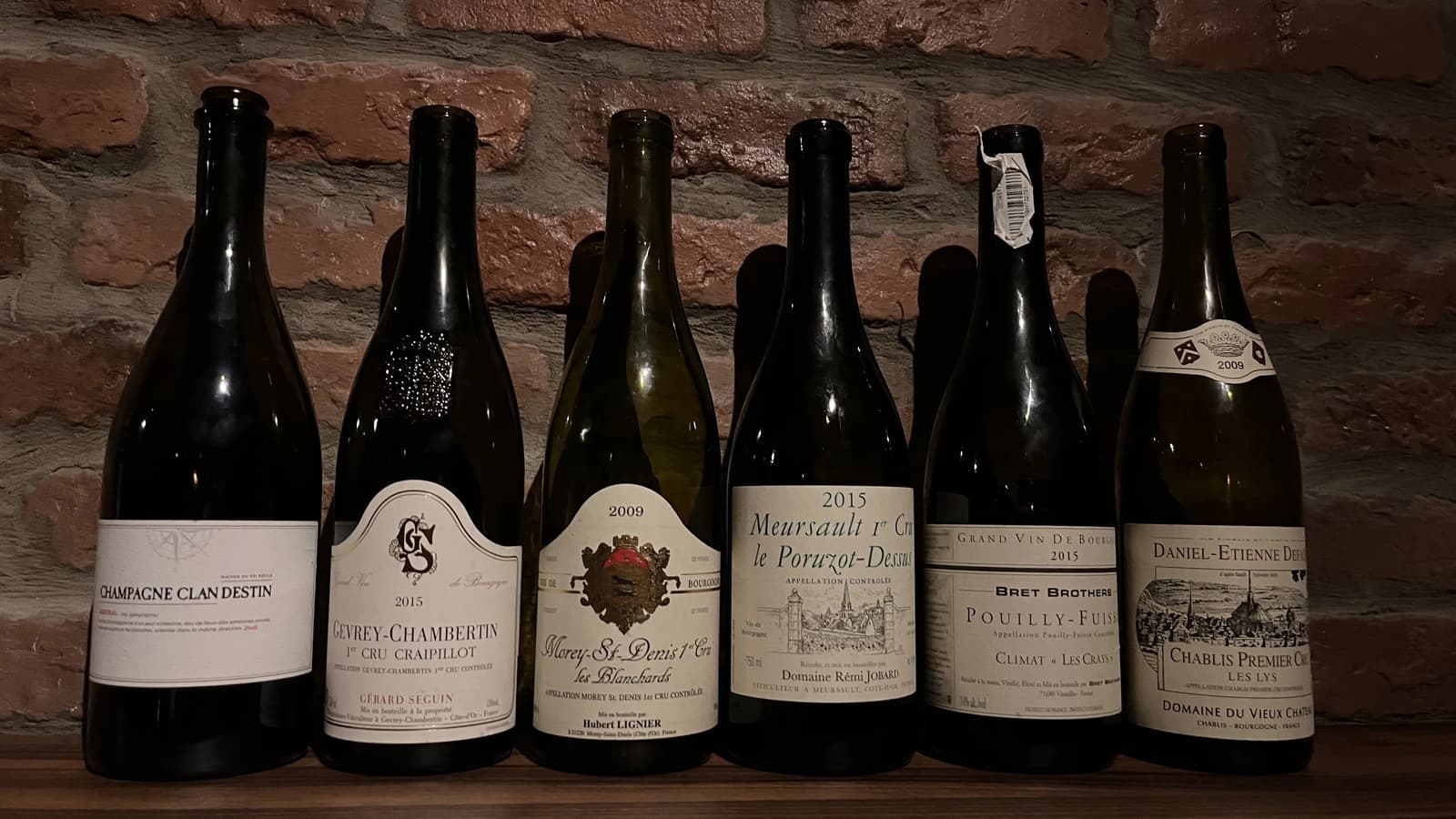 In the buzzing world of wine tastings, where enthusiasts often find themselves shoulder to shoulder in a quest to sample a vast array of wines, the appeal of a more intimate gathering cannot be understated. It's in this spirit that our latest event sought to step away from the clamour, offering a quieter, more considered environment where the complex profiles of exceptional wines could be truly savoured. Dubbed the 'anti-event', it was a deliberate pivot towards minimalism: fewer guests, fewer bottles, but an abundance of space and time to engage with each wine's unique narrative and to enjoy the company of like-minded connoisseurs.
Our curated selection on this occasion featured the nuanced elegance of Burgundy's terroir with four distinguished wines, chosen to facilitate a journey through flavour and time. The quartet comprised two whites and two reds, with an intriguing split between the 2015 and 2009 vintages. This careful pairing was designed to not only contrast the vibrant youth against the mature complexity but also to foster a dialogue between the wines as they evolved in the glass, mirroring the flow of conversation around them. Each sip was an invitation to explore, reflect, and connect - both with the wine and with each other.
Scores
| | rms | sdev | favourite | price | QPR |
| --- | --- | --- | --- | --- | --- |
| Clandestin | 4.0251 | 0.0292 | 0.00 | 2990.00 | 0.8290 |
| Seguin | 4.2448 | 0.0167 | 4.00 | 2700.00 | 1.2897 |
| Lignier | 4.2162 | 0.0162 | 3.00 | 5800.00 | 0.5743 |
| Jobar | 4.1007 | 0.0057 | 1.00 | - | - |
| Bret | 4.2750 | 0.0306 | 3.00 | 2119.00 | 1.7183 |
| Defaix | 4.1869 | 0.0098 | 3.00 | 2380.00 | 1.3389 |
How to read this table:
rms is root mean square or quadratic mean. The problem with arithmetic mean is that it is very sensitive to deviations and extreme values in data sets, meaning that even single 5 or 1 might 'drastically' affect the score.
sdev is standard deviation. The bigger this value the more controversial the wine is, meaning that people have different opinions on this one.
favourite is amount of people who marked this wine as favourite of the event.
outcast is amount of people who marked this wine as outcast of the event.
price is wine price in UAH.
QPR is quality price ratio, calculated in as 100 * factorial(rms)/price. The reason behind this totally unprofessional formula is simple. At some point you have to pay more and more to get a little fraction of satisfaction. Factorial used in this formula rewards scores close to the upper bound 120 times more than scores close to the lower bound.
Clandestin Austral 2019
Type

white sparkling, brut-nature

Region

Champagne AOC, France

Producer

Wine

Vintage

2019

Disgorged

2022-07

On lees

>24 months

Grapes

Pinot Noir

Alcohol

12

Sugar

0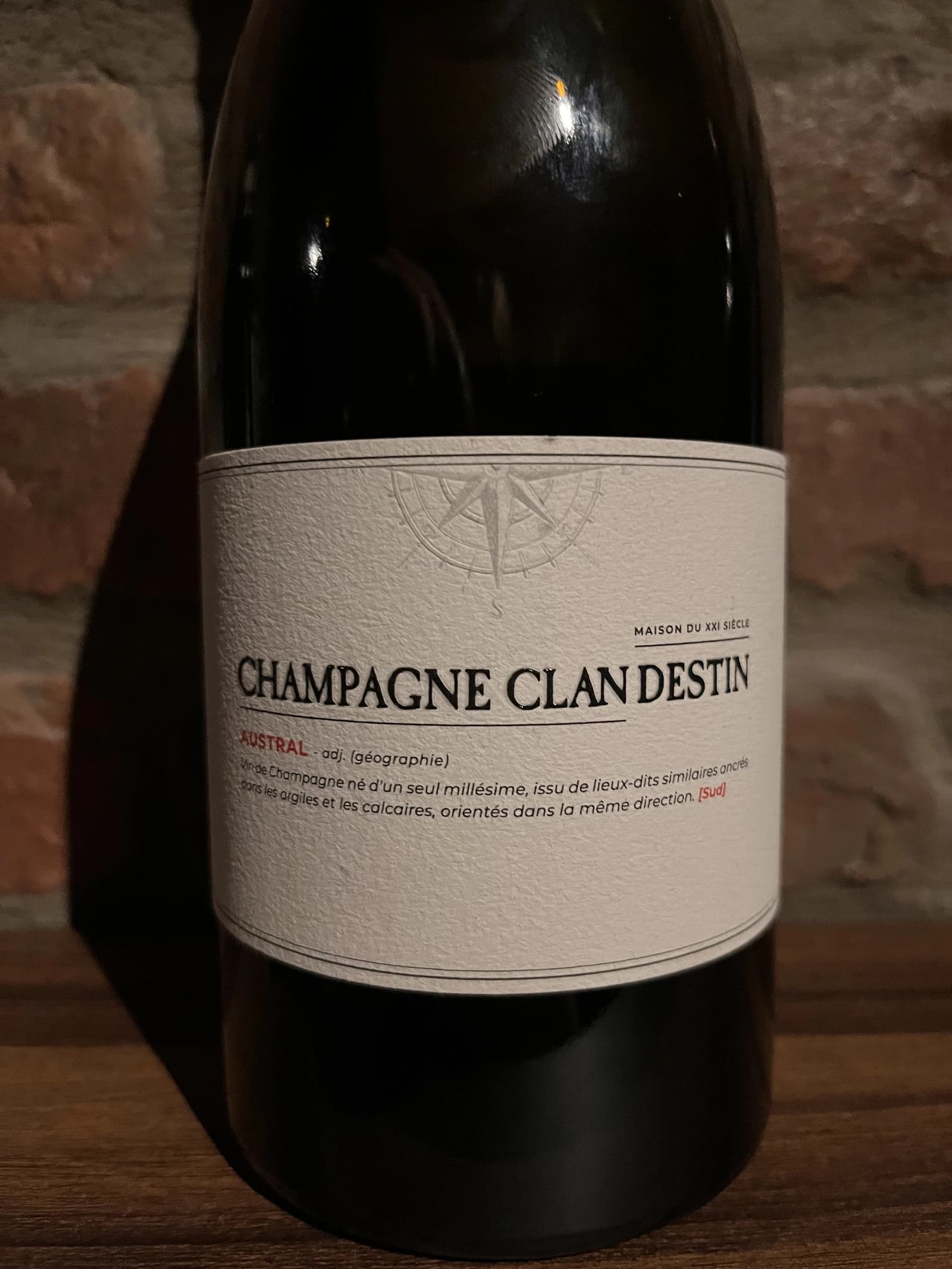 This wine secured the 🏅 6th place in our wine tasting lineup.
Domaine Gérard Seguin Gevrey-Chambertin 1er Cru Craipillot 2015
Type

red still, dry

Region

Gevrey-Chambertin AOC, France

Producer

Vintage

2015

Grapes

Pinot Noir

Alcohol

13

Sugar

1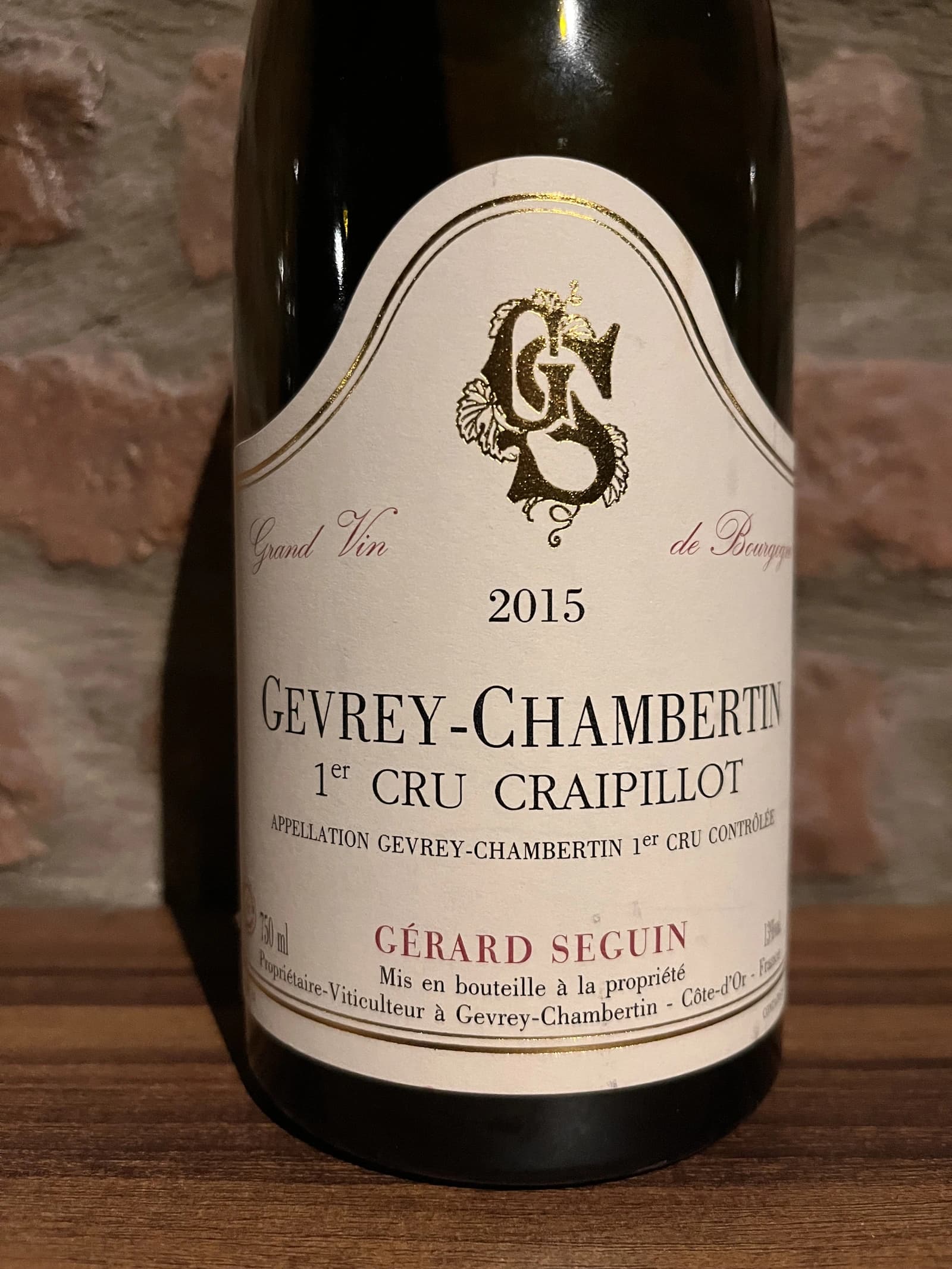 This wine secured the 🥈 2nd place in our wine tasting lineup.
The winery is a family-owned property that has a small parcel of 0.9 hectares within the 2.75 hectares of the Craipillot locality, home to very old vines, some of which are over 90 years old, with others exceeding a century. These old vines are rooted in marly debris and pebbles, offering well-drained soil. The vinification process is quite traditional, with manual harvesting followed by total destemming. Indigenous yeasts spark the fermentation after cold maceration, and the wine matures for 12 to 18 months in barrels, 40% of which are new, sourced from the Tronçais forest.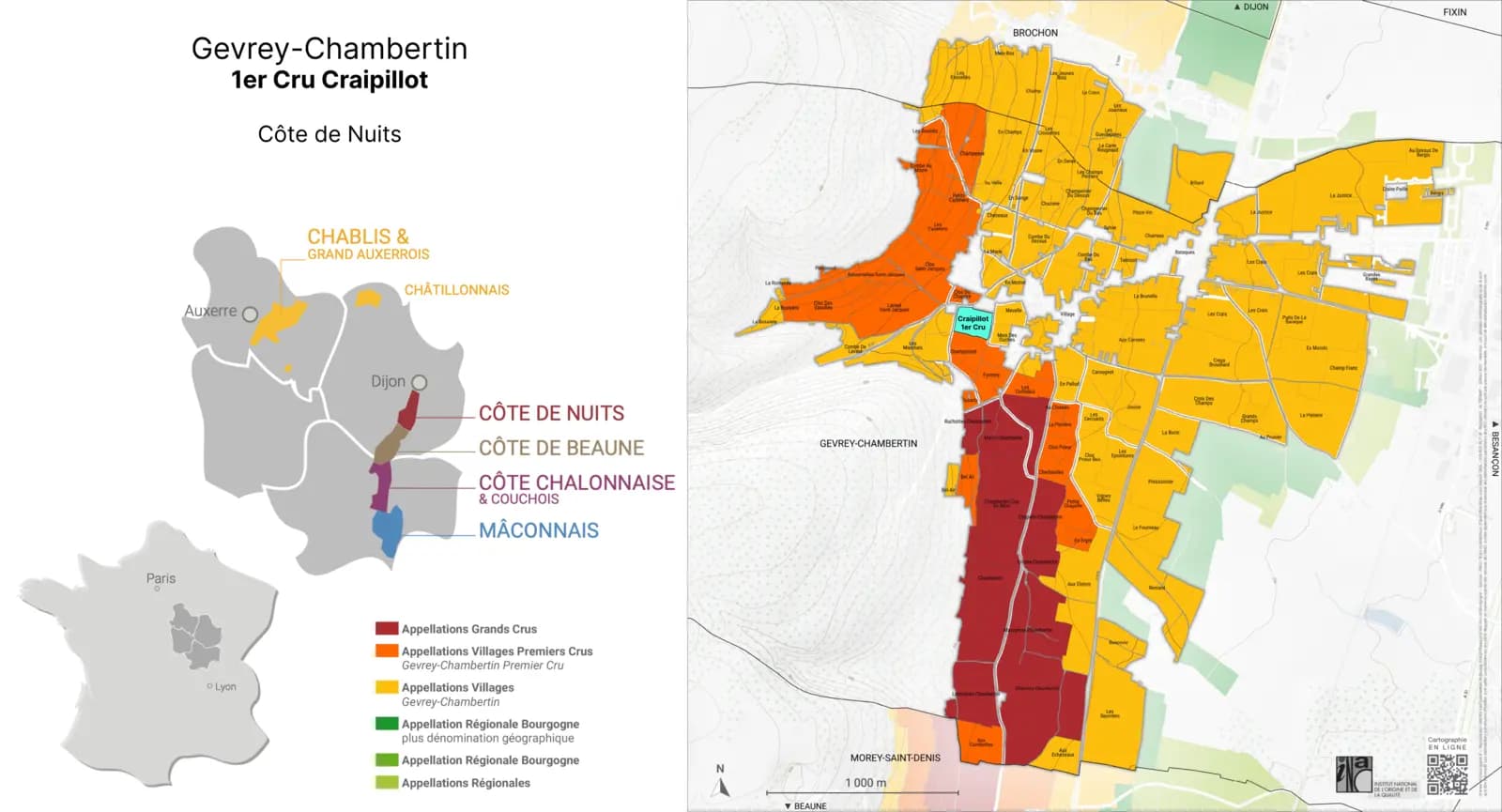 Gevrey-Chambertin, in the Côte de Nuits region of Burgundy, France, is renowned for its robust and structured Pinot Noir wines. These wines are often noted for their deep colour, powerful structure, and rich, complex flavours, typically showcasing dark berry, cherry, and earthy notes, sometimes with hints of floral and spicy nuances.
In terms of Grand Crus versus Premier Crus within the appellation, Premier Crus often show a more delicate and accessible profile in their youth, contrasting with the intense, sometimes austere nature of Grand Crus. This is attributed to the distinct terroirs and winemaking practices. The Northern Premier Crus, benefiting from the cool air and southern exposure of the Combe Lavaux, yield elegant wines. While cooler vintages might challenge their ripeness, warmer years like 2009 and 2015 highlight their meaty, fruit-abundant character with fine tannins. This makes Gevrey-Chambertin Premier Crus particularly appealing for their balance of sophistication and value.
Hubert Lignier Morey Saint Denis 1er Cru les Blanchards 2009
Type

red still, dry

Region

Morey-Saint-Denis AOC, France

Producer

Vintage

2009

Grapes

Pinot Noir

Alcohol

13.5

Sugar

unknown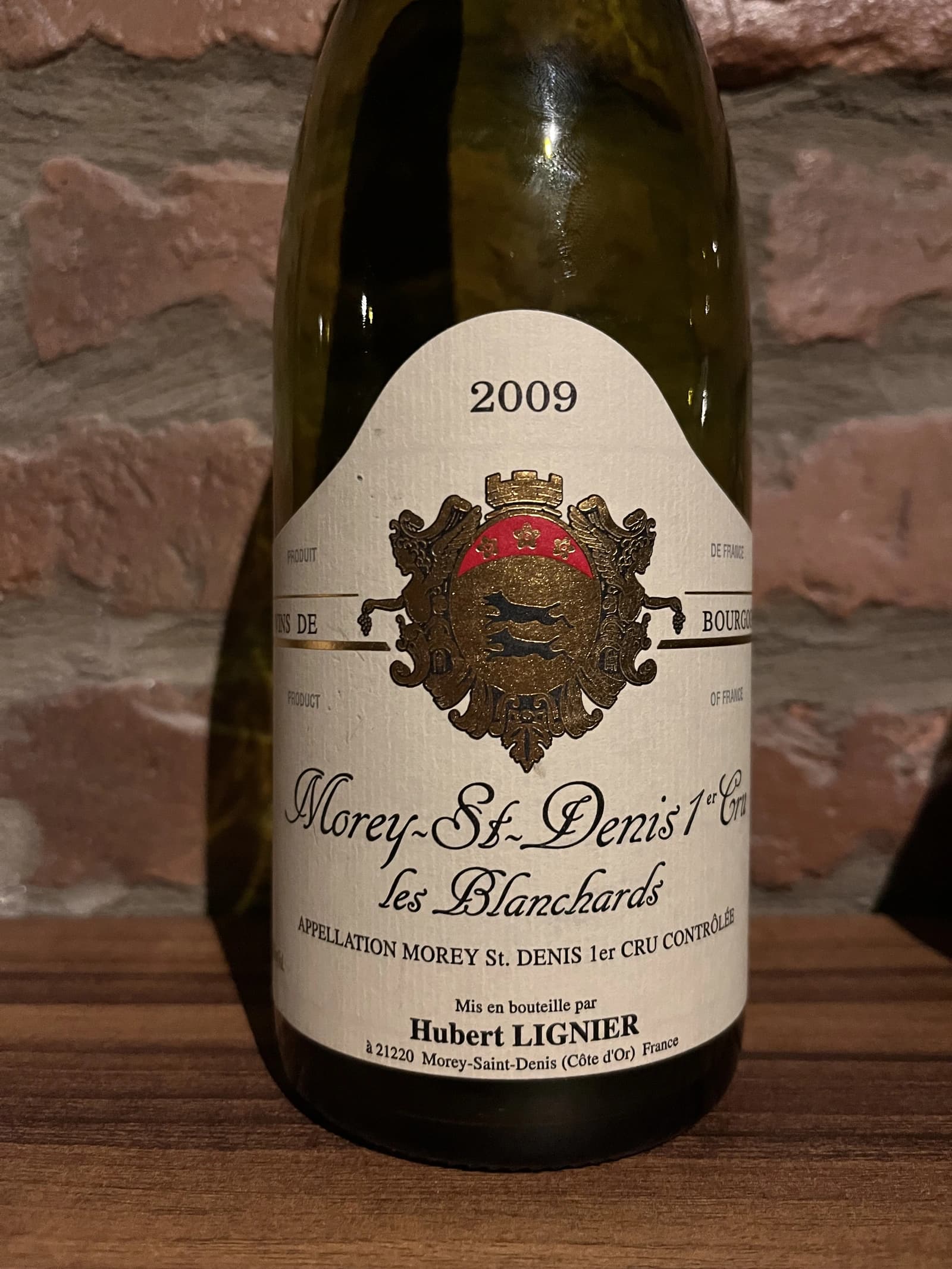 This wine secured the 🥉 3rd place in our wine tasting lineup.
The Hubert Lignier Morey Saint Denis 1er Cru les Blanchards 2009 is crafted by a father-son duo who manage 9 hectares and produce 24 wines across different appellations. Their vineyards, ploughed since the 1990s, eschew weedkillers and insecticides in favour of organic and biodynamic methods to preserve the microorganism balance crucial for vine growth. Vinification and ageing follow a low-interventionist approach, with a significant focus on the quality of the fruit. The wines are aged in barrels (20-30% new oak) for a lengthy period of 20 or 22 months on lees, without racking after malolactic fermentation and are bottled using gravity, unfiltered, to maintain the wine's freshness and ageing potential.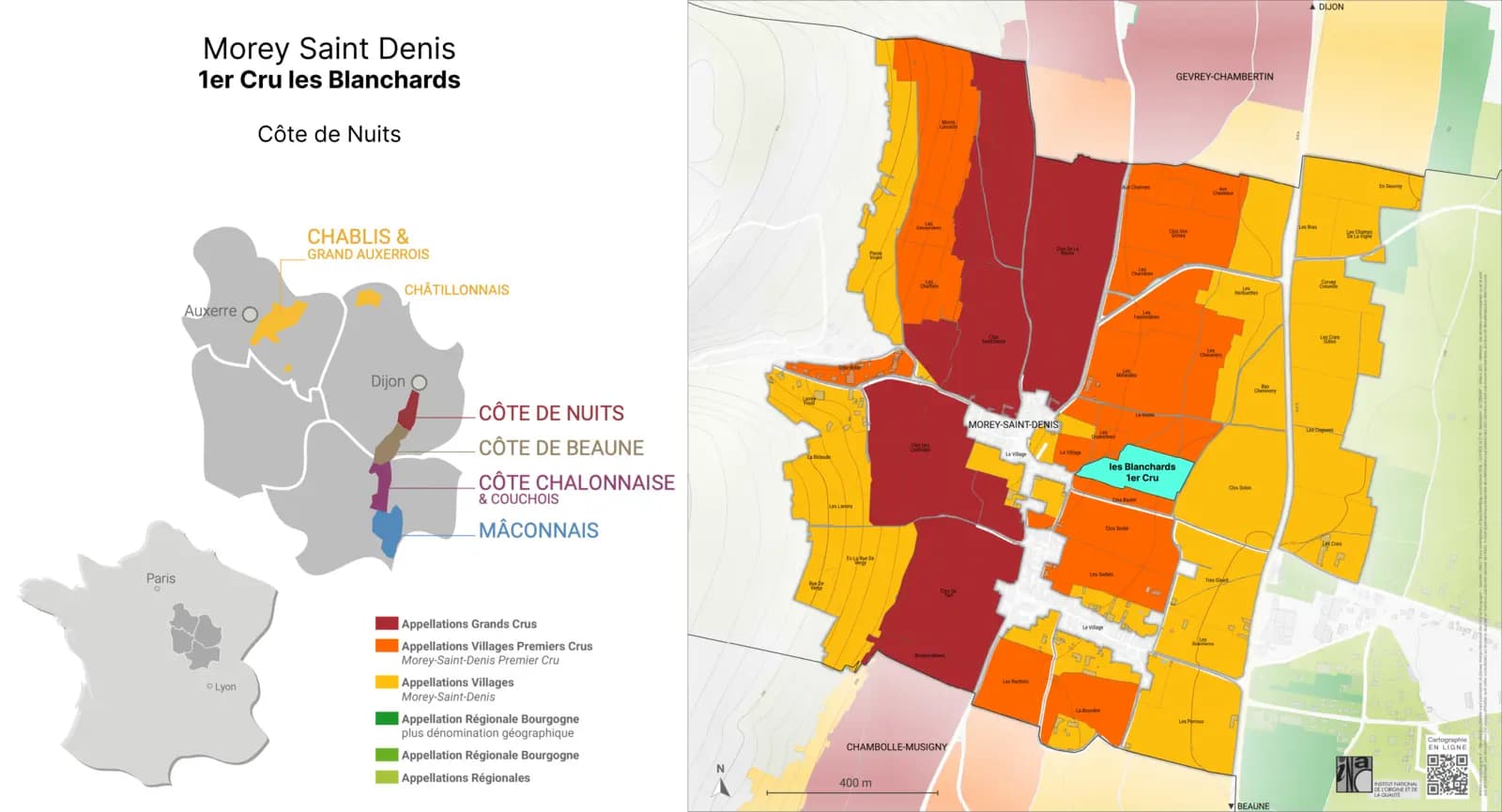 Morey-Saint-Denis, located in the Côte de Nuits subregion of Burgundy, is celebrated for its predominantly red wines, with Pinot Noir being the primary grape variety. The wines of Morey-Saint-Denis are often regarded as a quintessential expression of Côte de Nuits Pinot Noir. They are positioned between the powerful and bold wines of Gevrey-Chambertin and the delicate, ethereal wines of Chambolle-Musigny, providing a balanced middle ground. This makes them an excellent introductory point for those new to Burgundy's reds, offering a blend of intensity and finesse that is both thrilling and precise.
Focusing on the 1er Cru Les Blanchards, this vineyard, once a riverbed at the bottom of a slope, is characterized by its very white soil due to the presence of broken limestone rocks. This terroir contributes to the wine's unique profile: a combination of mature, deep black fruit and a distinct, sharp minerality, enhanced by bright acidity and dense tannin. Sometimes austere in its youth, it gradually takes on a fruity character accompanied by smoky or spicy notes.
Domaine Rémi Jobard Meursault 1er Cru le Poruzot-Dessus 2015
Type

white still, dry

Region

Meursault AOC, France

Producer

Vintage

2015

Grapes

Chardonnay

Alcohol

13.5

Sugar

unknown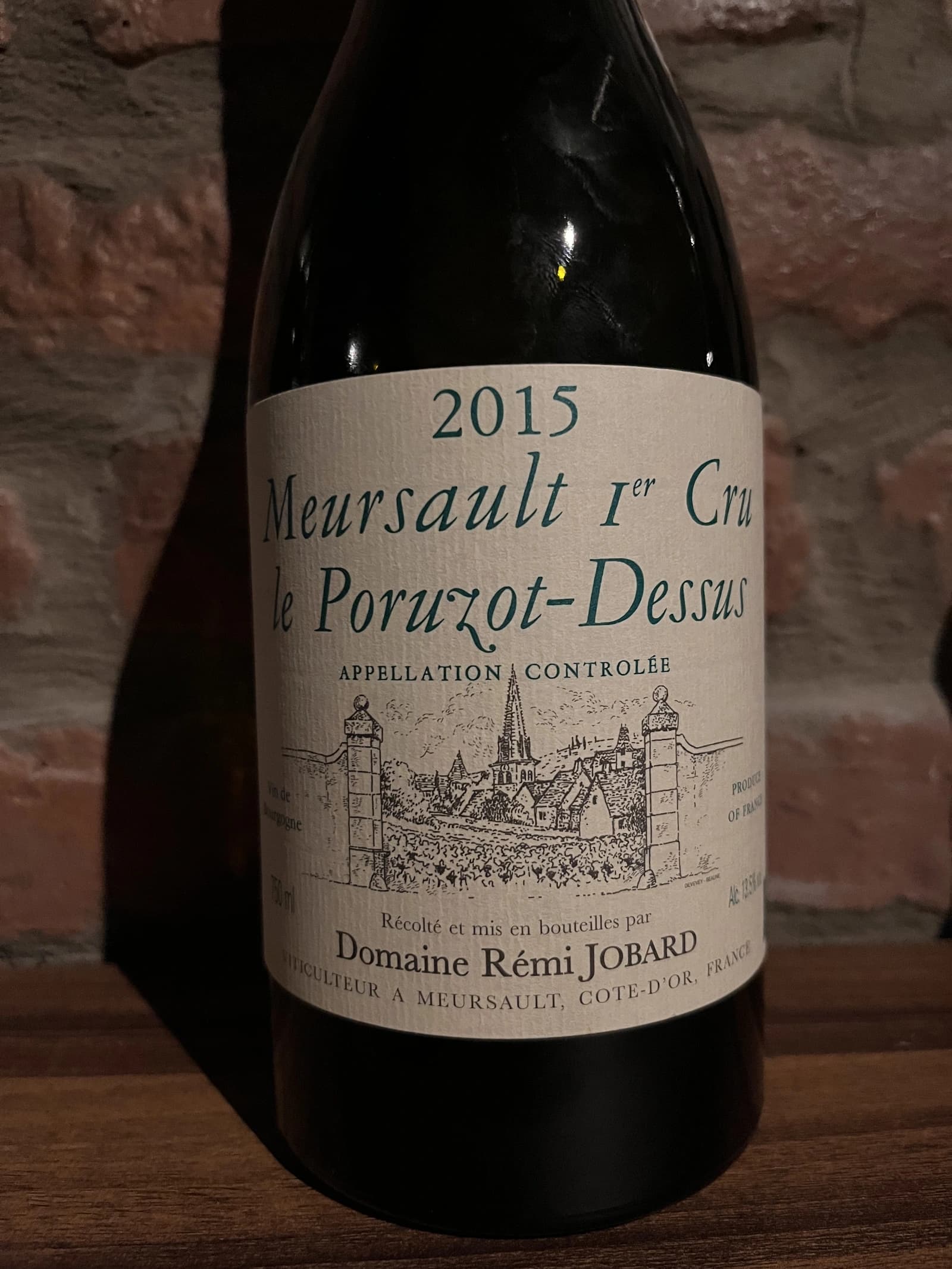 This wine secured the 🏅 5th place in our wine tasting lineup.
Bret Brothers Pouilly-Fuissé Climat Les Crays 2015
Type

white still, dry

Region

Pouilly-Fuissé AOC, France

Producer

Vintage

2015

Grapes

Chardonnay

Alcohol

14

Sugar

1.82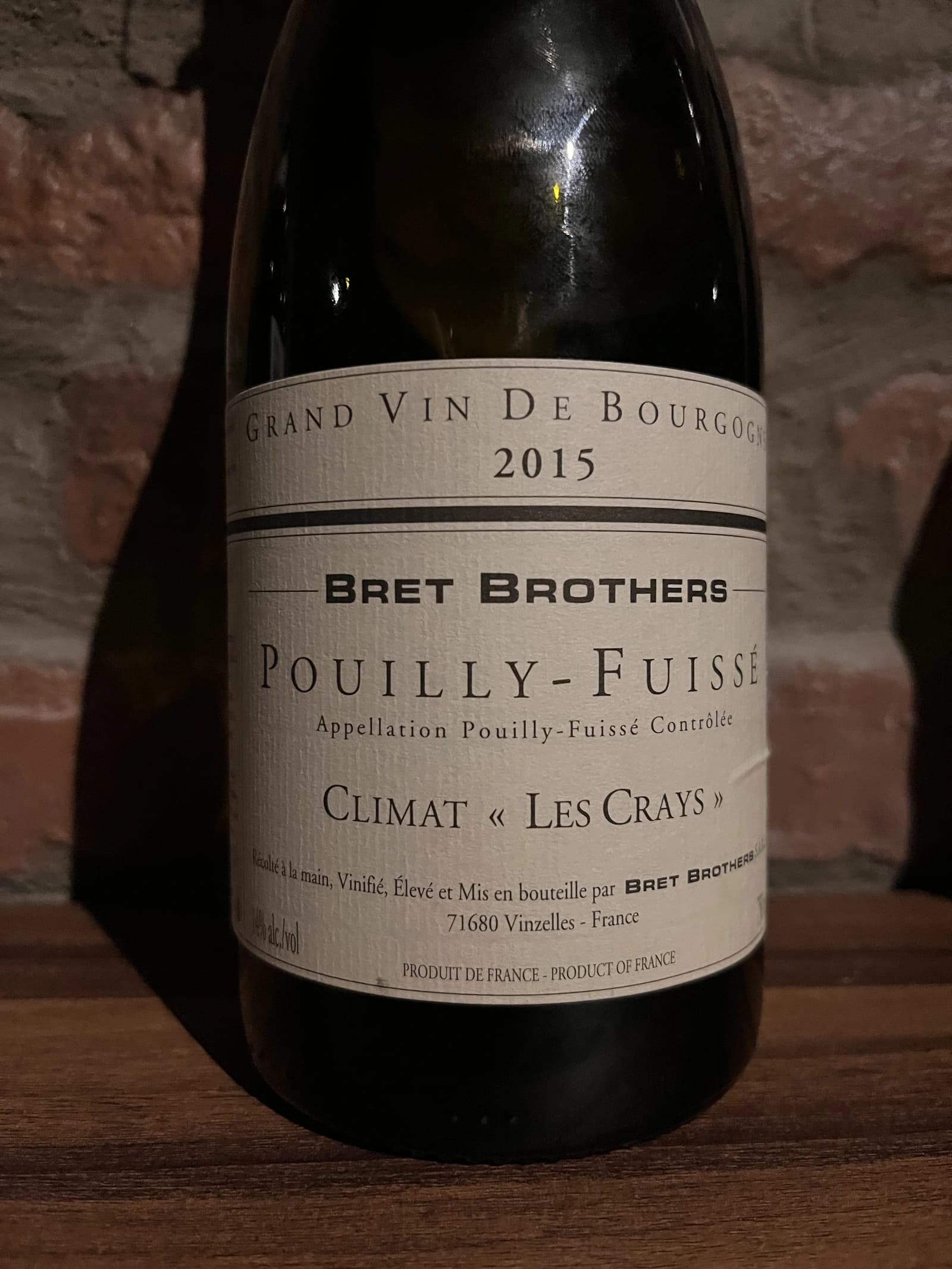 This wine secured the 🥇 1st place in our wine tasting lineup.
The winemaking philosophy centres around respect for living things, with an organic and biodynamic approach to viticulture. They cherish the diverse terroirs of Jurassic clay/limestone, which are 40 to 180 million years old, where they grow Chardonnay. The winemaking process includes 100% hand-picking, vinification in traditional casks or stainless-steel vats, with low use of sulphites, followed by ageing for 18 months in used barrels and a further 5-6 months in tanks​​.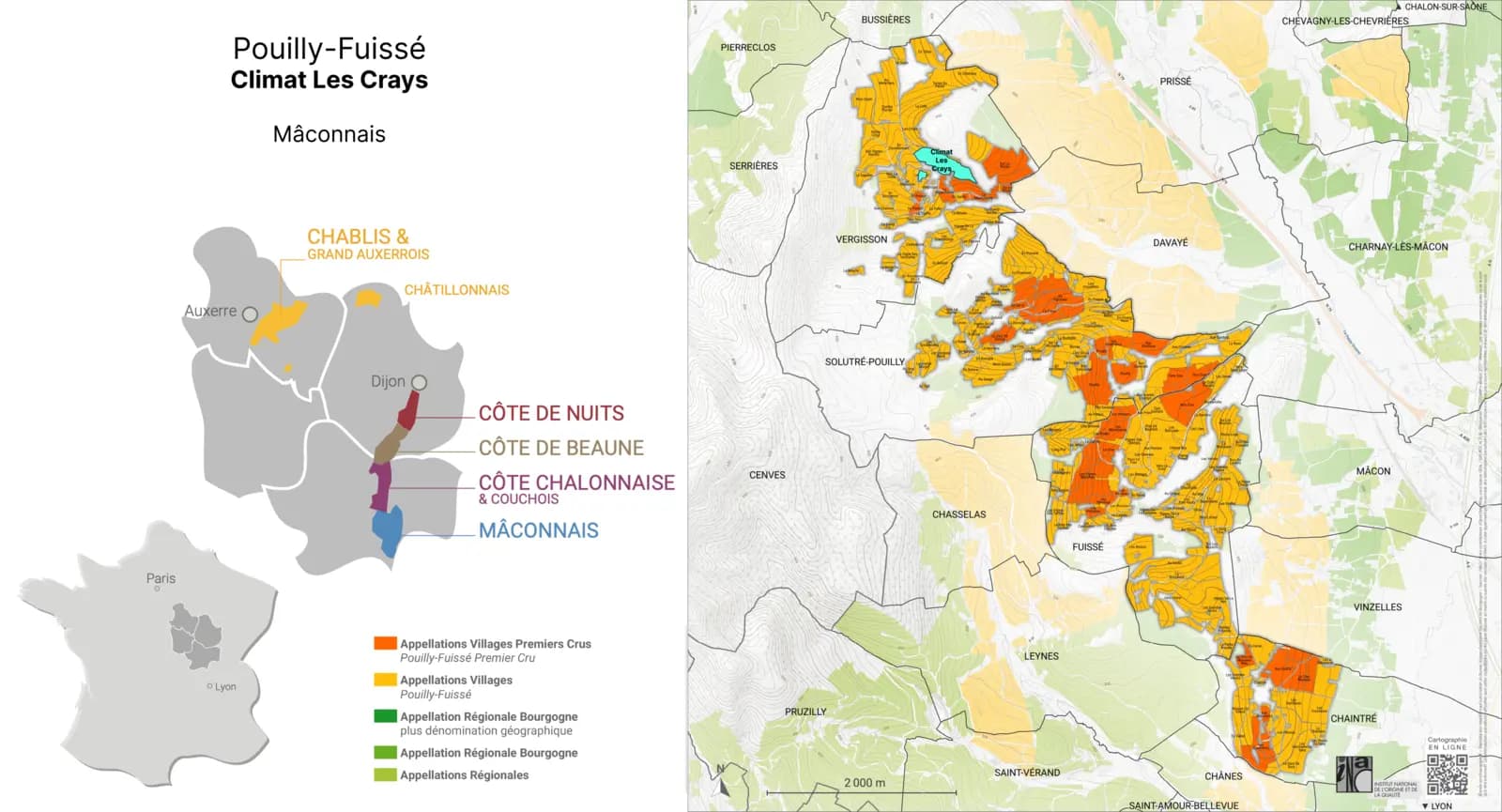 Pouilly-Fuissé, situated in the Mâconnais subregion of Burgundy, is a well-known white wine appellation. It exclusively produces Chardonnay wines from four communes: Chaintré, Fuissé, Solutré-Pouilly, and Vergisson. These wines are celebrated for their rich, full-bodied character, well-balanced with crisp acidity. They often exhibit flavours of white fruit and citrus, complemented by hints of mineral and stone. The typical Pouilly-Fuissé wine is ripe and relatively elegant, with the best examples comparable to the finer wines of the Côte de Beaune.
The Climat Les Crays, within Pouilly-Fuissé, is a specific vineyard area noted for its unique characteristics. The vineyard, planted in the 1970s, covers an area of 0.30 hectares and lies under la Roche de Vergisson, featuring a steep slope with southern exposure and red soil rich in active limestone. This terroir, coupled with organic viticulture practices, contributes to the distinct profile of the wine. Wines from Climat Les Crays are described as broad, textured, and seductive. They balance a stony energy with a very long finish, presenting aromas of crushed stones, quince, and citrus, and a core of concentrated white fruit.
Domaine Daniel-Etienne Defaix Chablis 1er Cru Les Lys 2009
Type

white still, dry

Region

Chablis Premier Cru AOC, France

Producer

Vintage

2009

Grapes

Chardonnay

Alcohol

13

Sugar

1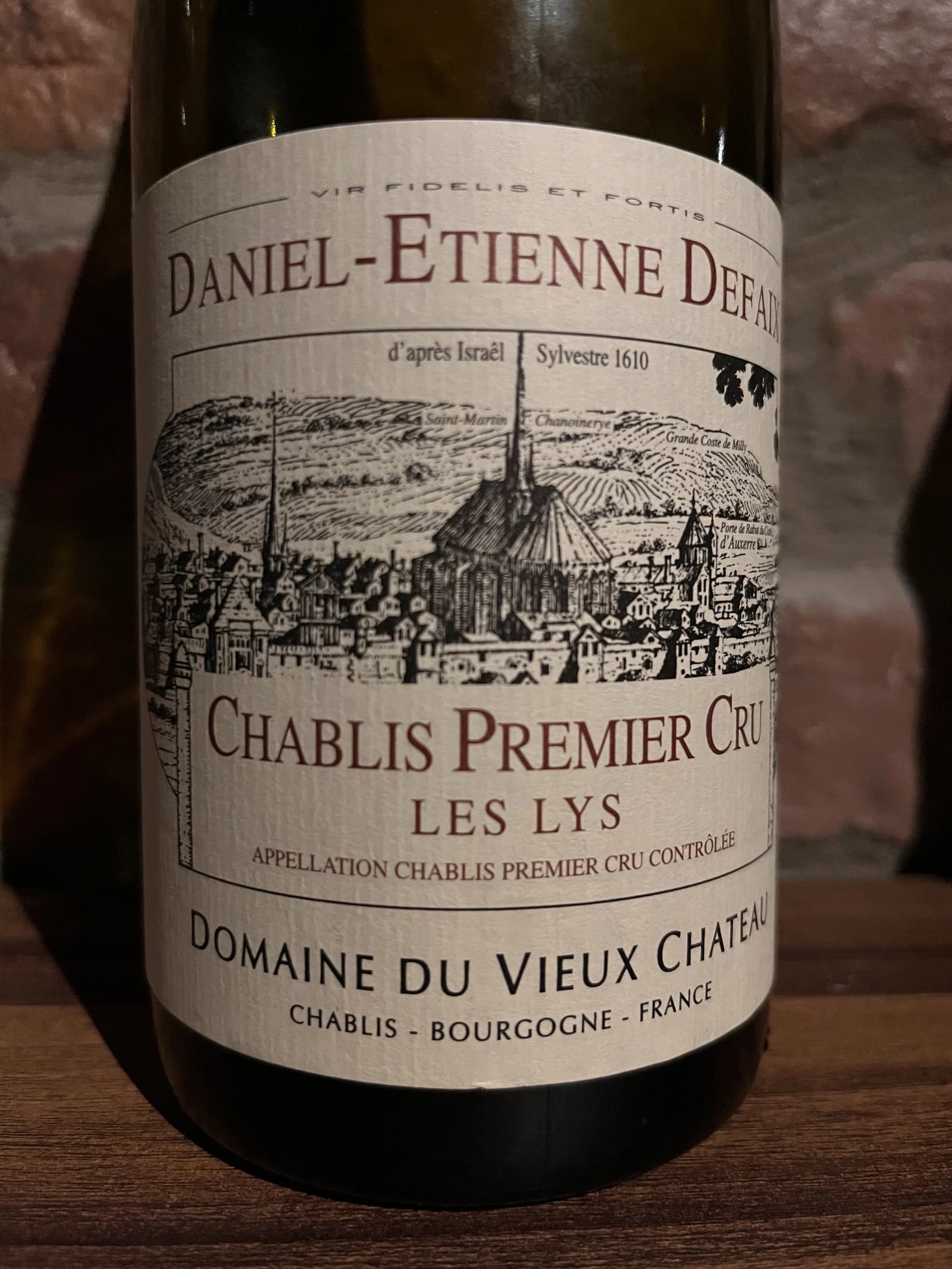 This wine secured the 🏅 4th place in our wine tasting lineup.
The Domaine Daniel-Etienne Defaix Chablis Premier Cru Les Lys 2009 comes from one of Chablis's most ancient estates, with a winemaking legacy that spans four centuries. Covering 28 hectares, the vineyards are planted with Chardonnay on the distinctive Kimmeridgian soil, rich with fossilized oysters. Their unique winemaking style involves careful grape selection, slow pressing, and an extended alcoholic fermentation with indigenous yeasts at low temperatures. Malolactic fermentation is systematic, followed by 18 months of bâtonnage on fine lees without sulphites. The wines are not always fined or filtered and are bottled under nitrogen then rested in the cellar for 6 to 12 months before release.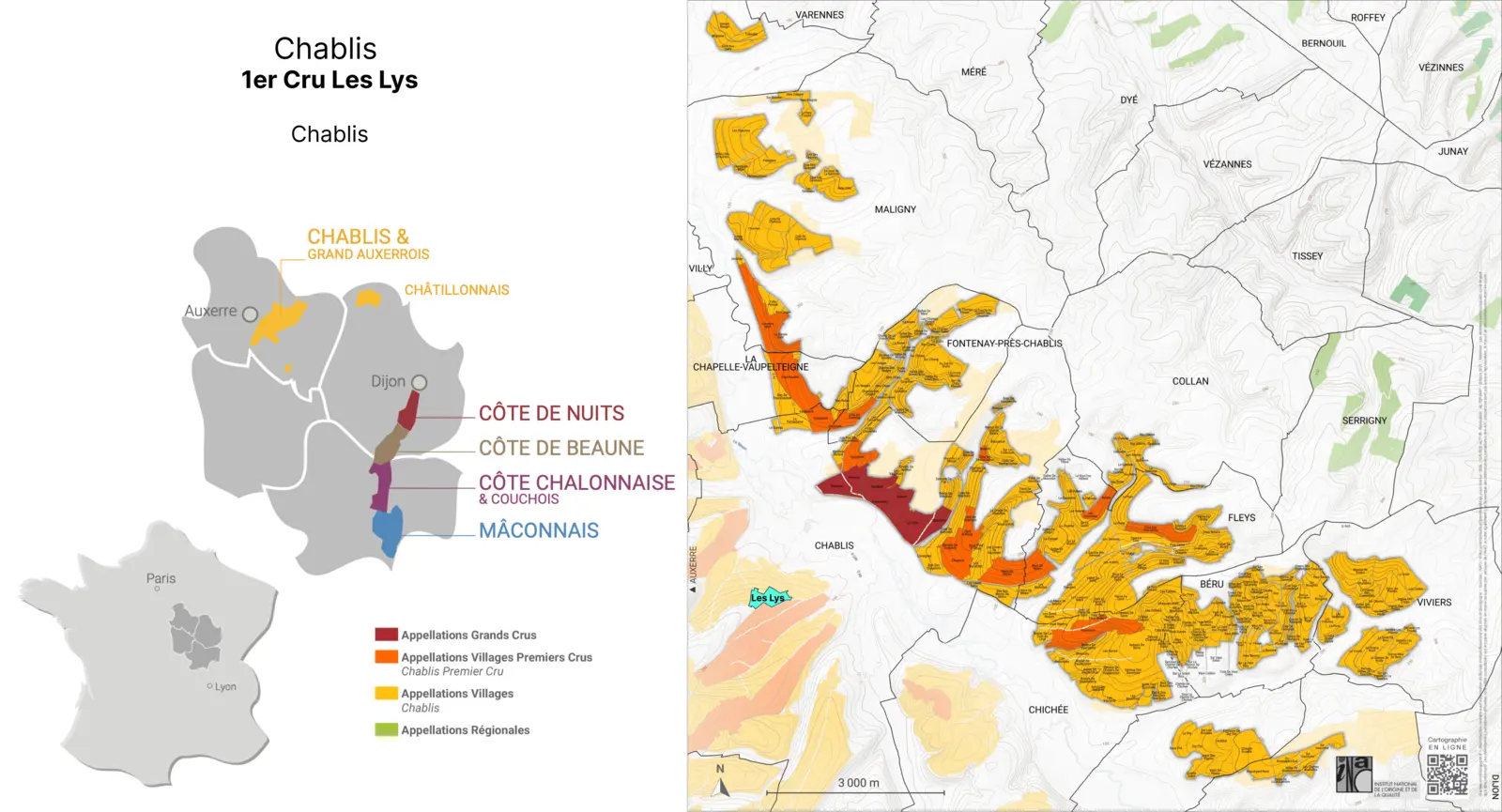 Chablis is celebrated for its distinctive white wines made exclusively from Chardonnay grapes. The region's terroir is a critical factor in its unique profile. According to Rajat Parr, Chablis happens to be a place, the only place, where Chardonnay needs nothing - no bubbles, no lees stirring, no new oak, no reductuion - to be captivating. Chablis soils are predominantly Kimmeridgian, comprising clay, limestone, and fossilised oyster shells, imparting a notable minerality to the wines. This terroir, combined with the region's cool climate, results in wines that are typically leaner and more acidic compared to those from warmer climates or other Chardonnay-producing regions. Chablis wines are known for their purity, crispness, and vibrant acidity, often exhibiting green apple, lemon, and wet stone notes, with limited influence from oak ageing.
Les Lys, located on the left bank of the Serein River, near the village of Milly, benefits from a south-eastern exposure, providing optimal sunlight for grape ripening. The vineyard's proximity to the river contributes to a microclimate that can temper the harshness of colder seasons. The soil here is a mix of the typical Kimmeridgian limestone and clay, but with a higher concentration of marl, lending the wines from Les Lys a particular elegance and a subtler minerality compared to other Premier Crus. Wines from 1er Cru Les Lys typically showcase nuanced floral aromas, with a delicate balance of fruit and mineral characteristics, and a slightly softer acidity than other Chablis wines.
Experts often appreciate Chablis, and particularly Les Lys, for its representation of pure terroir expression. The focus on minimal oak usage allows the character of the vineyard and the varietal to shine through, making Chablis a benchmark for Chardonnay globally. Les Lys, in its refined expression, encapsulates the essence of Chablis's terroir with finesse and clarity.
Resources
Raw scores
| | Clandestin | Seguin | Lignier | Jobar | Bret | Defaix |
| --- | --- | --- | --- | --- | --- | --- |
| Elvira K | 4.05 | 4.20 | 4.35 | 4.10 | 4.10 | 4.30 |
| Oleksandr Ya | 3.70 | 4.10 | 4.00 | 4.10 | 4.10 | 4.00 |
| Ivan M | 4.05 | 4.20 | 4.30 | 4.00 | 4.40 | 4.20 |
| Julie B | 3.90 | 4.10 | 4.05 | 4.10 | 4.20 | 4.30 |
| Yaroslav M | 4.10 | 4.30 | 4.30 | 4.00 | 4.50 | 4.20 |
| Maryna Yu | 4.30 | 4.30 | 4.20 | 4.20 | 4.50 | 4.10 |
| Boris B | 4.05 | 4.50 | 4.30 | 4.20 | 4.10 | 4.20 |