Bruno Paillard: Collection Anciens Dégorgements
Collection Anciens Dégorgements tasting event. Five Première Cuvée bottles disgorged at different dates.
---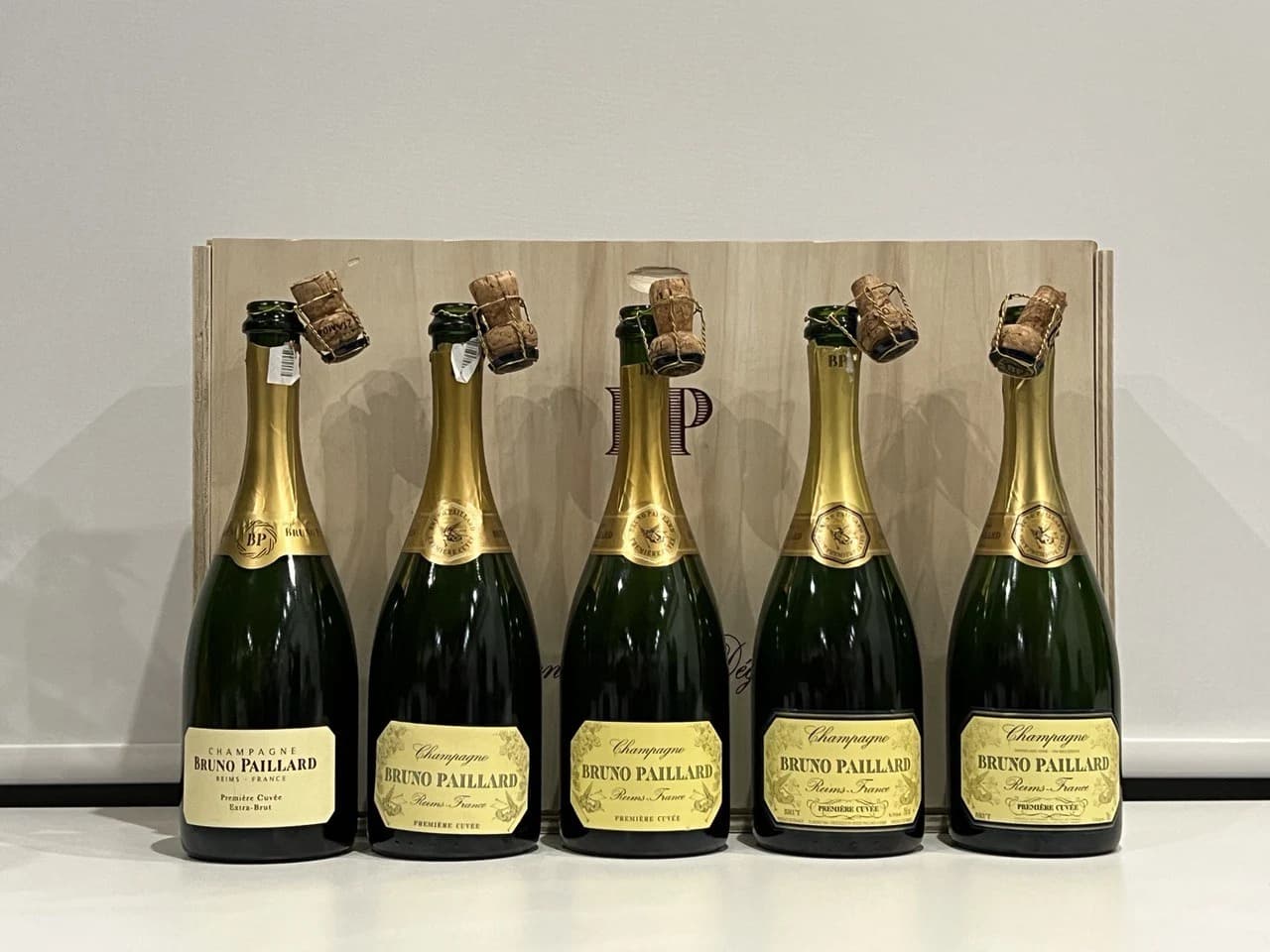 Vertical wine tastings are interesting because they allow participants to taste different vintages of identical wine from the same producer. This type of tasting is called vertical tasting because it focuses on the variations of the wine produced in different years rather than comparing distinct wines produced in the same year (which is called horizontal tasting).
Vertical tastings can be a great way to explore the nuances of a particular wine, as it allows you to taste how different growing conditions, winemaking techniques, and ageing can affect the aroma and flavour of the wine over time. For example, you might taste a wine from a particularly good vintage and then compare it to the same wine from a less favourable year. This can help you understand how the weather conditions during the growing season affected the grapes and how the winemaker adjusted their approach to creating the best wine possible in each vintage.
Everything needs to change for everything to stay the same.

— Alice Paillard
In addition to being an educational experience, vertical tastings can also be a lot of fun. Without further ado, meet our protagonists.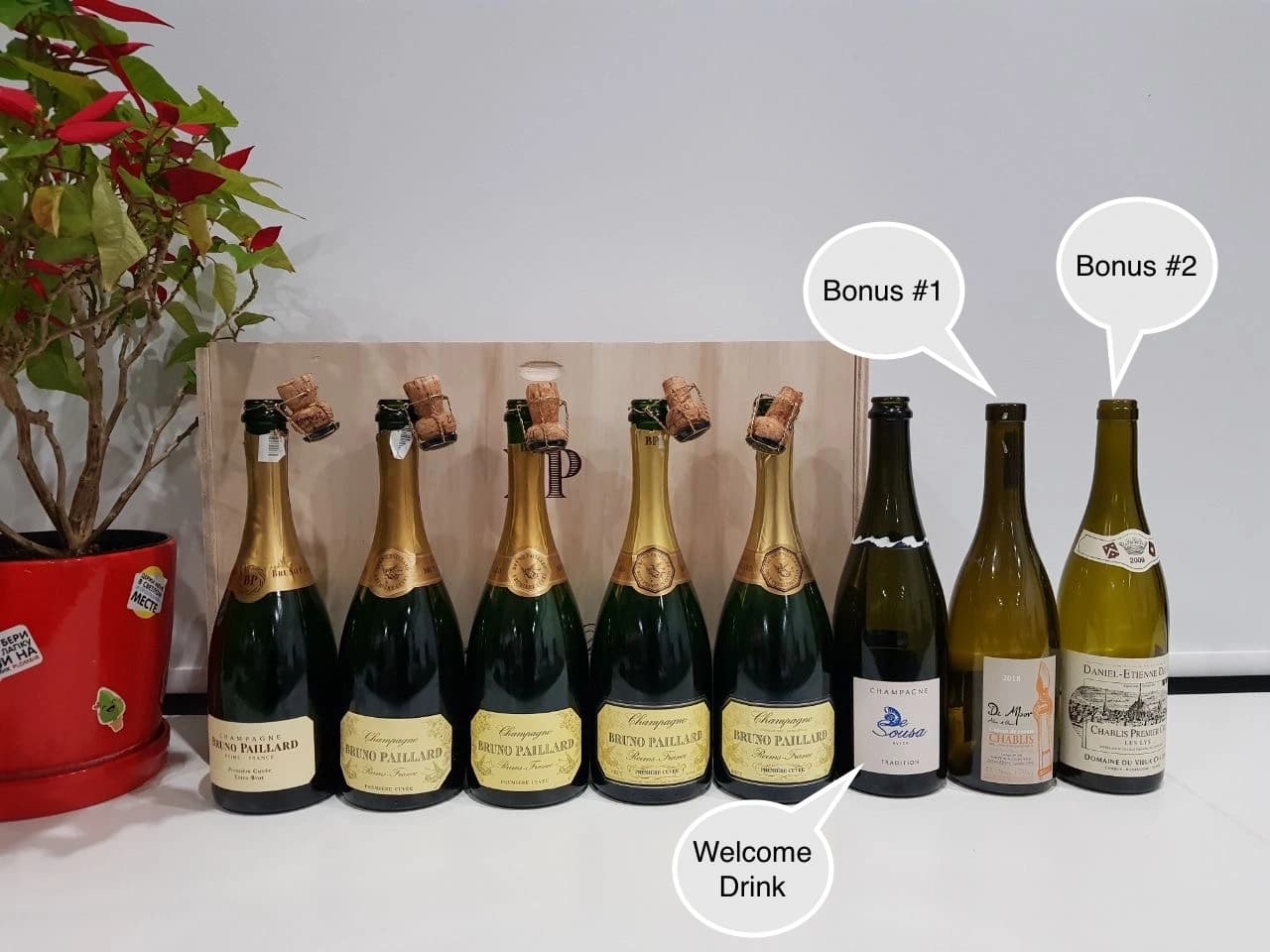 Bruno Paillard
Complexity must not be confused with heaviness.

— Bruno Paillard
Before setting out to establish his own Champagne house, Bruno Paillard followed his family's footsteps and worked as a broker. In 1981 he decided to start a making Champagne wines. Bruno was just 27 years old and had no required financial capital. But luckily, he had determination and an old Jaguar, a collector's item, he sold to fuel his new dream.
This might have seemed like madness in a conservative region that had not seen a new 'house' in nearly a century. 'It takes three generations to create a house', he says, 'but there are some advantages starting three centuries after everyone else!' The new brand quickly gained recognition. In 1988 Hugh Johnson, a famous wine critic, already spoke highly about Bruno Paillard.
Only in 1994, Bruno Paillard bought his first vineyard. Three grand cru hectares in Oger in the Côte des Blancs. Over time he patiently acquired 32 hectares in total, including 12 grand crus. These vineyards produce more than half of the grapes they require. The remaining grapes are purchased from independent growers in around 30 villages.
Today the house is managed by Bruno Paillard and his daughter, Alice Paillard.
Première Cuvée
A synthesis of the three varieties, an assemblage in the noble sense of the term.

— Bruno Paillard
Bruno Paillard believes that a great Champagne is an assemblage of different crus, grape varieties and vintages. Première Cuvée represents the winemaker's style and not a specific vintage. In fact, they call their non-vintage wines multi-vintage. And the trick that helps to subdue fickle climate and maintain consistent style resides in reserve wines. Responsible for up to 50% of the blend, reserve wines are actually a blend of wines from previous years since 1985. Something akin to solera method. They are kept in small barrels and in tanks. Each cru is vinified separately in tank or barrel to allow a precise selection during the blends.
On the one hand, Première Cuvée is a blend of 25 vintages. On the other hand, it's a blend of Pinot Noir (45%), Chardonnay (33%) and Pinot Meunier (22%). The grapes are sourced from 35 crus (roughly 10% of all Champagne crus). Only the first pressing is used for all Bruno Paillard wines. Part of the juice (around 20%) is fermented in barrels, everything else - in stainless steel tanks. By the way, Bruno Paillard is among the first Champagne winemakers that started using stainless steel tanks.
After the second fermentation, Première Cuvée spends 36 months sur lie. All wines are extra brut with up to 6g/L dosage. Unfortunately, they started to state dosage on the counter-label only recently.
Disgorgement
Bruno Paillard is one of the first houses to indicate the disgorgement date of the wines on every single bottle. They started in 1983 and never stopped. Disgorgement date is crucial for Champagne wine. At this point, everything the winemaker could do is done, and the wine ages in the bottle.
Interestingly, many winemakers see disgorgement as a surgical operation requiring convalescence afterwards. The older the wine, the longer it needs to rest to recover a balance between freshness and softness of the dosage. Bruno Paillard says that their multi-vintage wines require a minimum of five months, while vintage wines require up to 18 months to recover, because they spend much longer sur lie.
After disgorgement micro–oxidation transforms the wine over time. Bruno Paillard differentiates five stages of evolution.
Fruit stage. The wine is dominated by fruits (citrus from Chardonnay and red fruits from Pinot Noir). The palate is fine and lively.
Floral stage. It is classified by white flowers and roses. The colour remains the same, but the palate becomes smoother.
Age of spices. The wine gets accents of spices and nuts (almonds and hazelnut).
Toasted period. Notes of baked bread are added to the wine.
Candied stage of fullness and richness. The wine evolves towards candied fruit, gingerbread, honey and even roasted aromas.
The idea of Collection Anciens Dégorgements is to provide the experience of tasting all these stages.
Scores
| | rms | sdev | price | QPR |
| --- | --- | --- | --- | --- |
| Wine #1 | 4.0014 | 0.0109 | 2101.00 | 1.0000 |
| Wine #2 | 4.0462 | 0.0061 | 3236.00 | 0.7944 |
| Wine #3 | 4.2275 | 0.0020 | 4371.00 | 0.7776 |
| Wine #4 | 4.1833 | 0.0124 | 5506.00 | 0.5753 |
| Wine #5 | 4.2694 | 0.0101 | 6641.00 | 0.5455 |
| Bonus #1 | 4.1572 | 0.0136 | 1576.00 | 1.9300 |
| Bonus #2 | 4.2141 | 0.0136 | 2380.00 | 1.3956 |
| Welcome | - | - | 1750.00 | - |
How to read this table:
rms is root mean square or quadratic mean. The problem with arithmetic mean is that it is very sensitive to deviations and extreme values in data sets, meaning that even single 5 or 1 might 'drastically' affect the score.
sdev is standard deviation. The bigger this value the more controversial the wine is, meaning that people have different opinions on this one.
price is wine price in UAH.
QPR is quality price ratio, calculated in as 100 * factorial(rms)/price. The reason behind this totally unprofessional formula is simple. At some point you have to pay more and more to get a little fraction of satisfaction. Factorial used in this formula rewards scores close to the upper bound 120 times more than scores close to the lower bound.
| | Wine #1 | Wine #2 | Wine #3 | Wine #4 | Wine #5 | Bonus #1 | Bonus #2 | Welcome |
| --- | --- | --- | --- | --- | --- | --- | --- | --- |
| Daria B | 4.00 | 4.10 | 4.20 | 4.20 | 4.20 | 4.20 | 4.20 | - |
| Julie B | 3.90 | 4.00 | 4.20 | 4.20 | 4.20 | 4.10 | 4.10 | - |
| Mariia S | 3.90 | 4.10 | 4.30 | 4.10 | 4.20 | 3.90 | - | - |
| Vova U | 3.90 | 4.10 | 4.20 | 4.30 | 4.30 | 4.30 | 4.30 | - |
| Elvira K | 4.00 | 4.00 | 4.30 | 4.30 | 4.30 | 4.20 | 4.30 | - |
| Anna Z | 4.00 | 4.10 | 4.20 | 4.20 | 4.40 | 4.20 | 4.20 | - |
| Vitalii M | 4.00 | 4.10 | 4.20 | 4.20 | 4.40 | 4.30 | 4.40 | - |
| Inna S | 4.00 | 4.10 | 4.20 | 3.90 | 4.10 | - | - | - |
| Yulia Sh | 4.30 | 3.90 | 4.20 | 4.10 | 4.15 | 4.10 | 4.00 | - |
| Daria K | 4.00 | 3.90 | 4.30 | 4.30 | 4.40 | - | - | - |
| Boris B | 4.00 | 4.10 | 4.20 | 4.20 | 4.30 | 4.10 | 4.20 | - |