Type

red still, dry

Region

Vino de Mesa, Spain

Producer

Vintage

2021

Grapes

Mencía

Alcohol

12.5

Sugar

unknown

Price

770 UAH

Cellar

2 bottles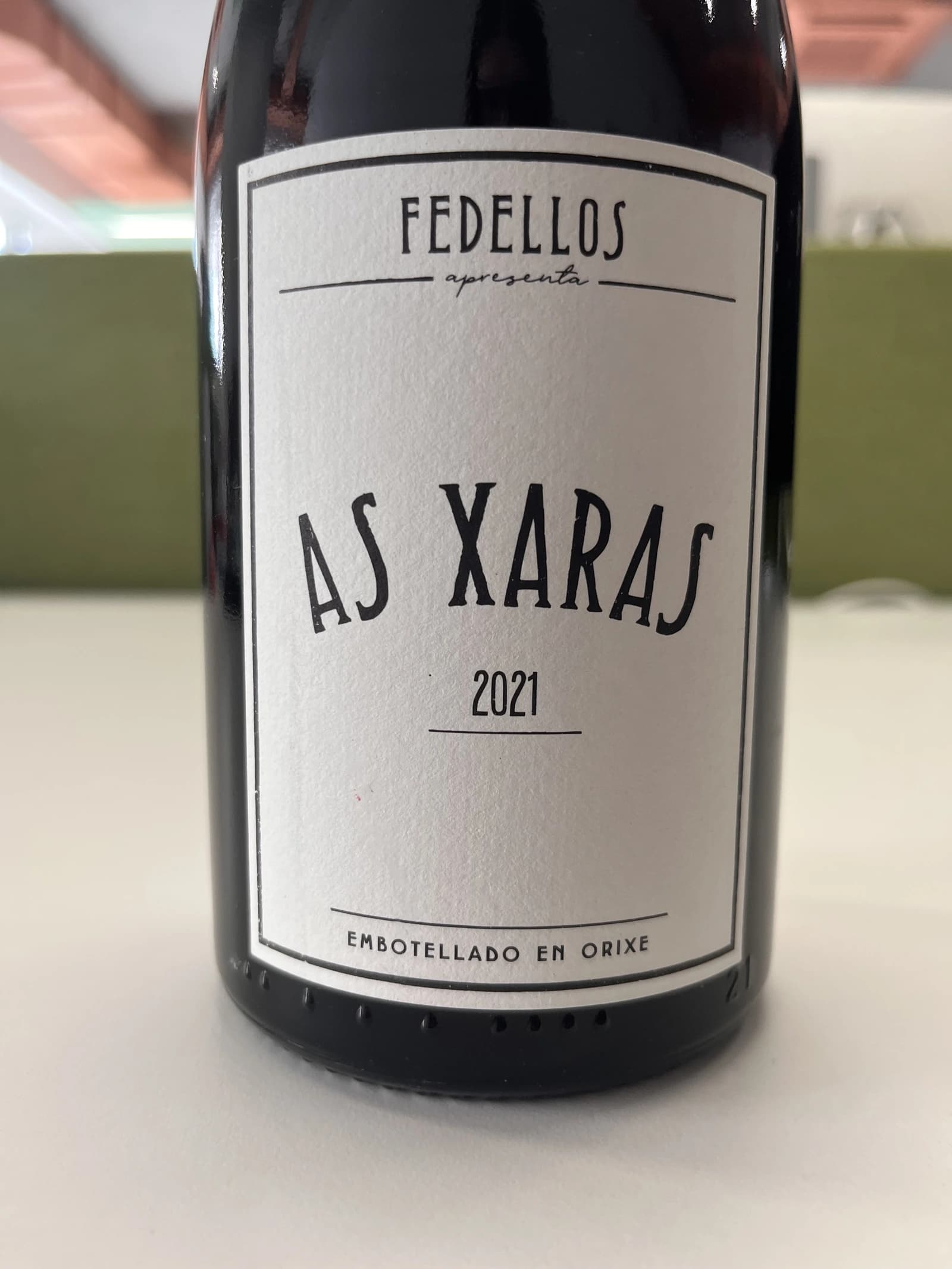 As Xaras is 100% Mencía from the villages of Chandoiro and Larouco in the Val do Bibei. Vines grow on abandoned terraces surrounded by scrub and forest at 500-600 meters above sea level. The soils are sand, granite, schist and red slate. The average age is 20 years. Hand harvested, whole cluster, natural yeast fermentation in tank and plastic fermentation bins, pigeage, 40-60 day maceration. Aged for 8 months in a 20HL concrete tank and neutral 500L French oak barrels.
Ratings
7.75 / 10·750 ml·@Home
Fedellos is always a safe choice for me. The 2021 As Xaras is juicy, elegant and delicious. A mix of Nordic berries, sour cherry, pepper, raw meat and forest floor. Mineral and quaffable.
7.75 / 10·750 ml·@Home
Ah, As Xaras needed this time of rest in the bottle. Fruitness replaced tension without sacrificing juiciness and elegance. The glass wafts with notes of Nordic berries, pepper, raw meat and wet forest floor. On the palate, As Xaras has a medium-light body with good balance and a lovely metallic finish.
7.75 / 10·750 ml·@Wix Kyiv Office
Every bottle is pure happiness. A beautiful bouquet of peonies, raw meat (hello, iron-rich blood), red berries, herbs and ground pepper. Medium-light, fresh, juicy and delicious. And what a value!
7.75 / 10·750 ml·@Wix Kyiv Office
As Xaras is no complex but beautiful expression of Mencía. It's more reminiscent of Spätbrugunder than anything else. Red berries, raw meat, herbs and ground pepper. Medium-light body, tense and fresh, with pleasant flavours of northern berries and blood. Good value.
Fedellos do Couto
There are few viticultural regions as dramatic, wild, and diverse as Ribeira Sacra. Being a boundary between the cool, rainy Atlantic coast and Spain's hot, dry interior, Ribeira Sacra enjoys the best and the worst of the two domains. The main threats to viticulture are the storms that blow in from the Atlantic, bringing plenty of rain and wind; and morning fogs. A paradise for fungus. And yet people grow vines and make wines here. Some locals even practice organic and biodynamic farming. And that's truly heroic.
Ribeira Sacra is currently one of the most talked-about places in the wine world, not only for its scenery but for affordable, refreshing, and complex wines made from indigenous varieties like Mencía (a sleeker expression than in Bierzo), Mourantón, Garnacha Tintorera (widely planted after phylloxera), Caño, Bastardo (a.k.a. Trousseau), Grao Negro, Sousón, Godello, Doña Blanca, Palomino, and other grapes. Not the most popular and known bunch, isn't it?
Luis Taboada comes from an old family that owned Pazo do Couto, an ancient manor dating to the 12th century that produced a wide array of agricultural products. Recognizing the value of his ancient, north- and east-facing vineyards, he teamed up with viticulturist Pablo Soldavini, a proponent of organic farming and winemakers Curro Bareño and Jesús Olivares to found Fedellos do Couto in 2011. According to PanLex, Fedellos roughly translates as 'brats'. So the name of the winery is - Brats from Couto (estate).
Curro Bareño and Jesús Olivares are also known for Ca' di Mat and Peixes. After parting (when?) their ways with Luis Taboada leaving DO Ribeira Sacra (deemed atypical!), they decided to merge Fedellos do Couto with Peixes to become a single project - Fedellos.