The quest for value never ends. At one of the previous events, we focused on wines with a good value under a specific price bar. Today we continue to explore the Ukrainian wine market to find bottles that hit the sweet spot of quality to price ratio. To spice things up, we have wines in different price ranges.
---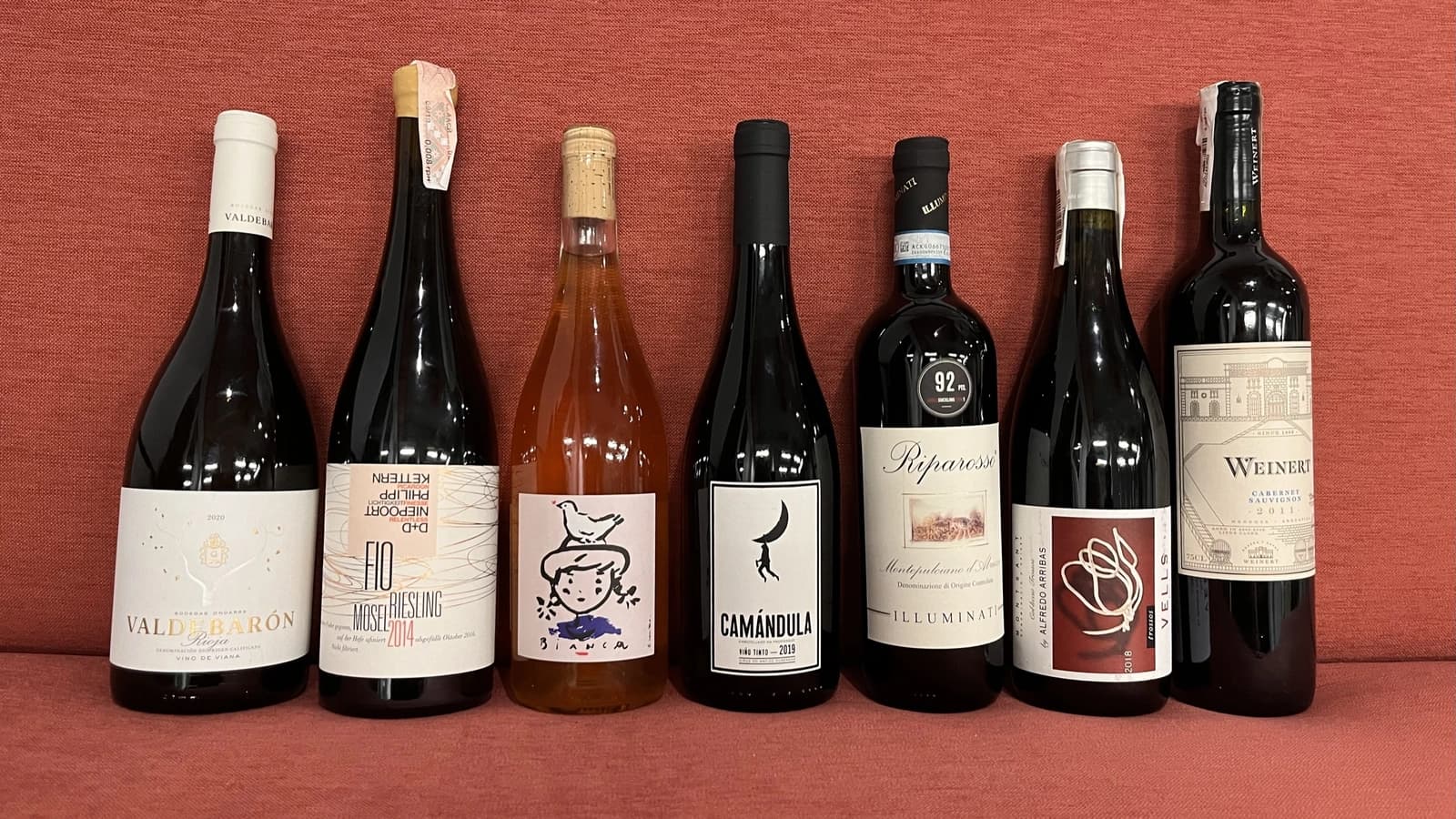 The quest for value never ends. At one of the previous events, we focused on wines with a good value under a specific price bar. Today we continue to explore the Ukrainian wine market to find bottles that hit the sweet spot of quality to price ratio. To spice things up, we have wines in different price ranges.
Without further ado, meet our protagonists.
Bodegas Olarra Ondarre Valdebarón Blanco 2020
producer: Bodegas Olarra
vintage: 2020
grapes: Tempranillo Blanco
appellation: Rioja DOC
location: La Rioja, Spain
alcohol: 12.5
sugar: 4
price: 320 UAH
Wineries under Grupo Bodegas Olarra are known for value. I am pretty sure many of you are familiar with the Cerro Añon line. There are 3 red wines in this line - Crianza, Reserva and Gran Reserva. One of them could be part of this event, but I wanted to bring something new.
Bodegas Ondarre (part of Grupo Bodegas Olarra) was founded in 1985 in Viana (part of Rioja DOC) with the goal of expressing the terroir. The name of the bodega pays homage to the family country house dating from 1450.
Valdebarón Blanco is 100% Tempranillo Blanco from low-yielding vines growing in sand, gravel, clay, chalk and limestone soils from the north and northeast of Viana. Cask-fermented in new French oak followed by a further 2 months ageing on lees in American and French oak and acacia wood casks.
Fio Wein Riesling Qualitätswein 2014
producer: Fio Wein
name: Riesling Qualitätswein
vintage: 2014
grapes: Riesling
region: Mosel
location: Germany
alcohol: 10.5
sugar: N/A
price: 1600 UAH
Never lose the thread.

Never!

— D+D Niepoort and Philipp Kettern
Fio is a Portuguese word for 'wire' or 'thread'. A collaboration between Dirk Niepoort (famous Portuguese winemaker), his son Daniel and Mosel winegrower Philipp Kettern. A thread between them is a shared vision - old school wines using long elevage and traditional techniques to deliver natural stabilization. They decided to start a project in Mosel and focus on Riesling. Only spontaneous fermentation and prolonged ageing on lees in old Mosel fuders. This specific Riesling was matured for over two years in a 60-years old fuder.
The bottle was selected because it amazed me during a blind tasting dedicated to Riesling wines. Only to think it was almost two years ago! And despite the high price, it still has great value for money.
Cascina Tavijn Vino Bianca 2021
producer: Cascina Tavijn
name: Vino Bianca
vintage: 2021
grapes: Chardonnay, Cortese, Zibibbo
appellation: Vino (IT)
location: Italy
alcohol: 12.5
sugar: N/A
price: 650 UAH
I said it before, and I am going to repeat myself. I am in love with the rustic character and peasant authenticity of Cascina Tavijn. After such a precise Riesling, it's time for some rebels with gorgeous labels made by Gianluca Cannizzo (the designer behind My Poster Sucks).
Cortese and Chardonnay from vines just beneath Nadia's home blended with a little Moscato from her friend Ezio Cerruti. The grapes were destemmed and macerated for a few days (4-7 days), fermented in steel and then racked to fibreglass for nine months.
In my opinion, Bianca is among the best orange wines you can find on Ukrainian market today for this price. By the way, I advise you to taste Bandita if you missed it. One more beauty with good value.
Fedellos Camándula 2019
producer: Fedellos
name: Camándula
vintage: 2019
grapes: Field Blend
appellation: Vino de Mesa
location: Spain
alcohol: 12
sugar: N/A
price: 590 UAH
Of course! Of course we have a bottle of Fedellos.
Ribeira Sacra is currently one of the most talked-about places in the wine world, not only for its scenery but for affordable, refreshing, and complex wines made from indigenous varieties like Mencía (a sleeker expression than in Bierzo), Mourantón, Garnacha Tintorera (widely planted after phylloxera), Caño, Bastardo (a.k.a. Trousseau), Grao Negro, Sousón, Godello, Doña Blanca, Palomino, and other grapes. Not the most popular and known bunch, isn't it?
Luis Taboada comes from an old family that owned Pazo do Couto, an ancient manor dating to the 12th century that produced a wide array of agricultural products. Recognizing the value of his ancient, north- and east-facing vineyards, he teamed up with viticulturist Pablo Soldavini, a proponent of organic farming and winemakers Curro Bareño and Jesús Olivares to found Fedellos do Couto in 2011. According to PanLex, Fedellos roughly translates as 'brats'. So the name of the winery is - Brats from Couto (estate).
Curro Bareño and Jesús Olivares are also known for Ca' di Mat and Peixes. After parting (when?) their ways with Luis Taboada leaving DO Ribeira Sacra (deemed atypical!), they decided to merge Fedellos do Couto with Peixes to become a single project - Fedellos.
Camándula is a field blend, seemingly consisting of all the grapes Fedellos are cultivating - Mencía, Mouraton, Grao Negro, Garnacha Tintorera, Bastardo, Godello, Dona Blanca, Palomino and Sousón. Fermented and macerated for 2 months in plastic vats. Aged for 6 months on lees in 3000-litre neutral French foudre, no bâtonnage.
Illuminati Riparosso 2020
producer: Illuminati
name: Riparosso
vintage: 2020
grapes: Montepulciano
appellation: Montepulciano d'Abruzzo DOC
location: Abruzzo, Italy
alcohol: 13.5
sugar: 2.5
price: 314 UAH
Riparosso is one of those wines I take every time I need a reliable choice for an affordable price. Trip to the village? Riaprosso! As I can enjoy it even from a metallic mug. Long lunch at home with my family? Riaprosso! Because it has good fruit, acidity and tannin to help with most of the food we usually cook. When I get a chance to buy Riparosso on a 5+1 sale, I don't skip it and take one or two cases.
Dino Illuminati is already well over 80 years old and still plays an active role in the winery. The estate dates back to the 19th century. It's located between seas and mountains in the Abruzzo region, almost on the border with Marche.
Of course, Illuminati produces some serious wines like Zana, Lumen and Pieluni. But they have a very nice range of affordable everyday wines. Riparosso is 100% Montepulciano that was aged in large oak barrels for 8 months.
Trossos Vells 2018
producer: Trossos
name: Vells
vintage: 2018
grapes: Cariñena
appellation: Montsant DO
location: Catalonia, Spain
alcohol: 13
sugar: 0.3
price: 1075 UAH
Well, well, well, if it's the Vells itself. Alfredo Arribas (ex-architect, though not from IT, so restrain from asking him to validate your distributed system design) is one of the people that arrived to beautifully shaped Priorat and Montsant to shape them as winemaking regions. His main project is Portal del Priorat. Trossos is the second one and is located in Montsant.
Despite their proximity (30 km), Priorat and Montsant are strongly contrasting terroirs, landscape- and soil-wise. Monstant hills surround Priorat, thus creating a micro-climate within. Priorat is predominantly slate soil, on very sloped land. Montsant is much flatter, meaning 'less aggressive topography', with clay and chalky soil.
Vells is 100% Cariñena from 60+ years old vines cultivated organically with biodynamic practices on red chalky soils at 300-350m above sea level. Lots are fermented separately in small tanks. Matured in French oak barrels of different sizes for 11 months.
Weinert Cabernet Sauvignon 2011
producer: Weinert
name: Cabernet Sauvignon
vintage: 2011
grapes: Cabernet Sauvignon
region: Mendoza
location: Argentina
alcohol: 14.5
sugar: N/A
price: 929 UAH
It is said that Mr. Raúl de la Mota had a dream of making high quality wine from Malbec grapes in Mendoza. In 1970 Malbec was only on its way to becoming a star in these lands, yet Mr. Raúl de la Mota meets and shares his dream with a Brazilian transportation businessman, Mr. Bernardo C. Weinert. The story is stingy, so I don't know all the reasons for Mr. Bernardo C. Weinert to agree. But it is known that he fell in love with a 80 years old building in Carrodilla, Luján de Cuyo. So in 1975 they started to reconstruct the building and the winery itself. The first harvest was in 1977 and first release was in 1979.
But what makes this winery interesting for us, plebeians? First of all, it is located in Luján de Cuyo, a high altitude (900 m.a.s.l.) region in Mendoza, in the foothills of Andeas mountains between 800 m and 1500 m elevation. This terroir enables complex and well structured wines. Secondly, Weinert ages wines in the bottle before releasing them. And it's easy to get bottles that are 10+ years old. Thirdly, the price tag is good. This combination deserves to be enjoyed.
The wine is aged in French oak casks of 2000-600 litres. During this ageing process, winemaker Hubert Weber selects casks to compose a terroir blend of Cabernet Sauvignon from different vineyards within Lujan de Cuyo. 2011 vintage saw 9.5 years. Bottled in February 2021.
Scores
| | rms | sdev | favourite | outcast | price | QPR |
| --- | --- | --- | --- | --- | --- | --- |
| Wine #1 | 3.8270 | 0.0152 | 3.00 | 1.00 | 320.00 | 5.7821 |
| Wine #2 | 3.4887 | 0.0952 | 0.00 | 4.00 | 1600.00 | 0.7022 |
| Wine #3 | 3.6420 | 0.2441 | 2.00 | 5.00 | 650.00 | 2.0831 |
| Wine #4 | 3.6210 | 0.0314 | 0.00 | 0.00 | 590.00 | 2.3222 |
| Wine #5 | 3.7249 | 0.0614 | 0.00 | 1.00 | 314.00 | 5.0338 |
| Wine #6 | 3.9408 | 0.0589 | 2.00 | 1.00 | 1075.00 | 2.0203 |
| Wine #7 | 4.1632 | 0.0408 | 5.00 | 0.00 | 929.00 | 3.2882 |
How to read this table:
rms is root mean square or quadratic mean. The problem with arithmetic mean is that it is very sensitive to deviations and extreme values in data sets, meaning that even single 5 or 1 might 'drastically' affect the score.
sdev is standard deviation. The bigger this value the more controversial the wine is, meaning that people have different opinions on this one.
favourite is amount of people who marked this wine as favourite of the event.
outcast is amount of people who marked this wine as outcast of the event.
price is wine price in UAH.
QPR is quality price ratio, calculated in as 100 * factorial(rms)/price. The reason behind this totally unprofessional formula is simple. At some point you have to pay more and more to get a little fraction of satisfaction. Factorial used in this formula rewards scores close to the upper bound 120 times more than scores close to the lower bound.
| | Wine #1 | Wine #2 | Wine #3 | Wine #4 | Wine #5 | Wine #6 | Wine #7 |
| --- | --- | --- | --- | --- | --- | --- | --- |
| Oleksandr R | 3.90 | 3.50 | 4.20 | 3.70 | 3.60 | 4.00 | 4.10 |
| Dmytro D | 3.90 | 3.50 | 3.20 | 3.40 | 3.60 | 4.00 | 3.80 |
| Ivietta K | 4.00 | 3.80 | 3.00 | 3.60 | 3.50 | 4.50 | 4.30 |
| Andrii Sh | 4.00 | 3.70 | 3.50 | 3.50 | 3.20 | 4.00 | 4.20 |
| Hanna K | 3.80 | 3.40 | 3.00 | 3.50 | 4.00 | 3.80 | 4.00 |
| Andrii K | 3.70 | 3.90 | 3.00 | 3.50 | 3.70 | 3.60 | 3.90 |
| Rostyslav Ya | 3.70 | 3.40 | 3.30 | 3.80 | 4.10 | 4.10 | 4.60 |
| Anna Kh | 3.90 | 2.80 | 4.00 | 3.70 | 3.90 | 4.00 | 4.30 |
| Andrii Br | 3.90 | 3.00 | 3.70 | 3.40 | 3.80 | 3.80 | 4.10 |
| Tania S | 3.80 | 3.40 | 4.00 | 3.50 | 4.00 | 3.90 | 4.20 |
| Dimitry G | 3.60 | 3.50 | 4.50 | 3.80 | 3.50 | 3.50 | 4.30 |
| Boris B | 3.70 | 3.80 | 3.90 | 4.00 | 3.70 | 4.00 | 4.10 |