Two wines, three vintages; and an extra bottle from Mercandelli.
---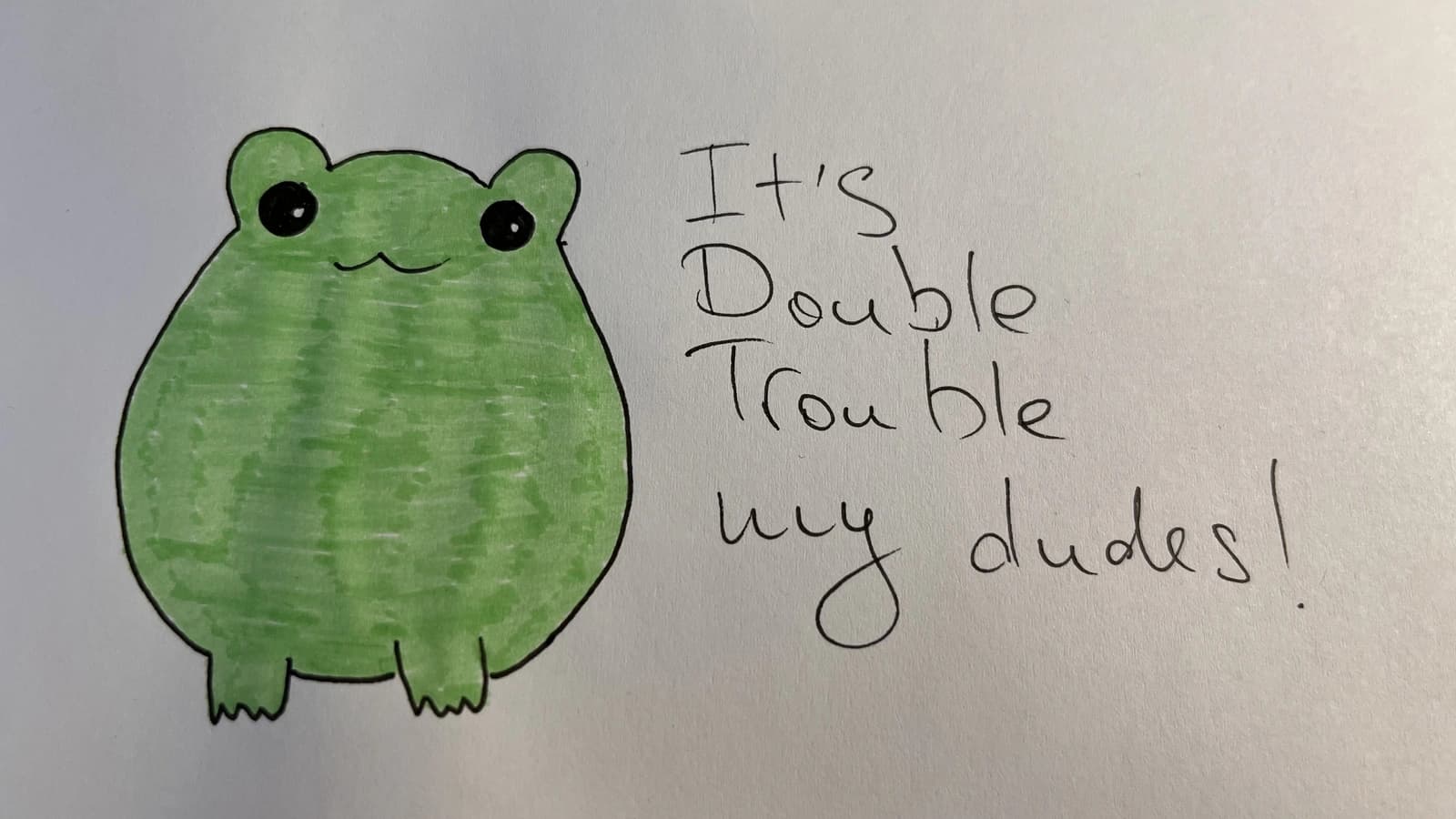 Everyone knows I love blind tastings. And I am not tired of stressing this out - it's not about guessing wines but rather about the relative subjectivity of our tasting experience. The weight of some names and the burden of our hate, you all shall not pass. Guess the wines as much as you want. It's fun and intellectual.
I also love vertical tastings. When you have the same label of different years. It's a way to witness the effects of time (ahem, slow oxidation) on specific wines. A time machine, right? Sort of. Some vintages turn better prepared for a long life than others. In any case, this format gives some wider (no puns) perspective on a specific label. And some people realise that older is not always better.
Double, double, toil and trouble; Something wicked this way comes!
Getting 5 or more different vintages of the same wine is not an easy task. I failed it miserably. At least this time (hint: keep an eye on the next announcement in telegram). On the other hand, we have three vintages of gorgeous Carricante and two vintages of Godello. Ignore the bonus bottle for now. Two wines. Double trouble it is!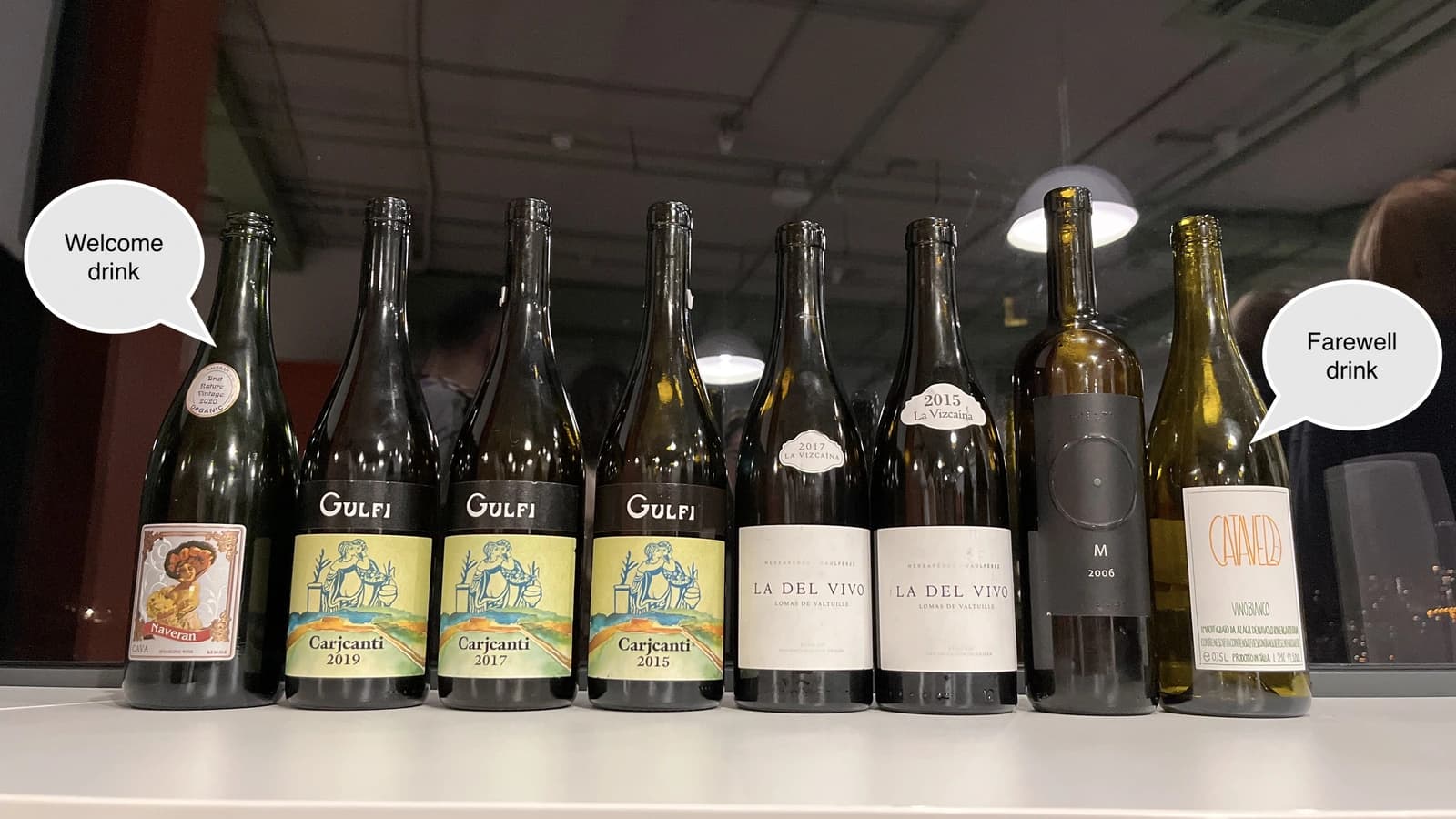 Gulfi Carjcanti 2019 / 2017 / 2015
producer: Gulfi
name: Carjcanti
grapes: Carricante
appellation: Sicilia DOC
location: Sicily, Italy
alcohol: 12.5
sugar: NA / 1.5 / 2
price: 1053 UAH / 1064 UAH / 949 (?) UAH
My affection for Gulfi is… known. The good part is that I have fewer and fewer of their bottles, so you will have some rest soon. Meanwhile, let's appreciate some antique naked asses. As someone said, naked asses we all deserve. Want to learn more? There is a dedicated page explaining why Psyche stands like this.
After checking my notes, I realised that we never really talked about Carricante. We tasted it multiple times, but what do we know about this grape? The dictionary says that 'carica' means 'load' in Italian, probably connected to high yields. Many sources talk about it as an ancient eastern Sicilian striving on the Etna slopes. And indeed, most of the Carricante is grown around the volcano. And there are some incredible wines coming out there (Pietra Marina, A'Puddara, Montalto, etc.). As the meme goes, there is another. You guessed right. Carjcanti.
The variety is known for its marked acidity (zesty!). It is well adapted to high diurnal temperature variations that characterize the climate around Etna. The grapes ripen slowly and steadily throughout the long growing season, retaining their high acidity even into September (in cooler seasons, some vinegrowers keep grapes till October).
Of course, the result depends on specific winemaking techniques (harvest date, optional ageing on less, oak vs stainless steel, etc.). But in general, Carricante gives citrus aromas, cooling herbal notes and mineral character. That's why some people compare it with Chablis (sic!).
Carjcanti is 100% Carricante from Vigna Campo vineyards, district of Passo Guastella Chiaramonte Gulfi. Basically, it's from Monti Iblei in Chiaramonte Gulfi (Ragusa province, South-Eastern Sicily). The vines grow in limestone clay soils at 420 meters above sea level. Grapes are harvested during the third week of September and then fermented into white wine with the direct press in stainless steel tanks and oak barrels (500L and 2500L).
Raúl Pérez La Vizcaína La Del Vivo 2017 / 2015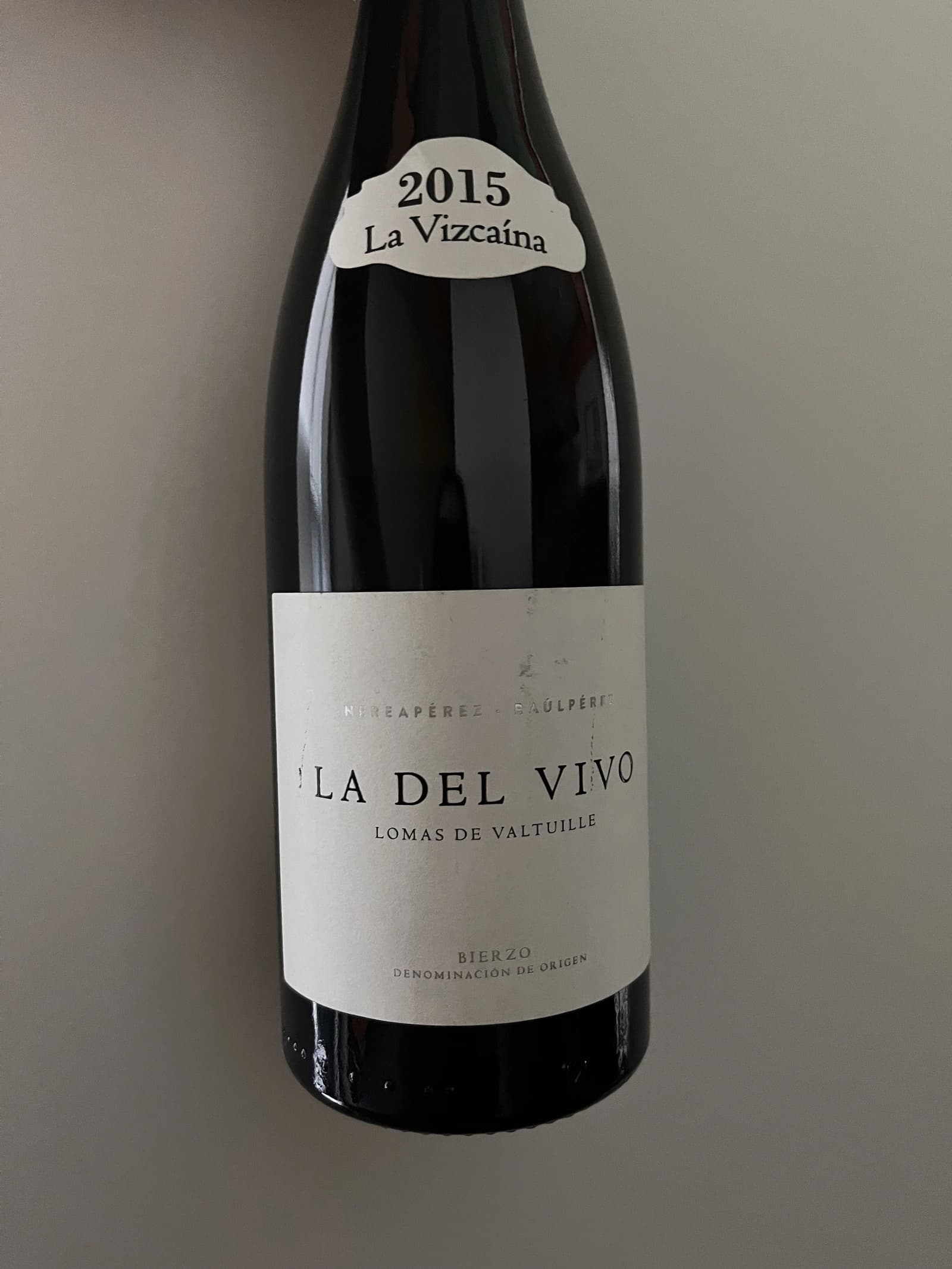 producer: Raúl Pérez
name: La Vizcaína La Del Vivo
grapes: Godello
appellation: Bierzo DO
location: Castile and León, Spain
alcohol: 13.5
sugar: 1.5 / 1.2
price: 944 UAH
When I think of Bierzo (a region in Spain), I often think about Raúl Pérez. When I think of Raúl Pérez, I often think about "The New Spain", a new wave of high-quality winemaking. After producing the first vintage in 1994 at the age of 22, Raúl has been at the forefront of this conversation. Master of Wine Pedro Ballesteros titled Raúl Pérez as the archetype of the intuitive winemaking genius. And despite being so revered, he repeatedly acknowledges he owes much to another iconic name, Álvaro Palácios, who single-handedly changed the image and standards of viticulture in Bierzo. According to Raúl, there's 'before' and 'after Álvaro', and he learnt much from Álvaro.
In 2005, Raúl Pérez left his family business to create his own project called Bodegas y Viñedos Raúl Pérez, which quickly became the point of reference for the Bierzo appellation. Over the years, he expanded to Rías Baixas, Ribeira Sacra and Tierra de León. But his home stayed at Valtuille de Abajo, a village in Bierzo where his family has been tending vines for over 300 years.
Godello is a rare grape from the Iberian peninsula. It was close to extinction by the middle of the 20th century, but a small band of passionate winemakers rescued it from obscurity. Unlike Albariño, Godello is less acidic yet features more smoky and focused minerality. Fewer tropical fruits, but instead - a marriage of ripe stone and orchard fruits.
La Vizcaína La Del Vivo is Godello (and a bit of Doña Blanca) from two vineyards called La Poulosa and Las Villegas on the hillsides around Raúl Pérez's hometown of Vatuille de Abajo. La Poulosa was planted in 1940, and Las Villegas - in 1925. In total, we talk about 1.5 hectares of vines growing at 500-550 meters above sea level on clay (La Poulosa) and sandy (Las Villegas) soils.
The grapes are divided into two parts. Approximately 80% of the grapes are pressed and decanted, then fermented in a 2500-litre oak foudre, where the wine remains untouched for one year. The remaining 20% of the grapes ferment with skins in clay amphora for one year. The two parts are blended and bottled without fining or filtration.
Cantina Alchemica M Rosso 2006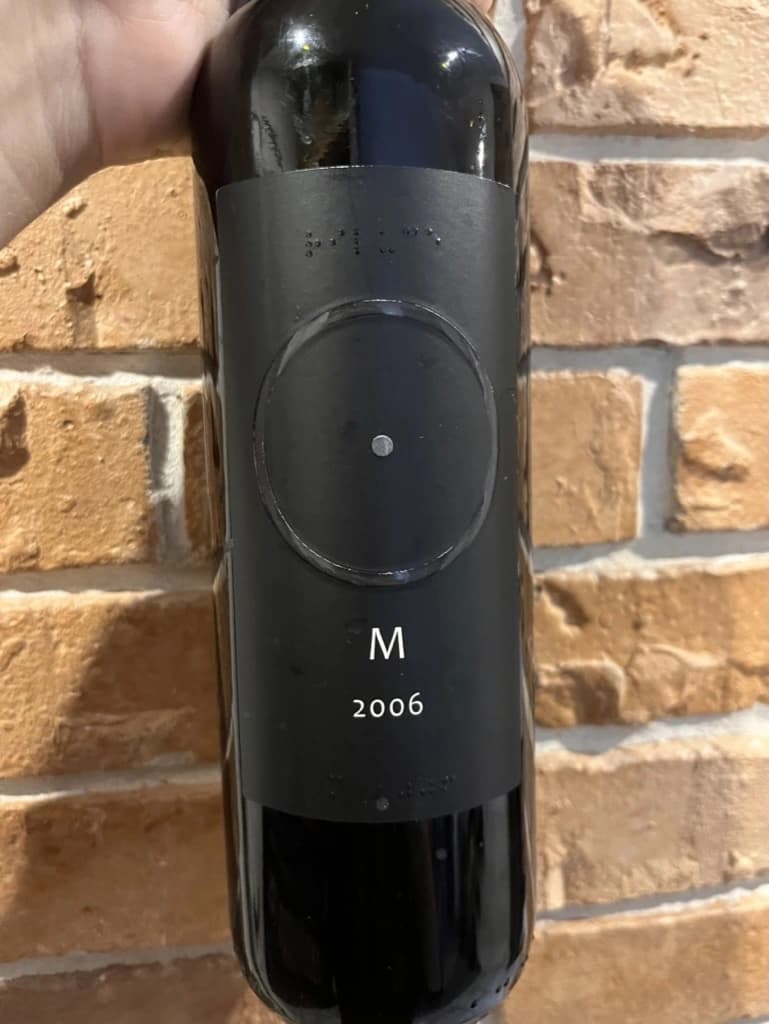 producer: Cantina Alchemica
name: M Rosso
vintage: 2006
grapes: Field Blend
appellation: Vino (IT)
location: Italy
alcohol: 15
sugar: N/A
price: 4900 UAH
A great wine can only be born from the breath of the earth, from the essence of the fruit and from the feelings of the producer.

— Giorgio Mercandelli
In a vintage in which the grapes of the individual crus did not show strong differences, Giorgio Mercandelli opted for a blend where everything could come together. M is obtained from grapes with no treatment and harvested when fully ripe with yields (less than 30 quintals/ha). Spontaneously fermented in special ATLAC resin containers with a high silicon content and completely inert so as not to give the matter any contribution other than containing it. Macerated for 120 days, rested in the bottle for cycles of at least 7 years. Giorgio Mercandelli says the wine can remain open for months without changing or becoming corrupted. But we are going to finish it in one sit.
Initially, I wanted to omit any spiritual mumbo-jumbo you can find when searching for information about Giorgio Mercandelli and his winery. But it's part of his identity, right? So let me share a quote from Decanto.
Mercandelli's biotic philosophy enhances the potential of plants, which only need the work of a man who with his thoughts, gestures and feelings, tries to put himself in phase with the orderly frequencies of the vineyard and establish a domain of coherence such as that which characterizes cells of your own body. Only earth, man and sky. Nothing else. And in adverse years, no production. In the vineyard, he takes care of the plants only by hand and often enters them barefoot. No tractors, no cars. Only uncontaminated grapes because the bunch is the essence of the forces of heaven, earth and producer's sensitivity. The wine is destined to reunite those who drink it with the meaning of life in nature, reaching harmony. His wines are spiritual wines. They do not only pursue an excellent taste but, above all, the inner emotion, that vibration that puts us in resonance with the primordial forces of the Earth and which affects our interiority precisely because it has the same origins. Giorgio Mercandelli seeks light in matter, in grapes, a light understood as a vital frequency, harmony and energy to be made to shine in the wine through the alchemical transformation of the fruit. The bunch becomes a memory of the plant and its experience, image and imprint of a terroir made of water, earth, colours, sounds and light; fermentation is the moment in which this memory is transferred from the materiality of the fruit to a more long-lived and liquid portion to reflect the taste of the forces that produced and transformed the fruit. Fermentation is a process that allows what dies to come back to life through another essence. […] Winemaking is a long alchemical process in which everything subject to gravity, precipitation and decay of matter is separated from the noblest elements. The wine carries within itself the same philosophy of human life: abandoning the body to take back its memory. It is not only a transformation of sugar into alcohol but a true process of destruction of every material component of the vine, from proteins to tannins, to decompose it in pure light and revive its essence through the action of indigenous yeasts, which also contain terroir keys. The wine thus reaches a stage in which it no longer tastes or smells: it is bottled as if it were a glass of fresh water. The grape variety no longer matters, it is surpassed because biotic wine reflects the taste of the forces that produced and transformed the fruit. It does not reflect the varietal. After about a couple of years in the bottle, it finds new dynamism as it begins to regenerate and evolve the memory crystallized in the water, regaining a more or less strong colour […] and recomposing the value of the terroir. The evolution is very slow and follows cycles of 5-7 years, during which it is tasted repeatedly before deciding when to market it.
Scores
| | rms | sdev | favourite | price | QPR |
| --- | --- | --- | --- | --- | --- |
| Wine #1 | 3.8309 | 0.1663 | 0.00 | 1053.00 | 1.7167 |
| Wine #2 | 4.0118 | 0.2397 | 4.00 | 1064.00 | 2.1948 |
| Wine #3 | 4.1386 | 0.0187 | 3.00 | 949.00 | 3.1119 |
| Wine #4 | 4.0541 | 0.0698 | 1.00 | 944.00 | 2.7231 |
| Wine #5 | 4.0001 | 0.2183 | 1.00 | 944.00 | 2.4403 |
| Wine #6 | 3.7800 | 0.0547 | 2.00 | 4900.00 | 0.3498 |
| Wine #7 | 4.1409 | 0.0901 | 0.00 | 607.00 | 4.8179 |
How to read this table:
rms is root mean square or quadratic mean. The problem with arithmetic mean is that it is very sensitive to deviations and extreme values in data sets, meaning that even single 5 or 1 might 'drastically' affect the score.
sdev is standard deviation. The bigger this value the more controversial the wine is, meaning that people have different opinions on this one.
favourite is amount of people who marked this wine as favourite of the event.
outcast is amount of people who marked this wine as outcast of the event.
price is wine price in UAH.
QPR is quality price ratio, calculated in as 100 * factorial(rms)/price. The reason behind this totally unprofessional formula is simple. At some point you have to pay more and more to get a little fraction of satisfaction. Factorial used in this formula rewards scores close to the upper bound 120 times more than scores close to the lower bound.
| | Wine #1 | Wine #2 | Wine #3 | Wine #4 | Wine #5 | Wine #6 | Wine #7 |
| --- | --- | --- | --- | --- | --- | --- | --- |
| Daria B | 4.00 | 4.40 | 4.20 | 4.20 | 4.00 | 3.80 | 3.80 |
| Oleksandr R | 4.00 | 4.30 | 4.20 | 3.80 | 4.20 | 3.50 | 4.00 |
| Valerii V | 4.00 | 3.70 | 4.20 | 4.40 | 2.70 | 3.90 | 4.40 |
| Andrii S | 4.20 | 4.40 | 4.20 | 4.40 | 4.40 | 3.80 | 4.00 |
| Viktoriya Zh | 4.20 | 4.60 | 4.40 | 3.90 | 4.50 | 4.00 | 4.10 |
| Dimitry G | 3.40 | 3.20 | 4.00 | 3.50 | 3.70 | 3.40 | 4.40 |
| Elvira K | 4.00 | 4.10 | 4.20 | 4.10 | 4.00 | 4.10 | - |
| Oleksandr Ya | 3.70 | 3.80 | 3.90 | 3.80 | 3.70 | 3.80 | 4.10 |
| Mariia S | 3.50 | 4.00 | 4.00 | 4.00 | 4.10 | 3.60 | 3.90 |
| Kristina S | 2.80 | 3.00 | 4.00 | 4.20 | 4.20 | 3.50 | 4.80 |
| Boris B | 4.10 | 4.30 | 4.20 | 4.20 | 4.20 | 4.10 | 3.80 |