Saint-Aubin Premier Cru La Chateniére - 2020
8.25 / 10
Type

white still, dry

Region

Saint-Aubin AOC, France

Producer

Vintage

2020

Grapes

Chardonnay

Alcohol

13

Sugar

1

Price

2084 UAH, 3300 UAH

Cellar

not available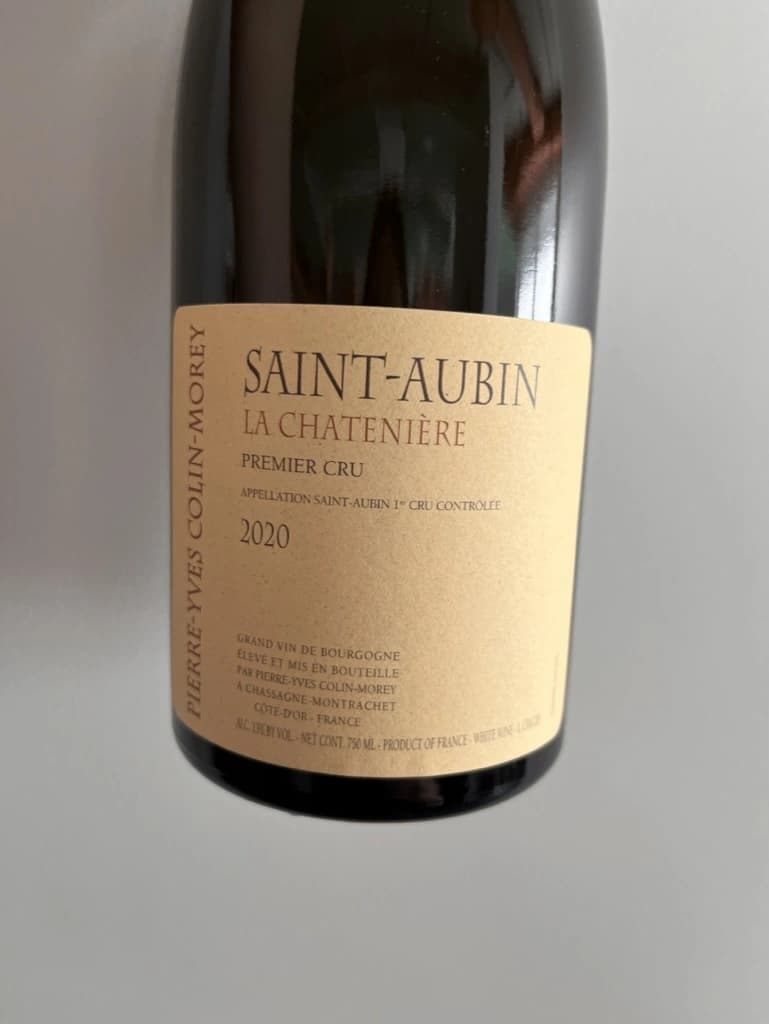 Ratings
8.25 / 10·750 ml·@Garage · Mixed Bag Vol. 8
I fear at this point I was just tired. It's delicate, multilayered and complex. Would be better to taste it earlier. Well, some things can't be changed postfactum, so here I am. Stone fruits, smoke, caramel, and buttered Chaussons aux Pommes. Good structure. The balance is almost perfect. Yet it's too young, IMO you should hide this wine in your cellar for at least a few years before even touching it.
Wine #9 on Mixed Bag Vol. 8 event.
Pierre-Yves Colin-Morey
Pierre-Yves Colin-Morey, established in the esteemed wine region of Chassagne-Montrachet in Burgundy, France, represents a fusion of two prominent Burgundian winemaking families. Pierre-Yves, the eldest son of Marc Colin, and his wife Caroline Morey, from the Jean-Marc Morey lineage, have created a legacy that is deeply rooted in the traditions and terroir of Burgundy. Since its inception, the winery has garnered a reputation for producing some of the finest Chardonnays in the region, characterized by their minerality and longevity.
After working at his father's domaine from 1994 to 2005, Pierre-Yves ventured to establish his winery, bringing with him a six-hectare inheritance of vineyards. This move marked a significant shift in his winemaking approach, notably in response to the challenge of premature oxidation. Pierre-Yves eliminated battonage and ceased heating his cellar to promote malolactic fermentation. His refined techniques, including longer barrel ageing with minimal new wood and sealing bottles with wax, have significantly enhanced the quality and uniqueness of his wines. Pierre-Yves's vineyards, primarily located in St-Aubin and Chassagne-Montrachet, include notable premiers crus and village appellations. Additionally, his négociant business allows him to source high-quality grapes from other renowned vineyards in Puligny-Montrachet, Meursault, and even grand crus sites, enriching his portfolio with a diverse range of exceptional wines.
The winery's commitment to minimal intervention and lutte raisonnée1 is evident in the use of larger demi-muid barrels for ageing, a practice Pierre-Yves believes enhances the wines' energy, freshness, and terroir-driven characteristics. Unlike many locals, Pierre-Yves uses 350L barrels (instead of 225L) and also ages his wines for a longer period of 18 months (vs 12 months). This approach results in less pronounced oak flavours and creaminess, allowing the natural qualities of the Chardonnay grape to shine through.
With his sons, Mathis and Clément, now joining the family domaine, Pierre-Yves Colin-Morey continues to set a high standard in Burgundian winemaking. Their wines, renowned for their reductive and leesy style, demonstrate a remarkable ageing potential.
Footnotes
Lutte raisonnée (literally 'reasoned struggle') is an approach to viticulture which permits the application of agrochemicals only when absolutely necessary and not as a matter of routine. Practically, that means no chemicals unless there is a high risk of losing harvest or vines altogether. ↩