Rosé de Macération a Bouzy (d2022) - NV
8.25 / 10
Type

rose sparkling, extra-brut

Region

Champagne AOC, France

Producer

Vintage

NV

Disgorged

2022-09

On lees

N/A

Grapes

Pinot Noir

Alcohol

12

Sugar

3

Price

2343 UAH, 2590 UAH, 2815 UAH

Cellar

not available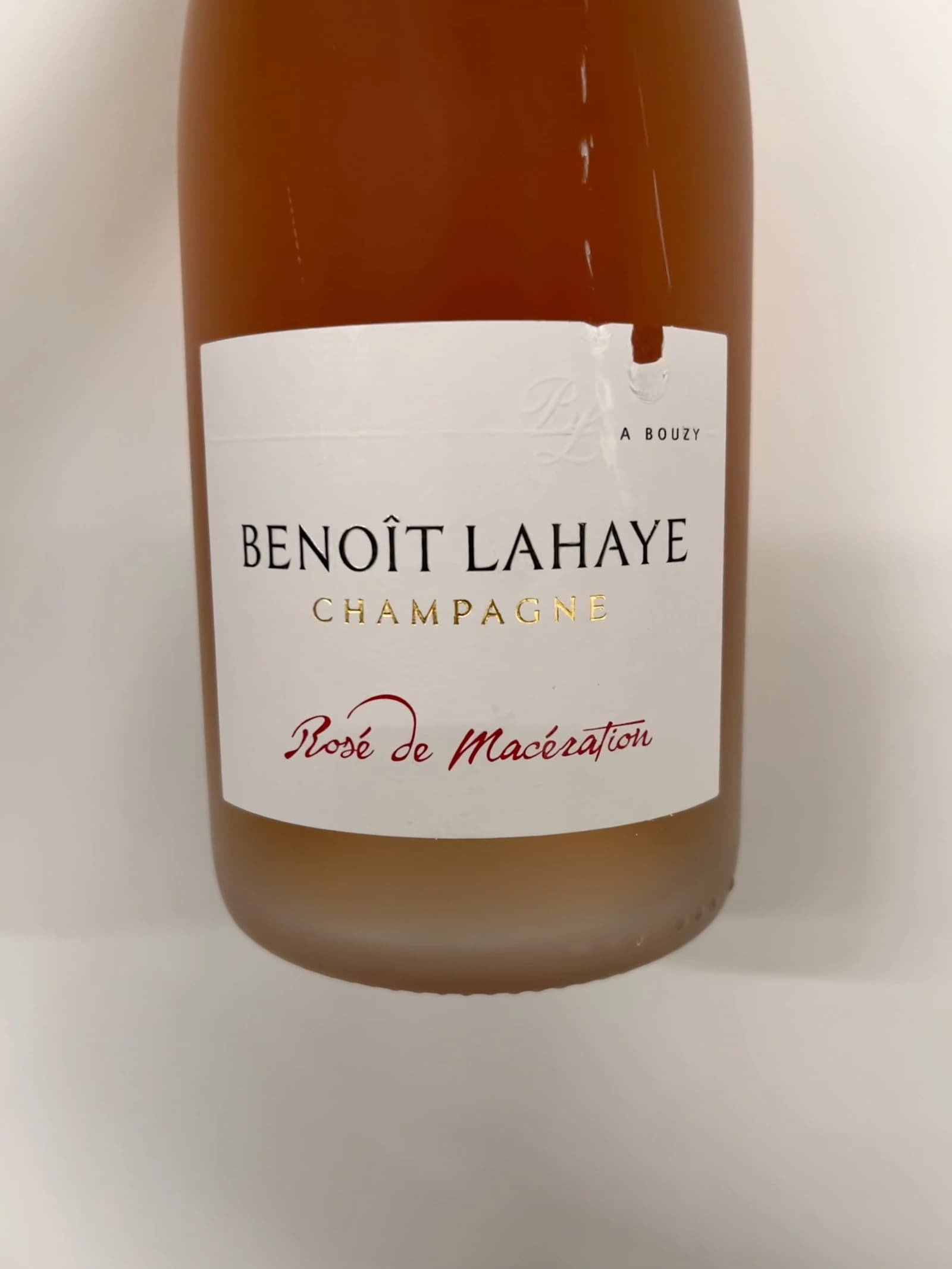 Rosé de Macération is 100% Pinot Noir from Les Juliennes, a vineyard located on the terres blanches (white soils) in Bouzy on the border with Tauxières, planted in 1973. Whole cluster maceration for 2 to 3 days, then direct pressing of the grapes. The still wine is racked once and not filtered before its secondary fermentation. Low dosage at 3 grams/litre (extra brut).
Ratings
8.25 / 10·750 ml·@Wix Kyiv Office · Rose Petals Party Vol. 2
Delicate, sophisticated, demanding and mineral rosé. IMO it requires attention to details. Red apples, cranberry, red currant, and caramel. Fresh, structured and delicious. I sacrificed it as a bridge between heavy still rosé wines and a bit aged Champagne. And it worked. This is my wine of the evening. Partially to amend my cruelty, partially because I genuinely enjoyed it.
Wine #6 on Rose Petals Party Vol. 2 event.
Benoît Lahaye
Benoît Lahaye is among those few daring growers that practice certified biodynamic farming in a Champagne erratic climate. After taking responsibility for the family estate in 1993, Benoît systematically moved towards organic (certified in 2007) and biodynamic practices (certified in 2010). His Burgundy horse, named Tamise, helped him on this road (no pun intended). You can see them together in many photos online.
Today (at least in 2021) Benoît Lahaye owns 4.8 hectares, which are planted to 88% pinot noir: three hectares are located in the pinot noir epicentre of Bouzy; one - in Ambonnay; and tiny parcels in Tauxières-Mutry and Vertus.
Since 2012, all base wines are fermented in 205-litre barriques of between new and 15 years old. Interestingly, Benoît emphasises that his style is not oxidative, preferring to leave oxidative development to occur in the bottle. He also experiments with small tanks, egg fermenters and Tuscan amphorae. Only indigenous yeast is used for fermentation. Full malolactic fermentation is used since 2008 to enhance complexity and permit the reduction of SO2​.