Entre Ciel & Terre (2014) - NV
8.50 / 10
Type

white sparkling, extra-brut

Region

Champagne AOC, France

Producer

Vintage

NV, based on 2013

Disgorged

2018-10

On lees

48 months

Grapes

Pinot Meunier, Pinot Noir, Chardonnay

Alcohol

12.5

Sugar

1.65

Price

2150 UAH

Cellar

not available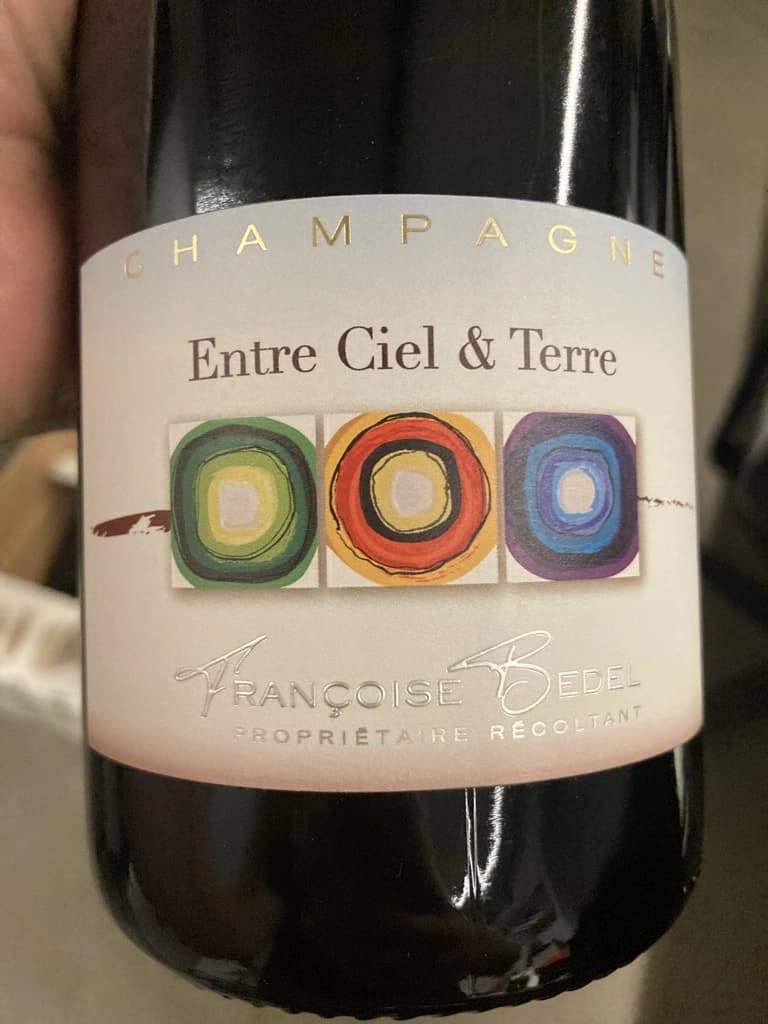 Ratings
8.50 / 10·750 ml·@Home
One of my favourite producers from Champagne. Entre Ciel & Terre is more delicate than, say, Origenelle, showing less oxidation. And 2014-based Entre Ciel is also more delicate than 2013-based. Pale yellow colour. Powerful bouquet showing age (hey 48 sur lies): baked apple, toast, oil, lemon tart, Jerez, brioche, field flowers. Medium-full bodied, intense, complex and delicious.
Françoise Bedel
Françoise Bedel stands out not only for her remarkable journey into winemaking but also for her unique approach to viticulture and winemaking. Hailing from the village of Crouttes-sur-Marne, located on the western edge of Champagne, Bedel's estate is a testament to her dedication and passion for winemaking. Her journey into biodynamic winemaking, inspired by her personal experiences and a deep reverence for nature, has set her apart in a region celebrated for its long-standing conventional vinegrowing and winemaking traditions.
The 8-hectare estate, cultivated with vines aged between 30 and 60 years, reflects Bedel's commitment to biodynamic practices since 1998. This approach, centred around the interplay between soil, subsoil, and the vine's root system, allows for the fullest expression of the terroir in her grapes. The unique bio-dynamic compost used in the vineyards, containing preparations made from yarrow, chamomile, nettle, oak bark, dandelion, and valerian, is a testament to her dedication to fostering a harmonious relationship between the vineyard and its natural environment.
Located in the Marne Valley, known for its quality Pinot Meunier grapes, Bedel's estate predominantly focuses on this variety, along with smaller plantings of Chardonnay and Pinot Noir. Her Champagnes, often aged for more than six years on the lees, are renowned for their depth and complexity. This extended lees ageing, combined with low or zero dosage, results in Champagnes with significant weight, heft, and lingering acidity.