Cuvée 740 DT Grand Vin (2012) - NV
no rating yet
Type

white sparkling, extra-brut

Region

Champagne AOC, France

Producer

Vintage

NV, based on 2012

Disgorged

2021-04

On lees

94 months

Grapes

Chardonnay, Pinot Meunier, Pinot Noir

Alcohol

12.5

Sugar

unknown

Price

5000 UAH

Cellar

1 bottles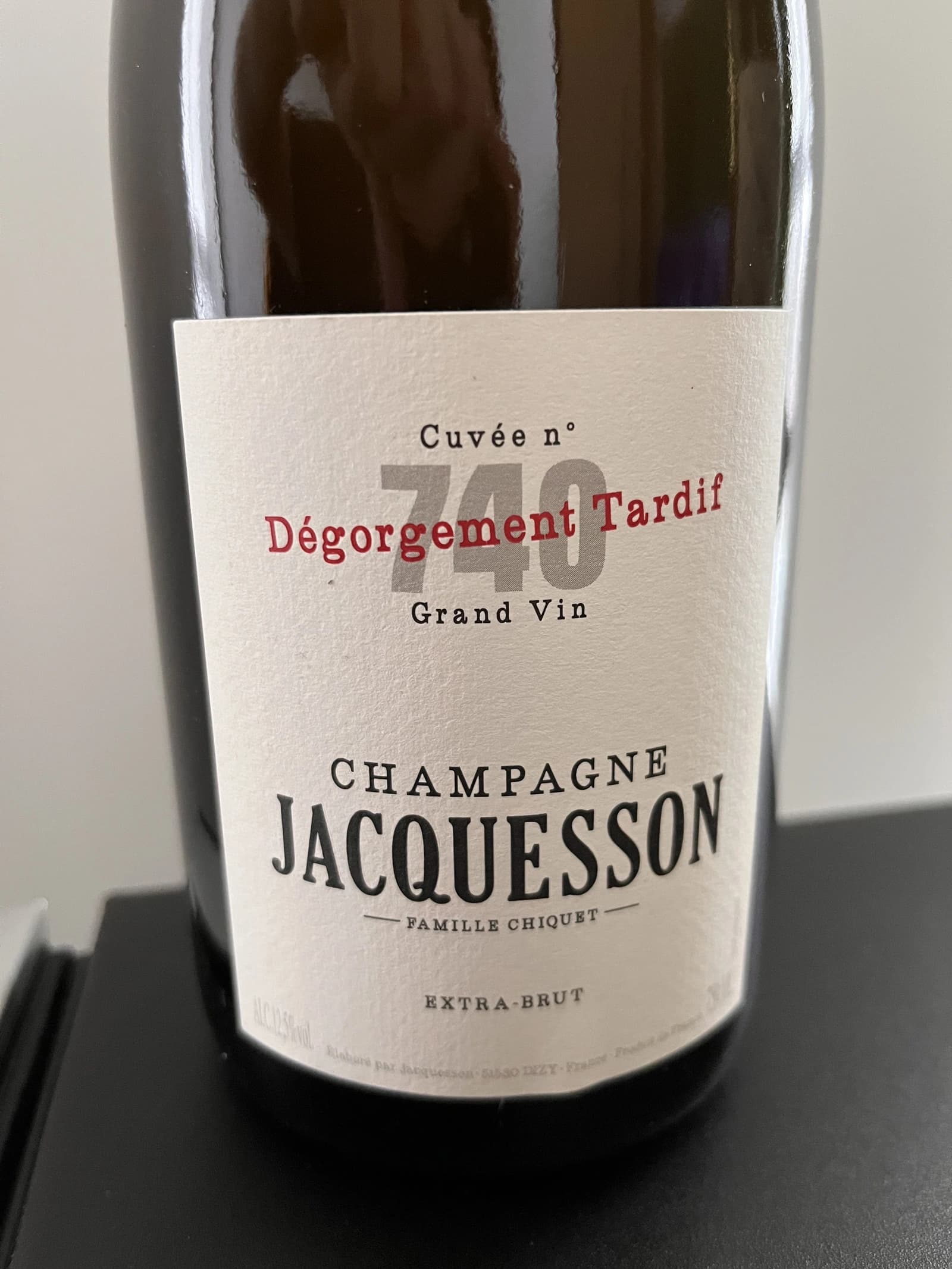 Ratings
Oh dear, it seems this wine and my palate haven't had their rendezvous yet. Maybe I was letting the wine breathe, or perhaps I was just taking another sip elsewhere. 😉
Fear not, dear wine enthusiast! This bottle's moment in the spotlight is coming soon. In the meantime, why not uncork your own adventure with it? After all, the best wine stories are those we create ourselves. Cheers to new tastings on the horizon! 🥂
Jacquesson
Jacquesson, one of the most venerable houses in the Champagne region, has undergone a revolutionary transformation under the leadership of the Laurent and Jean-Hervé Chiquet brothers. Since taking over from their father in the 1990s, the Chiquets have steered Jacquesson away from conventional winemaking practices, embracing a terroir-based, herbicide-free philosophy. Their groundbreaking decision to retire the house's 150-year-old non-vintage blend in favour of a single-vintage-based cuvée was a bold move that marked a departure from Champagne's tradition of striving for a consistent house style. These change not only reflects Jacquesson's commitment to quality and terroir but also signifies their willingness to embrace the unique characteristics of each vintage.
Jacquesson's approach to winemaking is characterized by a focus on expressing the unique qualities of each vintage, a philosophy that diverges from the norm in Champagne, which focuses on producing consistent wine each year. The Chiquets' decision to prioritize expression over consistency is evident in their numbered cuvées, starting with 728 based on the 2000 vintage. Each cuvée is a reflection of the year's harvest, with blends changing annually yet consistently showcasing a mix of Chardonnay, Pinot Noir, and Pinot Meunier. The winemaking process remains constant, featuring vinification in large old oak barrels, ageing on lees with weekly bâtonnage, minimal dosage, and no filtration. This method has garnered widespread acclaim for its transparency and remarkable minerality, highlighting Jacquesson's commitment to quality and innovation.
In addition to the 700 Series, Jacquesson produces limited quantities of single-vineyard cuvées, each representing a unique parcel of vines. These Champagnes, lauded for their extraordinary expression of terroir, are made from small plots in Dizy, Avize and Aÿ. Jacquesson is also renowned for its late-disgorged older vintages, distinguished by their elaborate Baroque labels reminiscent of the 1840s. This aspect of Jacquesson's production underscores the house's devotion to crafting Champagnes that are not just excellent but also historically resonant and deeply connected to their heritage.
Like it wasn't enough, Laurent and Jean-Hervé Chiquet brought one more novelty to the Champagne landscape. All wines of the 700 Series (in spite of Grand Crus and Mlllésimes they used to produce before 2000) come in two versions - regular and late disgorgement, with around 3 and 7-8 years on fine lees. This gives a unique chance to compare wine development on lees and post-disgorgement.
Since its establishment in 1798 by Memmie Jacquesson, the house of Jacquesson has traversed a fascinating journey. Initially basking in the glory of Emperor Napoleon's gold medal endorsement in 1810, the house experienced a period of decline before being sold in the late 19th century. Intriguingly, it was in 1843 that Johann-Joseph Krug departed Jacquesson to establish his own now-famous Champagne house. A pivotal turn for Jacquesson arrived with its acquisition by Jean Chiquet in 1974, who later passed the reins to his sons. Fast forward to 2022, and Jacquesson entered a new chapter under the stewardship of François Pinault's Artémis Domaines, part of the Groupe Artémis conglomerate, which also encompasses esteemed entities like Christie's auction house, and luxury brands Gucci and Balenciaga. Furthermore, Artémis Domaines manages Château Latour and an exclusive selection of premier wine estates across France and California. Today, Jacquesson stands as a distinguished member of a modern French empire, one synonymous with the pinnacle of luxury.
[…] Jacquesson's small size as a maison producing 250,000 bottles per year, its strong vigneron culture and its image as "champagne for the wine connoisseur" are all elements very much aligned with our philosophy at Artémis Domaines and are very compatible with our other domaines.