Fontanasanta Manzoni Bianco - 2019
6.83 / 10
Type

white still, dry

Region

IGP Vigneti delle Dolomiti, Italy

Producer

Vintage

2019

Grapes

Manzoni Bianco

Alcohol

12.5

Sugar

0.6

Price

180 UAH, 599 UAH

Cellar

not available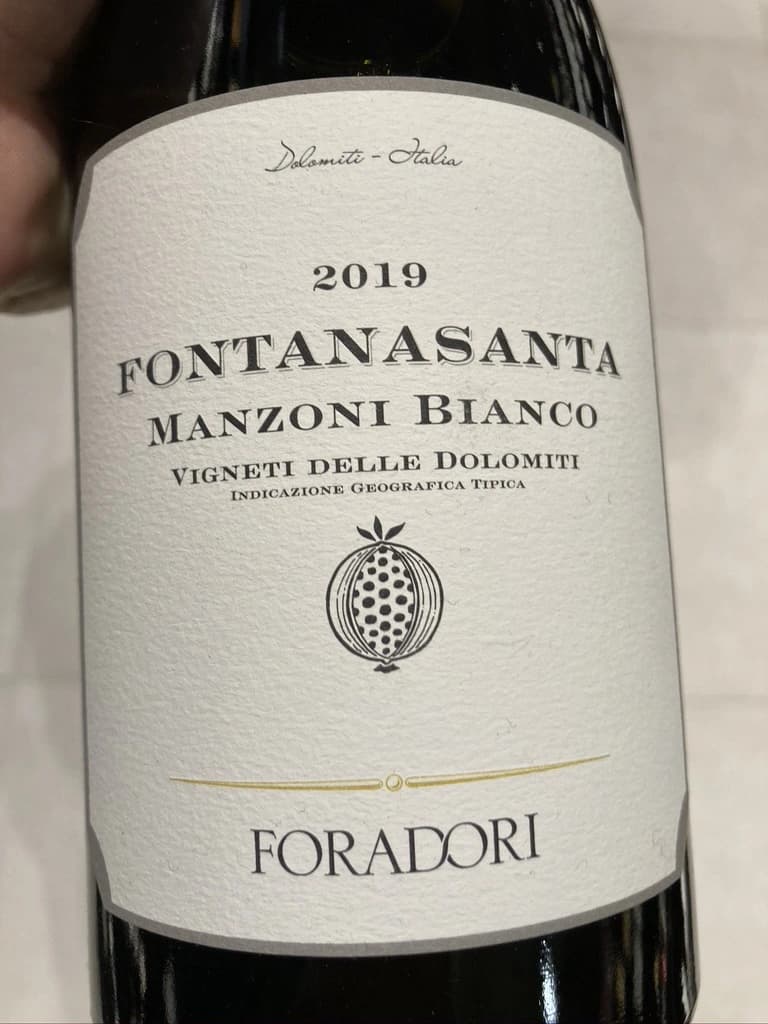 100% Manzoni Bianco, an early-20th-century crossing of Riesling and Pinot Bianco. Foradori organically farms and hand-harvests 3 hectares on clay-limestone soils in the Fontanasanta hills above Trento. Destemmed fruit with 3-4-day skin maceration; aged 8 months in acacia barrel, concrete and clay.
Ratings
7.50 / 10·750 ml·@Wix Kyiv Office
Time has a positive effect on this wine. A sewer turned into struck matches and boiled corn. Less reductive, it gave space for fruits, citrus, yellow flowers, almonds and baked apples. It's round, fresh, and voluminous with a persistent aftertaste. Not for everyone - it has a character you either love or hate.
7.50 / 10·750 ml·@Wix Kyiv Office
Considering my previous review one would think that I am not going to taste this wine ever again. But I've managed to get few bottles for an amazing price, so now I have a chance to see its development over almost 2 years. Sulfur compounds are still present, but now in lower amounts making more room for other things like citrus, ginger, sauerkraut - all that on the same canvas of struck matches. And while nose is still questionable, Manzoni Bianco is tasty, with good acidity, citrus flavours mixed with field flowers and long finish. Confusing experience for those who love crazy wines.
5.50 / 10·750 ml
My second Foradori wine, but this time I am disappointed. Low intervention philosophy might be a good thing, but in this particular case result is rather faulty thanks to excessive amounts of sulfur compounds (dihydrogen sulfide, I am smelling you, and I don't quite enjoy the process). So on the canvas of struck matches you may find silicon lighter and citrus notes. But than you make a sip and it's tasty! Very good refreshing acidity, citrus flavours. Tasty, but the overly faulty nose is killing me.
Foradori
Elisabetta Foradori bears a reputation as a very nice and elegant person who mixes seriousness with cheerfulness. Every person I know who met her comes back in awe.
As a winemaker, her career started not by her own will but from unexpected circumstances. Her father's early death hurled her life into family estate management. Initially, out of a sense of duty and then from newly born passion, she became a rising star.
Though the 90s, Elisabetta Foradori was known as "the queen of Teroldego". Yet, by 2000 she lost all personal connection to her work and started to question everything, to experiment. That's how she came to biodynamics, amphoras, the decision to replant the majority of the land from pergola to guyot, and radical changes in vinification.
Today her children help with the winery. Emilio, the eldest, is responsible for viticulture and winemaking since 2013. Theo travels to represent the winery and to communicate with importers and distributors. And Myrtha transforms the winery into a full-blown polycultural farm. They even produce cheese these days!