Legends of Olsavia. The history of Collio hills in our glasses.
---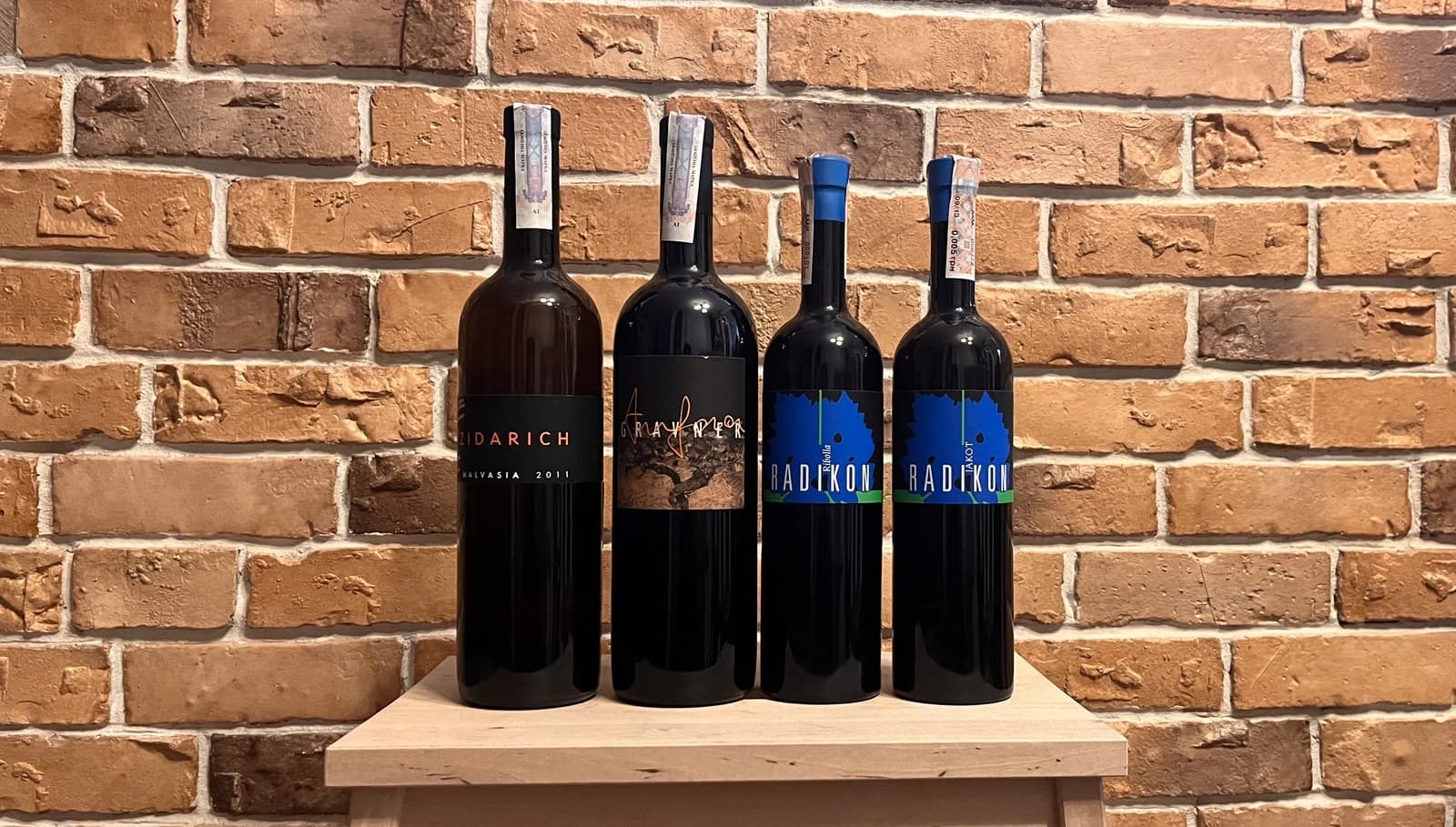 It seems that time has no power over interest in amber wines. Last year we tasted quite a lot of them. We loved them. And the interest lingers on. And what is a better way to celebrate our curiosity than to turn to the legends behind the skin-contact renaissance? I said it before, and let me repeat myself. When life gives you a bottle of Gravner Ribolla Anfora 2004, a bottle of Radikon Jakot 2007 and a bottle of Radikon Ribolla 2007, you just put aside whatever urgent matters you had in FFXIV (even preparations for the final section of Pandæmonium). And let's pretend that Zidarich visited Collio Hills. On his way from Carso, he brought us a little present.
Zidarich Malvasia 2011
producer: Zidarich
name: Malvasia
vintage: 2011
grapes: Malvasia di Candia Aromatica
appellation: IGP Venezia Giulia
location: Friuli-Venezia Giulia, Italy
alcohol: 0
sugar: 0
price: 1890 UAH
We all understand that Zidarich is not from Oslavia. Benjamin Zidarich started his wine-making quest in 1988 with just one hectare in Carso, a narrow strip between rocky hills and the Adriatic sea. Today he manages 8 hectares of Vitovska (the classic local variety of the Carso), Malvasia, and Sauvignon Blanc, as well as small amounts of Teran and Merlot for his reds. The vines grow in the classic iron- and calcium-rich red soils, extending deep into the limestone.
All vines 'suffer' low yields, around 30 hectoliters per hectare. In the cellar, Benjamin uses an old basket press and keeps his white wines in contact with their skins for a few weeks during fermentation (this also allows to lower usage of SO2​). However, his wines are not as bold as wines made by Radikon or Gravner. These wines are about minerality in the first place and about skin tannins.
Malvasia is a classical line wine made of an ancient greek varietal that was imported to nearby Istria and later brought to the Carso and surrounding areas. Fermentation is spontaneous and happens in open vats with no temperature control. After malolactic fermentation in big oak barrels, the wine ages for at least two years in big and medium-sized Slavonian oaks.
Gravner Ribolla Anfora 2004
producer: Gravner
name: Ribolla Anfora
vintage: 2004
grapes: Ribolla Gialla
appellation: IGP Venezia Giulia
location: Friuli-Venezia Giulia, Italy
alcohol: 12.5
sugar: 3
price: 3490 UAH
Many consider Joško Gravner to be the father of macerated white wine trend. Yet it's interesting that before his first amber wine, he was a rising star in the modern and technological winemaking scene. He confessed that he would purchase any new equipment he could find. But his life turned upside down after a trip to California back in 1987. California was (and maybe still is) a destination for many winemakers as this region represents triumph and possibilities of new. No wonder, as Californian wines won Judgement of Paris in 1976. This event dramatically changed the wine world. Joško Gravner was taking the same path as Californian winemakers - oak, science, additives and all that cool stuff. But after tasting 1000 wines in 10 days, he was astonished by faceless and tasteless results. And he realised this was the road to a dead end. Now he knew how not to produce wines.
His search lasted for almost a decade. Joško Gravner studied the history of winemaking and searched for a way to produce authentic wines that talk in the language of land and history. He discovered that his ancestors made skin-contact wines here in Collio/Brda. And then, he learned that Georgia has a very long history of winemaking spanning over 8000 years. And more importantly, this history includes skin-contact wines.
Equipped with knowledge and determination to change, Joško Gravner worked hard on his first release of extensively macerated Ribolla. It took three years for the 1997 vintage to become ready for release. But unfortunately, consumers were not happy about this drastic change in style. And most importantly, Gambero Rosso, an influential wine & food magazine, gave a devastating assessment of this new style. As a result, 80% of the 1997 Ribolla was returned to the winery. Joško Gravner was crushed. But he also realised that this was the way to go.
In the same 2000, Joško Gravner visited Georgia and ordered 11 qvevri. Unfortunately, no one knew how to transport these 1000L ceramic vessels, so 9 of them didn't survive the trip. Because of this, Joško had to wait one more year before he could start to use qvevri for production. Nowadays, he owns more than 45 of them in total!
Interestingly, Ribolla and Breg (two wines produced by Joško Gravner) had the word 'Anfora' printed on the labels of the 2001 vintage. However, they were not 100% fermented in qvevri till 2003. Even more, no qvevri was used for Breg Rosso production till 2005. And in 2007, they decided to remove the word 'Anfora' from all labels, as this information became redundant. All their wines were fermented in qvevri now.
And today, wines produced by Joško Gravner are treated as the highest manifestation of skill. Many people consider Ribolla to be the best orange wine in the world.
Radikon Ribolla 2007
producer: Radikon
name: Ribolla
vintage: 2007
grapes: Ribolla Gialla
appellation: IGP Venezia Giulia
location: Friuli-Venezia Giulia, Italy
alcohol: 13
sugar: 3.2
price: 1890 UAH
Stanko Radikon is a legendary farmer and winemaker from a legendary region. He and his friends (Gravner) started period of renaissance for amber wines - white wines with extended skin maceration. But of course, in town of Oslavia it was called "Slovenian" or "Friuli" style - hand-harvesting, skin contact, large and older barrel fermentation without any temperature control, no added yeasts or enzymes, and little to no use of sulfur.
The vineyards were originally planted in the beginning of XX century by Stanko's grandfather Franz Mikulus with the local favorite, the Ribolla Gialla grape. And basically, Stanko went back to the ways his grandfather was producing wines back in 30s.
After Stanko passing away in 2016, his son Saša took the winery in his hands. Though people say that nothing has really changed in the philosophy of Radikon winery as Saša has been helping out since he was a kid and a partner since 2006.
Radikon Jakot 2007
producer: Radikon
name: Jakot
vintage: 2007
grapes: Tocai Friulano
appellation: IGP Venezia Giulia
location: Friuli-Venezia Giulia, Italy
alcohol: 0
sugar: 0
price: 1690 UAH
On bottle size. Stanko Radikon and Edi Kante were not happy about bottles of regular 0.75l volume. It's not enough for two people and too much for one person. That's why they designed bottles and corks of alternative size - 0.5l and 1.0l with corks that imitate wine to oxygen proportion of magnum bottles. First release that saw new bottles is 2002. Edi Kante likes to joke that 1.0l bottle is ideal for two people when only one is drinking.
On ranges. You might have noticed that some wines made by Radikon have blue label and some have purple label. In short, blue label is their 'traditional' and top-tier wines. This range started by Stanko himself and is now continued by his son Saša. The purple label is officially called S range (or Saša wines) and was crated by Saša to branch out a bit on his own and to produce entry level wines. They see a noticeably shorter maceration, 8 to 14 days versus 3 months. They are also ferment and age in smaller vessels and age for only 18 months before bottling. And yes, they are bottled in traditional 750ml bottles.
Scores
| | Wine #1 | Wine #2 | Wine #3 | Wine #4 |
| --- | --- | --- | --- | --- |
| Andrii S | 4.00 | 4.40 | 4.30 | 4.20 |
| Viktoriya Zh | 4.00 | 4.20 | 4.40 | 4.30 |
| Daria B | 4.20 | 4.10 | 4.20 | 4.20 |
| Oleksandr Ya | 4.00 | 4.10 | 4.10 | 3.90 |
| Elvira K | 4.00 | 4.20 | 4.30 | 4.30 |
| Boris B | 4.20 | 4.50 | 4.50 | 4.30 |
| | rms | sdev | price | QPR |
| --- | --- | --- | --- | --- |
| Wine #1 | 4.0678 | 0.0089 | 1890.00 | 1.4047 |
| Wine #2 | 4.2526 | 0.0225 | 3490.00 | 1.0089 |
| Wine #3 | 4.3019 | 0.0167 | 1890.00 | 2.0147 |
| Wine #4 | 4.2024 | 0.0200 | 1690.00 | 1.9277 |
How to read this table:
rms is root mean square or quadratic mean. The problem with arithmetic mean is that it is very sensitive to deviations and extreme values in data sets, meaning that even single 5 or 1 might 'drastically' affect the score.
sdev is standard deviation. The bigger this value the more controversial the wine is, meaning that people have different opinions on this one.
price is wine price in UAH.
QPR is quality price ratio, calculated in as 100 * factorial(rms)/price. The reason behind this totally unprofessional formula is simple. At some point you have to pay more and more to get a little fraction of satisfaction. Factorial used in this formula rewards scores close to the upper bound 120 times more than scores close to the lower bound.