Type

red still, dry

Region

WO Swartland, South Africa

Producer

Vintage

2016

Grapes

Shiraz, Mataro, Grenache, Cinsault, Tinta Barroca

Alcohol

13.5

Sugar

1.6

Price

3800 UAH, 3534 UAH, 2800 UAH

Cellar

not available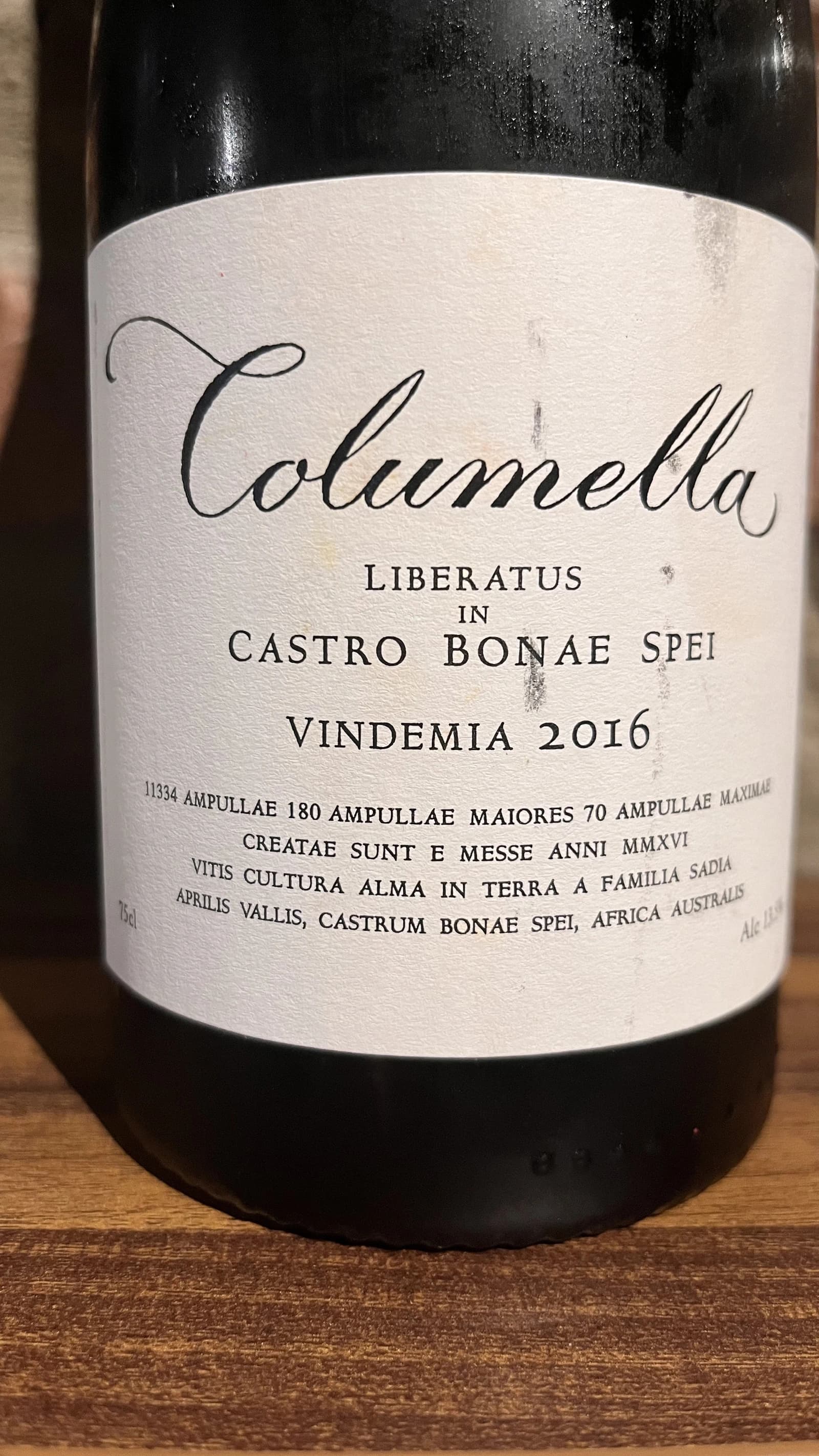 Columnela is a Syrah-based blend with Mourvèdre, Grenache, Carignan, Cinsaut and Tinta Barocca. The grapes are sourced from Paardeberg (2 vineyards), Kasteelberg (4 vineyards), Malmesbury (1 vineyard) and Piquetberg (1 vineyard). The vines grow on granite, slate, gravel and sandstone formations.
After harvesting, the grapes are sorted by hand in small "strawberry" cases. Fermentation takes place spontaneously in 3300-litre open concrete fermenters for about three weeks at a temperature of 24°C and is then followed by a post-fermentation maceration of another three weeks. No additions are made to the fermenting wine. Pressing takes place in a traditional basket press. The wine is transferred to the barrel (5% new) for malolactic fermentation.
The wine spends 12 months on the lees in tight-grain French oak barrels, just 5% of them new. The wine is then racked into big oval casks (foudres) for an additional year of maturation on the fine lees. After a total of two years, the wine is bottled without fining or filtration.
This 2016 Columella has a much deeper colour and concentration and is still very compact and in need of obvious ageing, but it is already showing great complexity in that the aromatics are not a singular line, but the coming together of many aspects. The aromas are a combination of bright fresh red fruits which then pass over to the riper black stone fruit. The wine is also very earthy and seems to live on a bed of freshly ploughed earth - and then there is the appearance of much darker graphite aromatics as well.

The reality is that with our refinement in vinification, especially after 2010, our wines are made in more reductive style and they may appear more austere in their youth, but allow this wine time to age, or space to breathe, and one will find incredible layers of complexity that at times were maybe more monolithic in the earlier vintages. To wait on a wine is the most normal thing…
Displayed very dark red fruit that seemed to be all coiled up in tannins and very neatly woven together. The wine is under tension and rightfully so. The focus in this wine is serious and all in all this one shows very high potential and reminds one of a mega complex helix - the only aspect that will reveal the true potential is time! This wine should be left alone for at least the first decade plus and will drink well into 2048 and possibly beyond.
Ratings
8.80 / 10·750 ml·@Lo Kyiv · Heaven and Earth
Mind-blowing wine. It's a mixture of dark berries, black stone fruits, smoke, spices, tobacco, black olives and toffee. Multilayered, complex, evolving, silky and perfectly balanced. It's so juicy, and the fruit is so good! Quaffable delicacy. And it's still so young!
Wine #6 on Heaven and Earth event.
8.50 / 10·750 ml·@101 Bar
While in general I am not fond on field blends, some people do know how to get wonderful result. Cured black berries, toffee, chocolate with smoke, black olives. While nose shows signs of maturity, the palate is vibrant and still youthful. It has huge potential, but it's already complex and delicious to the point I want to drink more just now.
Sadie Family
Eben Sadie from The Sadie Family Wines is a true legend in the world of winemaking. He has a fascinating story that has taken him all over the world, honing his craft and learning from the best. Eben graduated from Elsenburg College in 1994 and began his journey throughout Germany, Austria, Italy, France, Spain, the United States, and South Africa, always seeking to learn and improve his skills.
Re-evaluation of Swartland began in the late 1990s when Charles Back of Fairview set up the Spice Route. In 1998, Eben joined Spice Route as head winemaker. During his time there, he gained valuable experience and developed his style. Eben was quick to realise Swartland's potential and, in 2000, produced his groundbreaking Syrah-based blend, Columnela.
Over the years, Eben has built a reputation for crafting exceptional wines that truly showcase the unique terroir of the Swartland. His passion for winemaking and dedication to quality has earned him numerous accolades, including being named Winemakers' Winemaker in 2017.
If you look at old wines from the Swartland you'll realise that we don't really have to reinvent anything, we should just go and harvest the good, old things that were already there. The Swartland really is one of those places where you can say what we have is fantastic, what we have is enough – there is nothing better out there. Our soil is remarkable and while our climate is a bit tough at present due to the drought, this place is thoroughly amazing.

— Eben Sadie
In addition to his stellar Columella and Palladius blends, Eben is renowned for his Old Vine Series, which he started working on in the second decade of the winery's life. The Old Vine Series consists of eight distinct wines - Skurfberg, 'T Voetpad, Pofadder, Kokerboom, Mev. Kirsten, Soldaat, Treinspoor, and Skerpioen. The grapes are sourced from some of the oldest vineyards in South Africa, located throughout the Swartland, with one or two falling outside the region's official borders.