Type

white still, dry

Region

WO Swartland, South Africa

Producer

Vintage

2018

Grapes

Chenin Blanc, Palomino

Alcohol

12.5

Sugar

1.5

Price

1600 UAH, 1050 UAH

Cellar

not available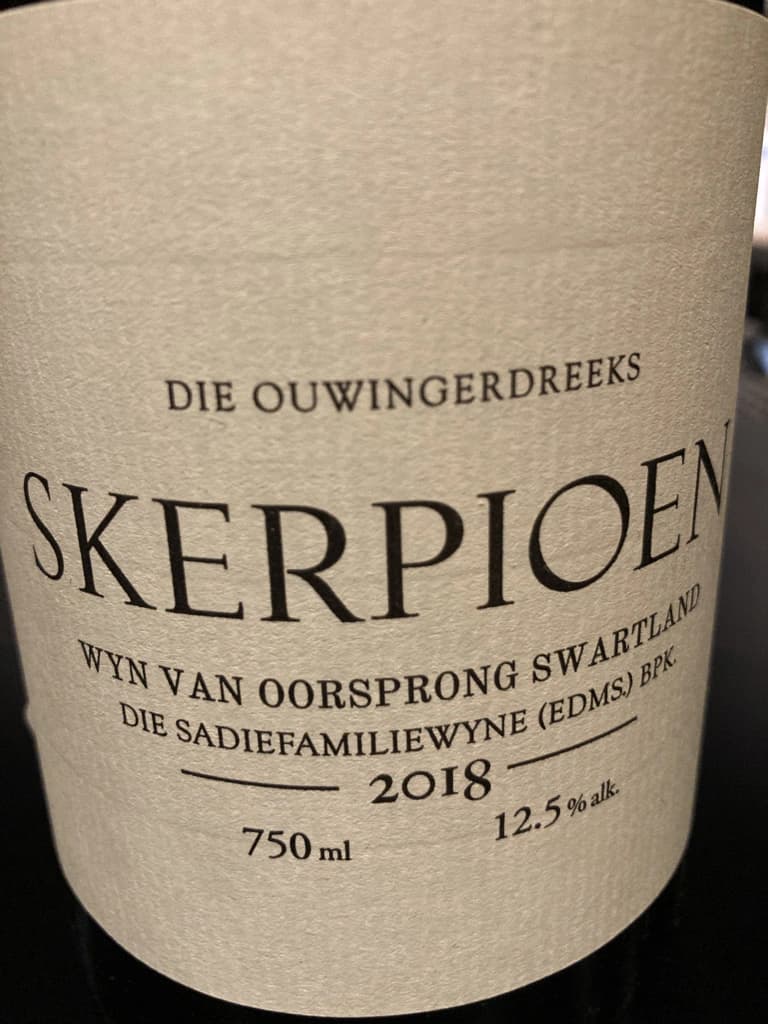 Ratings
8.50 / 10·750 ml·@Yellow Place Letka
An incredible blend of Chenin Blanc and Palomino. It didn't change much over the last two years, but it became more nuanced and sophisticated. Oxidized quince, quince jam, petroleum, shells, flint, white flowers… Oh là là! It's a beautiful, delicate and balanced wine. It has everything to develop over time, but it's so enjoyable at this moment!
8.50 / 10·750 ml
Old vines, Chenin Blan and Palomino. Very interesting and sophisticated wine. Melon, gooseberry, grapefruit, shells, smoke, flint and white flowers. I love the evolution of taste in this wine with its long aftertaste. That rare case when winery deserves all the hype and fuss around.
Sadie Family
Eben Sadie from The Sadie Family Wines is a true legend in the world of winemaking. He has a fascinating story that has taken him all over the world, honing his craft and learning from the best. Eben graduated from Elsenburg College in 1994 and began his journey throughout Germany, Austria, Italy, France, Spain, the United States, and South Africa, always seeking to learn and improve his skills.
Re-evaluation of Swartland began in the late 1990s when Charles Back of Fairview set up the Spice Route. In 1998, Eben joined Spice Route as head winemaker. During his time there, he gained valuable experience and developed his style. Eben was quick to realise Swartland's potential and, in 2000, produced his groundbreaking Syrah-based blend, Columnela.
Over the years, Eben has built a reputation for crafting exceptional wines that truly showcase the unique terroir of the Swartland. His passion for winemaking and dedication to quality has earned him numerous accolades, including being named Winemakers' Winemaker in 2017.
If you look at old wines from the Swartland you'll realise that we don't really have to reinvent anything, we should just go and harvest the good, old things that were already there. The Swartland really is one of those places where you can say what we have is fantastic, what we have is enough – there is nothing better out there. Our soil is remarkable and while our climate is a bit tough at present due to the drought, this place is thoroughly amazing.

— Eben Sadie
In addition to his stellar Columella and Palladius blends, Eben is renowned for his Old Vine Series, which he started working on in the second decade of the winery's life. The Old Vine Series consists of eight distinct wines - Skurfberg, 'T Voetpad, Pofadder, Kokerboom, Mev. Kirsten, Soldaat, Treinspoor, and Skerpioen. The grapes are sourced from some of the oldest vineyards in South Africa, located throughout the Swartland, with one or two falling outside the region's official borders.