Sogno Blanc de Blancs Pas Operé - 2014
8.50 / 10
Type

white sparkling, brut-nature

Region

Vino (IT), Italy

Producer

Vintage

2014

Disgorged

2018-08-09

On lees

44 months

Grapes

Chardonnay

Alcohol

12

Sugar

1

Price

1790 UAH

Cellar

not available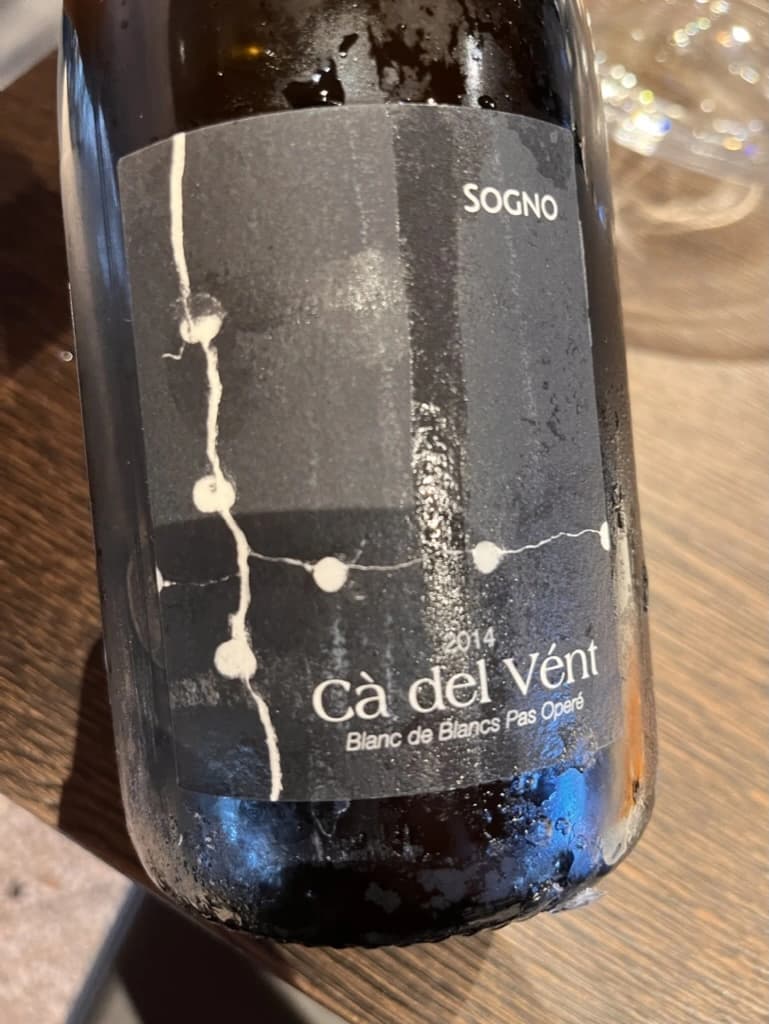 Ratings
8.50 / 10·750 ml·@Garage
It's not a secret that I love this winery. So you can imagine how happy I am to taste one more beautiful traditional sparkling crafted by Cà del Vént. Just like Lassaigne wines, it has some notes of pickles, but in this case - pickled apples. Some of them are not pickled but baked. Brioche, almond, white flowers, yeast. I love this expressive yet sincere and well-balanced style.
Cà del Vént
Cà del Vént has a humble story that officially started in 1994. With no equipment, just in the garage, they handcrafted 5 barrels of Clavis, red wine from autochthonous varieties. It was made just for personal consumption. As they admitted, likely due more to luck than actual ability, their first wine, Clavis 1996, turned out to be incredible.
Only in 2001 did they buy a small pneumatic press to vinify the first 2000 bottles of Franciacorta. Yet they didn't like the result as the wine lacked elegance and the oak flavours were too obvious and heavy.
After gaining experience, the property reaches 6.5 hectares merging some neighbouring vineyards. And so they move from an amateur to a small winery.
As you might know, to be allowed to write any designation like Franciacorta DOCG, you have to pass an evaluation by the tasting commission. In 2015 Cà del Vént was rejected because its wines did not suit the appellation standards. Formally commission said that these wines are too rich and complex. Since then Cà del Vént is not bound by any restrictions other than its own. High standards, and a strong identity made by the soil and the season.