El Bandito I Wish I was a Ninja - 2021
7.20 / 10
Type

white sparkling, brut-nature

Region

WO Swartland, South Africa

Producer

Vintage

2021

Grapes

Colombard

Alcohol

8.5

Sugar

unknown

Price

820 UAH

Cellar

not available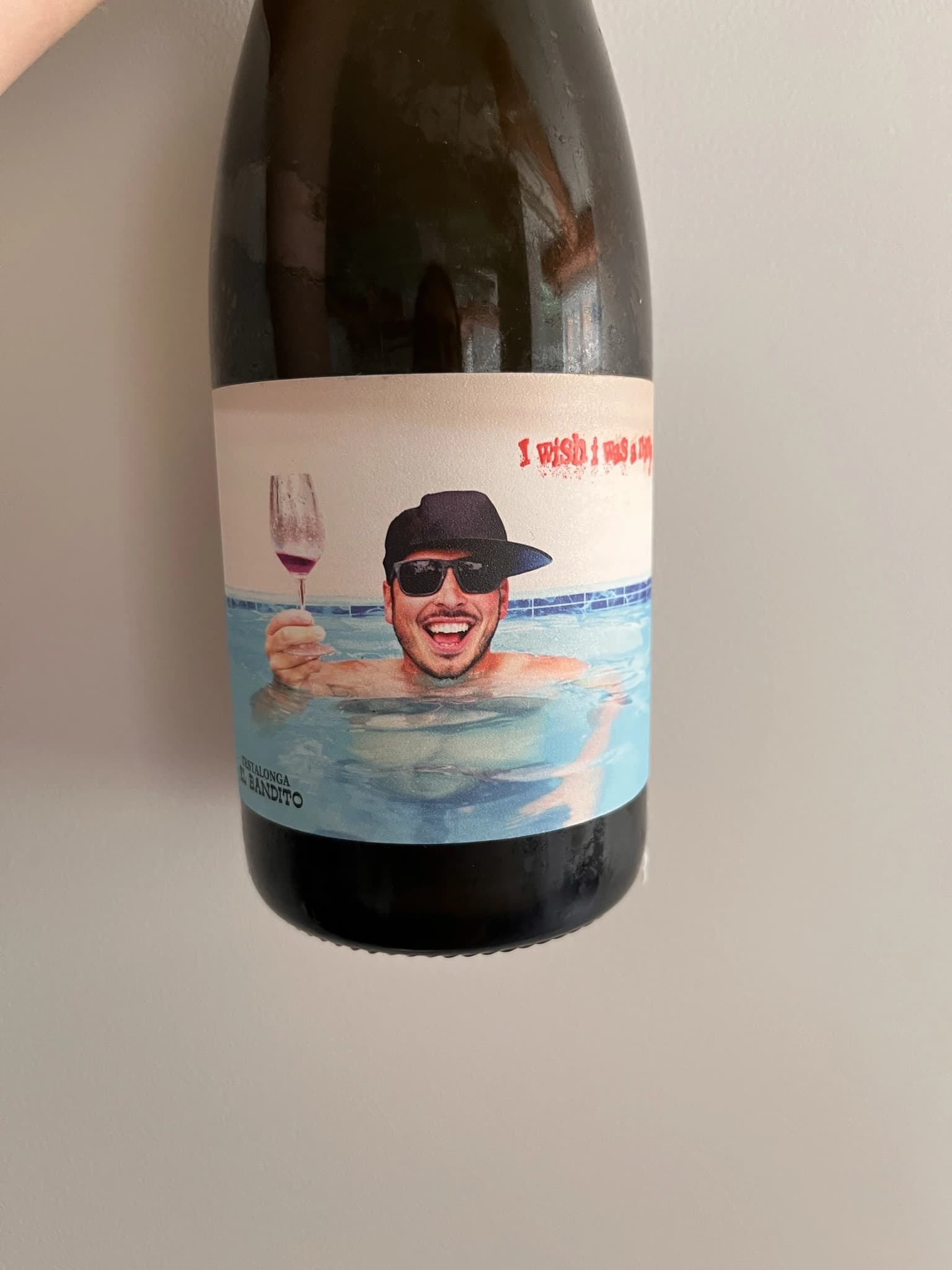 Ratings
7.20 / 10·750 ml·@Wix Kyiv Office · A taste of Chenin Blanc
Warning, you may turn into a character from the label just from one sip. Highly enjoyable, pear cider, lollipop, and bread. Friendly, approachable, and easy to go. Flavours of lemon, and green apple. Light 8.5 abv it has its price - off-dry palate. Some like it, and some do not. But at least it turns this wine into amazing pair for Asian cosine.
Wine #1 on A taste of Chenin Blanc event.
Testalonga
Craig & Carla Hawkins, without any doubt, are revolutionizing the South African wine industry. After long years of traveling around the world and making wines in known and established wineries (like Matassa and Niepoort Vinhos S.A.), Craig came to Swartland to work for Eben Sadie in 2006. Carla has been here since 1997.
Testalonga was established as a side-line in 2008. They produced 2 barrels of macerated Chenin Blanc. It is considered the first macerated wine in the whole of South Africa. They had to fight for the right to export their wines as regulators were against letting these wines out to the market. All those sediments and other traces of low intervention winemaking were quite suspicious back then. No surprises here, they figured that out. And today Craig and Carla are famous in the wine world.
In the 2015 they bough Bandits Kloof farm in the northern mountains of Swartland. Climate is similar to Sicilian, so they planted Frappato, Macabeo, Carignan, Mataro, Grenache and Garnacha Blanca.
Wines are not the only thing one can appreciate about Testalonga. Most of their bottles wear catchy labels of high-quality (e.g. paper and printing quality). It turns out Craig designs them all. He did art at school, but today he lacks time to paint. So he turned the labels into a canvas. Most of them are photos that friends or family have taken, which Craig then plays around to create various labels.
The Baby Bandito range was first released in 2015. All it requires is a proper label. And luckily, Craig found a perfect image in his brother's new house. The Baby Bandito photo is a picture his brother took of some street art in Cambodia. Craig just played around with it to make the little girl the focal point of the image, as she has a plaster on her finger. In addition, Craig overlaid it with quotes by Banksy - Keep on Punching, Stay Brave, Follow Your Dreams, and Chin Up.