Instead of a wooden sword, the unnamed old man gives us a set of glasses. As we touch the stem, a vision strikes us. Cloaked bottles (clearly from Victoria, Nelson, Central Orago and North Canterbury) stand in a cold dark place. They chant. They whisper. They call us. They promise to show death, life and kindness. Armed and confused, we start our quest. Luckily the first chest contains a legendary artefact - Oceania of Time, a teleportation device.
---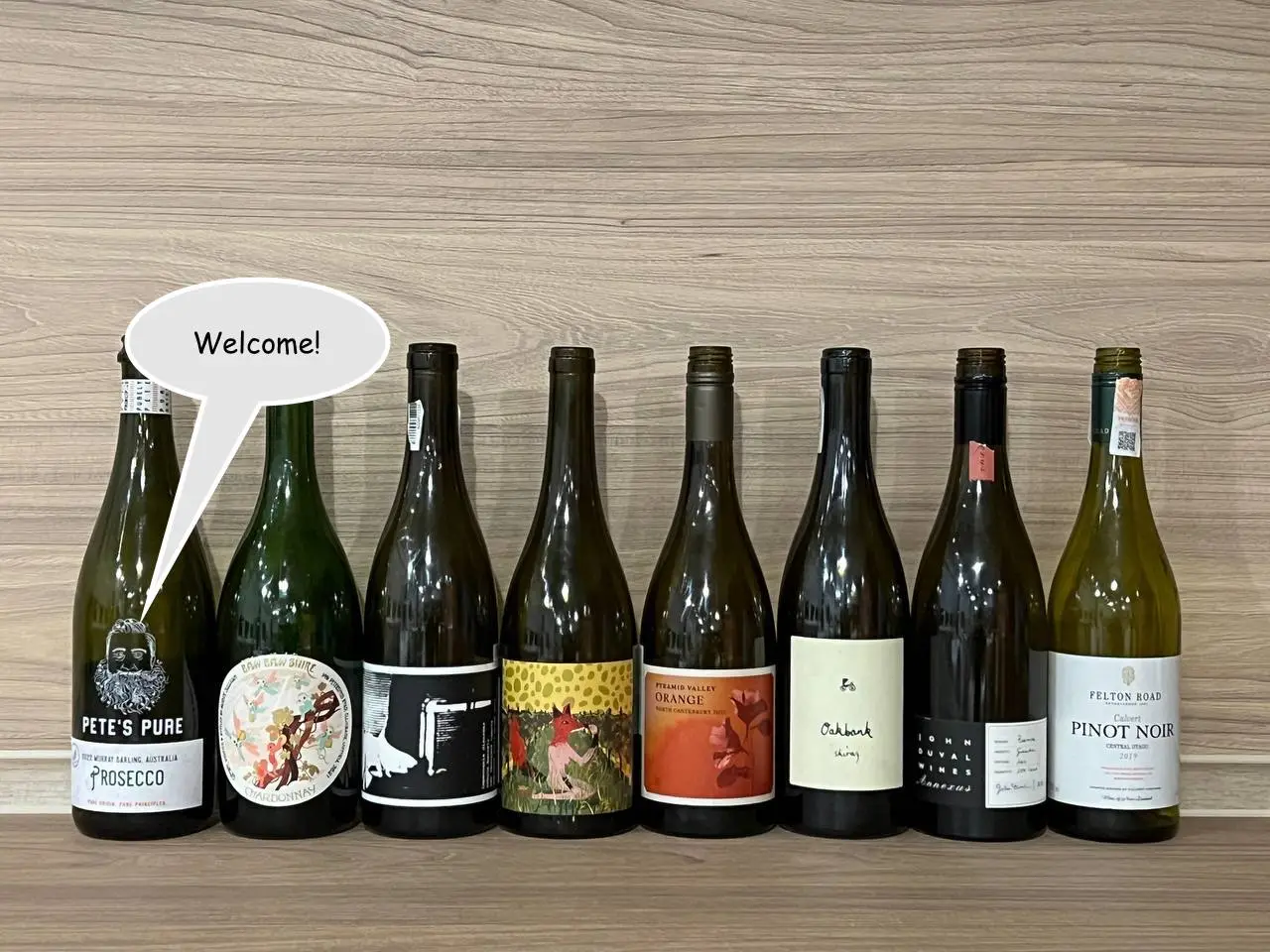 It's dangerous to go alone! Take this.

— Old Man
Instead of a wooden sword, the unnamed old man gives us a set of glasses. As we touch the stem, a vision strikes us. Cloaked bottles (clearly from Gippsland, Adelaide Hills, Nelson, Central Orago and North Canterbury) stand in a cold dark place. They chant. They whisper. They call us. They promise to show death, life and kindness. Armed and confused, we start our quest. Luckily the first chest contains a legendary artefact - Oceania of Time, equipped with teleportation magics.
Any decent device has a guide, and this one is no different. Yet it's written in gibberish. After hours spent decrypting the ancient (or futuristic) language, we conclude that our goal is to complete the following trials. For some reason, all related to wine tasting. Mystery.
Pete's Pure Prosecco NV
producer: Pete's Pure
name: Prosecco
vintage: NV
grapes: Sémillon, Chardonnay, Glera
region: Australia
location: Australia
alcohol: 9.5
sugar: 12.5
price: 498 UAH
The first wine comes as a surprise. The guide doesn't include it as a trial. But, of course, it's just a tutorial! Almost every quest of ours begins with a welcome drink. Usually, we don't include them in our reports. What's so special about this Prosecco? A combination of name and country of origin.
After all, it's a well-known fact that Prosecco is a protected name reserved for sparkling wines from northeastern Italy. But before becoming a toponym and a designated appellation in 2009, Prosecco was a grape. Seeing how this name quickly turned into a brand, winemakers from Friuli-Venezia Giulia and Veneto desired to protect it from outside usage. Some say it was to monopolise the growing market. Some say it was to protect consumers and the brand from low-quality wines. What was the genuine reason? Who knows.
The only problem was one of nomenclature. Fundamentally, wine appellations are geographically designated areas tied to place rather than grape varieties. Italian Prosecco wines had long been made from grapes widely recognised by the name Prosecco, making the term itself fair game for producers globally. Luckily for Italians, there was a tiny Italian-Slovenian border town of Prosecco.
Just overnight, Prosecco ceased to describe a grape variety and became a style of sparkling wine and a region. What about the grape name? They picked a fairly esoteric synonym for the same variety - Glera. The after-the-fact rebranding of Prosecco is considered a dick move by some. And it also creates an unhealthy precedent for other cases.
Since becoming a protected geographical designation, Prosecco became a hurdle in bilateral free trade negotiations between Australia and the European Union. And it is still a striking point, even today.
Australian winemakers have produced wines from the Prosecco grape since 2001. The grape was brought to Australia in the late 1990s by the Dal Zotto family of Valdobbiadene. It quickly became popular in the local market. Today Prosecco grapes fetch the second-highest prices of all white wine grapes. At the end of 2021, the sales value reached more than AUD 200 million (more than USD 130 million).
Patrick Sullivan Baw Baw Shire Chardonnay 2020
The first trial awaits. A familiar name with a new face. 'SHIRE! BAGGINS!', - yells a distant memory. Yet, we are in another castle. And this is our good old friend, Patrick Sullivan. We already talked a lot about him and his wines. Some were a blast, and some were shy. You know where to learn details about the producer.
The 2020 season was the first of three very wet winters, which were followed by wet springs and, at this time, two mild summers. Though yields have been low, they've delivered some very detailed, precise and complex wines, which is no small achievement. There's no doubt that these wines are the product of the extraordinarily long ripening periods we've experienced in recent times and though the 2020 harvest was extremely small – with tiny quantities of wine being made – both Megan and I are very proud of this release and know that you'll find plenty to love too.

Patrick Sullivan
Today we have Baw Baw Shire, a 100% Chardonnay from 40 years old vines of Bull Swamp vineyard on volcanic soils. The hand-harvested grapes are gently pressed by a pneumatic press. Juice is left to settle, then racked off its lees into barrels to ferment. Alcoholic fermentation takes two weeks, followed by malolactic fermentation in barrels. The wine spends 12 months in French oak barrels, 30% of which is new oak.
Ochota barrels impeccable disorder 2020
producer: Ochota barrels
name: impeccable disorder
vintage: 2020
grapes: Pinot Noir
region: Adelaide Hills
location: Australia
alcohol: 12.1
sugar: 0.6
price: 2119 UAH
Straight from Gippsland, Oceania of Time transports us to Adelaide Hills. Clearly, an impeccable disorder. Ochota barrels began as a passion of Taras and Amber during their surf trip along the Mexican west coast in a Volkswagen campervan in late 2000. After visiting several amazing wineries and beautiful surf spots, they decided to make holistic wines back in their homeland in South Australia.
Unfortunately, after a long struggle with an auto-immune-related illness, Taras passed away on October 12th 2020. Amber continues working in the winery.
The impeccable disorder is 100% Pinot Noir from a late-ripening organic vineyard in Adelaide Hills. Grapes are handpicked and fermented as whole bunches, with a few of the stalks added back to the fermentation. The grapes undergo partial carbonic maceration. The wine is pressed into seasoned French oak barrels before being bottled unfined and unfiltered, with just a small amount of SO2​. Only 448 bottles produced. Ours is #320.
Alex Craighead Kindeli Otoño 2021
producer: Alex Craighead
name: Kindeli Otoño
vintage: 2021
grapes: Riesling, Gewürztraminer, Pinot Gris
region: Nelson
location: Nelson, New Zealand
alcohol: 12.5
sugar: 1
price: 977 UAH
Some spiders have been accidentally imported from Australia by travellers, cargo ships, and other more modern forms of transport. Most of us have two legs and two hands, but that doesn't render us worse than spiders. So for our third trial, Oceania of Time takes us to Nelson, New Zealand.
Kindeli wines are the product of Alex Craighead and Josefina Venturino. Alex, born in Australia and raised in New Zealand, also has two legs and two hands. He studied wine and soon after began to travel the world to gain experience from other winemakers in various regions. That's how he met Josefina, a landscape architect from Argentina. Eventually, they moved to New Zealand.
From day zero, they were experimenting with low-intervention winemaking. In 2014 they released their first wines in Martinborough. In 2016 they moved to Nelson, where they bought an existing organic winery and vineyard. In other words, they moved from the southern part of the Northern Island to the northern part of the Southern Island. Are you confused? You shouldn't be.
On 4.5 hectares of clay soils in Upper Moutere, Alex and Josefina cultivate 14 various varieties. In addition, they lease another three vineyards totalling another 9.5 hectares.
Kindeli Otoño is a blend of Gewürztraminer (50%), Riesling (40%), and Pinot Gris (10%). Gewurztraminer was fermented on skins for five days in an amphora. After pressing, Riesling and Pinot Gris juice is added to the spent skins for a day. The wines are all blended together and age in an amphora for several months before being bottled, unfined, unfiltered, and without sulphur.
Pyramid Valley North Canterbury Orange 2021
producer: Pyramid Valley
name: North Canterbury Orange
vintage: 2021
grapes: Pinot Gris, Muscat, Sauvignon Blanc, Riesling, Gewürztraminer
region: North Canterbury
location: Canterbury, New Zealand
alcohol: 13.5
sugar: 1.1
price: 1396 UAH
Despite the long road, I still can count to four. Lucky us. The fourth trial awaits slightly to the south, in North Canterbury. We are still in New Zealand, folks. Canterbury is a funny region because its northern part is located to the north of Christchurch, while the southern part is far away, closer to Central Otago.
Pyramid Valley winery (not the valley itself) was started in 2000 by Mike and Claudia Elze Weersing. With a background in winemaking from Burgundy, Mike knew what he wanted in a vineyard site. With Claudia by his side, they've been searching for a perfect patch of earth for nearly 15 years. The Eden was here, in Waipara (aka Canterbury).
Not sure why, but in 2017 the winery was passed to Steve Smith (of Craggy Range renown) and Brian Sheth, who took over the ownership of Pyramid Valley. One of their first developments was to extend the Pyramid Valley range to a magnificent winery in Central Otago.
Yet we are here, still in Waipara. So meet nasturtium, an endemic plant. On a brooding orange palette, it looks so cool because of the cyanotype print. It's all Waipara fruit, dominantly Pinot Gris, with some Sauvignon Blanc, Riesling, Muscat, and Gewürztraminer all included. All grapes whole bunch fermented on skins for three weeks and then aged in both old barrels and clay amphora for six months.
Gentle Folk Oakbank Shiraz 2019
producer: Gentle Folk
name: Oakbank Shiraz
vintage: 2019
grapes: Syrah
region: Adelaide Hills
location: Australia
alcohol: 13
sugar: 0.4
price: 1184 UAH
The filthy development of our quest must end. Roller coaster, no more! From this point on (spoilers alert!), we are going to meet only red wines. The alcohol level grows exponentially on a logarithmic scale. And remember, seaweed is not weed.
Meet Gareth and Rainbo Belton, the country's leading experts in seaweed. They caught the wine bug a few years ago. And now they run a winery making small batches of fun and creative wines with their friends in the Basket range. Aye, we are still in Adelaide Hills. But don't worry, we are in the loving hands of Gentle Folk. Their focus is mainly on Pinot Noir and Chardonnay, but as you can deduce, they also produce Shiraz.
The grapes for this wine come from the 3.3-ha Murdoch Hill vineyard in Oakbank, planted by Michael Downer in 1998 at 390 meters above sea level. Soils are predominantly sandy loam over medium clay subsoils, with varying levels of ironstone, quartz and schist. The Oakbank area is a little warmer than some of the pockets of the Hills where Gareth grows his Pinot Noir, making it the perfect place to grow spicy, slippery, peppery cool-climate Shiraz. It's made in the same way as the Pinot Noirs with 100% whole bunches and a quarter new oak.
John Duval Annexus Grenache 2016
producer: John Duval
name: Annexus Grenache
vintage: 2016
grapes: Grenache
region: Barossa Valley
location: Australia
alcohol: 13.5
sugar: 0.4
price: 1728 UAH
John Duval is an international winemaking legend and Australian superstar. Before starting a private label, he was a winemaker at Barossa Valley winery Penfolds for 29 years (16 of them, he was a chief). John Duval is responsible for putting together Grange and his signature wine, the RWT.
For the last decade (or even more), Duval travelled around the globe producing high-quality wines in Europe, the North-West of the USA and Chile. But his heart is in the Barossa Valley. Hence his private label was born here in 2003.
Annexus Grenache is made from grapes sourced from 150+ years old low-yielding vines from Northern Barossa and Eden Valley. The wine is aged for a year in older hogsheads, so the oak impact is minimal. Only 250 cases produced.
The final trial awaits us. Don't forget to save your progress.
Felton Road Calvert Pinot Noir 2019
producer: Felton Road
name: Calvert Pinot Noir
vintage: 2019
grapes: Pinot Noir
region: Central Otago
location: Otago, New Zealand
alcohol: 13.5
sugar: 0
price: 2270 UAH
A legend. No words are needed. Yet my site design requires some text below the wine's technical information because the image doesn't look good without extra text below (check yourself, open developers tools and remove all paragraphs in this section after the image).
The grapes are destemmed directly into open-top fermenters without pumping, with approximately 25% as whole clusters. Long 10 days pre-fermentation maceration. The fermentation begins with indigenous yeasts. The grapes are punched down by hand up to two times per day with a total time on skins of 23 days. Pressed off, and barrels were filled immediately by gravity to the underground barrel cellars. The wine spent 16 months in a barrel (30% new French) with two rackings and no fining or filtration. Bottled in early September 2020.
Scores
| | rms | sdev | favourite | outcast | price | QPR |
| --- | --- | --- | --- | --- | --- | --- |
| Wine #1 | 4.0692 | 0.0206 | 5.00 | 0.00 | 1290.00 | 2.0580 |
| Wine #2 | 4.0113 | 0.0241 | 1.00 | 0.00 | 2119.00 | 1.1469 |
| Wine #3 | 3.8221 | 0.0414 | 0.00 | 4.00 | 977.00 | 1.8708 |
| Wine #4 | 4.0500 | 0.0339 | 0.00 | 1.00 | 1396.00 | 1.8425 |
| Wine #5 | 3.8978 | 0.0478 | 1.00 | 1.00 | 1184.00 | 1.7241 |
| Wine #6 | 3.9541 | 0.0325 | 1.00 | 2.00 | 1728.00 | 1.2885 |
| Wine #7 | 4.1559 | 0.0492 | 3.00 | 0.00 | 2270.00 | 1.3285 |
How to read this table:
rms is root mean square or quadratic mean. The problem with arithmetic mean is that it is very sensitive to deviations and extreme values in data sets, meaning that even single 5 or 1 might 'drastically' affect the score.
sdev is standard deviation. The bigger this value the more controversial the wine is, meaning that people have different opinions on this one.
favourite is amount of people who marked this wine as favourite of the event.
outcast is amount of people who marked this wine as outcast of the event.
price is wine price in UAH.
QPR is quality price ratio, calculated in as 100 * factorial(rms)/price. The reason behind this totally unprofessional formula is simple. At some point you have to pay more and more to get a little fraction of satisfaction. Factorial used in this formula rewards scores close to the upper bound 120 times more than scores close to the lower bound.
| | Wine #1 | Wine #2 | Wine #3 | Wine #4 | Wine #5 | Wine #6 | Wine #7 |
| --- | --- | --- | --- | --- | --- | --- | --- |
| Oleksandr R | 3.90 | 4.00 | 3.80 | 4.20 | 3.70 | 4.20 | 4.20 |
| Ivietta K | 4.30 | 3.90 | 4.00 | 4.20 | 4.10 | 4.20 | 4.40 |
| Dmytro D | 4.10 | 4.10 | 3.50 | 3.80 | 3.70 | 3.80 | 4.00 |
| Anna Kh | 4.30 | 4.00 | 3.80 | 3.90 | 4.25 | 4.10 | 4.50 |
| Rostyslav Ya | 4.00 | 4.20 | 4.00 | 3.80 | 4.15 | 4.10 | 4.30 |
| Dimitry G | 3.80 | 3.90 | 3.50 | 4.30 | 3.50 | 4.00 | 4.30 |
| Oleksandr Ya | 4.00 | 4.00 | 3.80 | 4.00 | 4.00 | 3.90 | 4.00 |
| Elvira K | 4.20 | 4.10 | 4.00 | 4.20 | 4.00 | 3.90 | 3.90 |
| Andrii K | 4.00 | 3.70 | 3.60 | 3.80 | 3.70 | 3.70 | 3.70 |
| Mariia S | 4.00 | 3.80 | 3.80 | 4.05 | 3.90 | 3.90 | 4.00 |
| Inna S | 4.10 | 4.20 | 4.20 | 4.30 | 3.70 | 3.60 | 4.30 |
| Boris B | 4.10 | 4.20 | 3.80 | 4.00 | 4.00 | 4.00 | 4.20 |
Resources