A wine tasting event dedicated to wines from Sicily.
---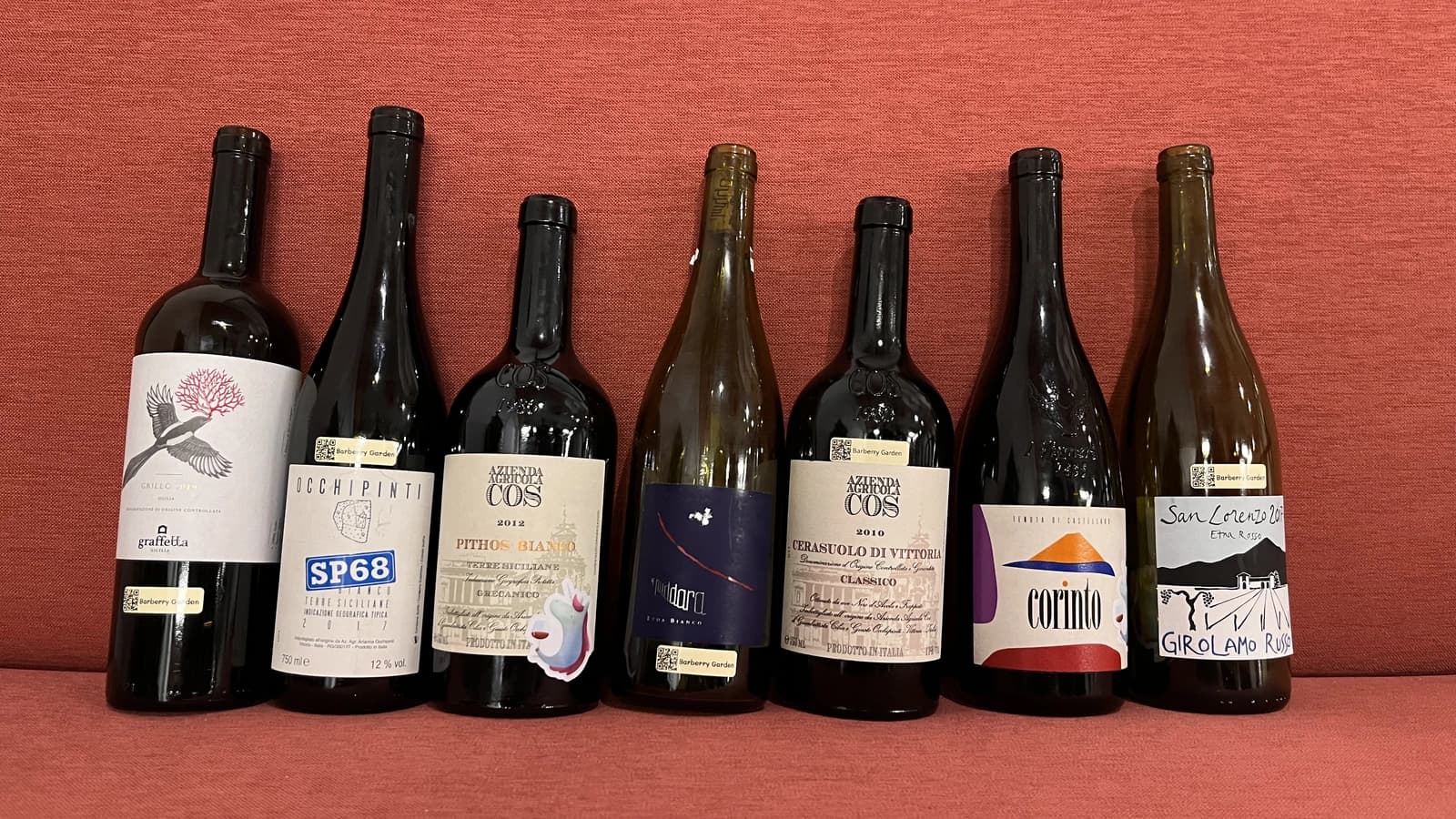 One of my favourite parts of growing anything is the moment it sprouts. You feel relief. But you also hear the fear beating somewhere in the back of your heart. Cause the sprout is only beginning. Your decisions affect its life in non-binary ways. And I can say the same about our wine-tasting events. We plant the idea. And it grows. I know, I know. This mumbo-jumbo sounds like a dumb quote from social media. But Sicily has a special meaning for me. So I get sentimental when it comes to this topic. You see, I want to share my personal and sometimes highly intimate perception of this land and its people.
So what's the deal with this seed and sprout business? There was an idea to gather for a wine-tasting event dedicated to Sicilian wines, but instead, we have two. Making a blind copy was not an option for me. Partially because some of the bottles are not available anymore. But also because different participants have different tastes. Yet despite all Sicilian diversity, the Ukrainian market has its own state. And all things considered, I decided to repeat two bottles. A'Puddara - because several people became curious about it after reading our notes from the previous event. And Corinto because Aeolian islands deserve to be present at every event dedicated to Sicily.
How come there is no Gulfi on this list? No spoilers, but we are going to taste a few vintages of Carjcante soon. So we'll get our share of fun. Stay tunned for announces.
Graffetta Grillo 2019
producer: Graffetta
name: Grillo
vintage: 2019
grapes: Grillo
appellation: Sicilia DOC
location: Segesta area, Trapani province, Western Sicily, Italy
alcohol: 13.5
sugar: N/A
price: 890 UAH
Graffetta Estate is located in the municipality of Ispica (Ragusa province), bordering Noto and Modica, the most authentic Sicilian baroque towns. The winery was established in 2004 with 22 hectares of vineyards located 40 meters above sea level. Aye, it's not as cool as Gulfi vineyards in Pachino, but still.
Attentive readers could notice that this Grillo doesn't come from Ragusa province but instead from the Segesta area in Trapani province. Segesta was one of the major cities of the Elymians, one of the three indigenous peoples of Sicily. Today this place is more known for the temple (almost) built on a hill just outside the site of the ancient city. The story is not very clear. It seems that the construction of the temple began in 420s BC, but it was never finished. And somehow, it managed to escape destruction by the Carthaginians in the late 5th century.
Anyways. This Grillo comes from 12 years old vines from a 4 ha plot in hilly soil, rich in rock fragments with surface rocks at 600 meters above sea level. The fruits ferment at 18 degrees for 10-12 days. Malolactic fermentation happens in steel, where the wine ages for a short time.
A round and pleasant start to the evening. And a good example of mainstream Grillo.
Arianna Occhipinti SP68 Bianco 2017
producer: Arianna Occhipinti
name: SP68 Bianco
vintage: 2017
grapes: Zibibbo, Albanella
appellation: IGP Terre Siciliane
location: Vittoria, Ragusa province, South-Eastern Sicily, Italy
alcohol: 12
sugar: 0
price: 836 UAH
Arianna Occhipinti is a winemaker from Vittoria who founded her own winery in 2004, bottled her first commercial vintage in 2006 and today works exclusively with estate fruit. She embraced winemaking thanks to her uncle, Guisto Occhipinti, proprietor of Vittoria's most famous winery, COS. At the age of 16 years, Arianna started to help him in the cellars. She loved this experience so much that her future connected to wine tightly.
After graduating from oenology school, Arianna started with only 1 hectare of abandoned vines attached to a family vacation house. Over the years, she acquired 25 hectares featuring only autochthonous varieties - 50% Frappato, 35% Nero d'Avola and 15% white varieties Albanello and Zibibbo. Almost all vines are young because Arianna planted them on her own. But she also added to her holdings 60 years old albarello-trained vines, which she initially rented.
SP68 is the name of the road that cuts through Arianna's original vineyard in Vittoria. This road has existed for hundreds of years already. And the wine acquired this name because Arianna sees wine as a journey.
It's a 60-40 blend of Zibibbo and Albanello from 15 years old vines growing on red sands and chalk soils. The fruits are destemmed and co-fermented with indigenous yeasts in concrete tanks with two weeks long maceration. After that, the wine ages for 6-8 months in concrete tanks.
COS Pithos Bianco 2012
producer: COS
name: Pithos Bianco
vintage: 2012
grapes: Grecanico
appellation: IGP Terre Siciliane
location: Fontane, Vittoria, Ragusa province, South-Eastern Sicily, Italy
alcohol: 10.5
sugar: 1
price: 2489 UAH
After spending some time with Arianna Occhipinti, let's give a visit to her uncle, Guisto Occhipinti. Azienda Agricola COS was founded in 1980 by three friends: Giambattista Cilia, Giusto Occhipinti, and Cirino Strano. The name is just an acronym of their family names (in case you didn't notice).
COS started its adventure with biodynamic farming and neutral terracotta vases. In 2007 (after moving to a new location), they decided to get rid of all their oak barrels in favour of 150 huge amphoras.
Pithos Bianco is 100% Grecanico growing at 230 meters above sea level on red soils of limestone-siliceous nature. The average age of vines is 12 years. The fruits were fermented spontaneously in terracotta amphorae (as the name suggests) on the skins with indigenous yeasts. Aged for an undefined amount of time in amphora.
Tenuta di Fessina A'Puddara Etna Bianco 2010
producer: Tenuta di Fessina
name: A'Puddara Etna Bianco
vintage: 2010
grapes: Carricante
appellation: Etna DOC
location: Contrada Manzudda, Biancavilla, Etna, Sicily, Italy
alcohol: 12.5
sugar: N/A
price: 2190 UAH
Mount Etna. Crazy winemaking region with its charm, elegance, beauty, and, most importantly, character. A place to visit, to fall in love with, and stay for the rest of your life. After visiting Sicily in 2006, Silvia Maestrelli decided to start a new phase in her life. And after lengthy negotiations with numerous landowners, she started Tenuta di Fessina on the slopes of Etna mountain. Since its start in 2007, Silvia Maestrelli was trying to combine the sensitivity of a "feminine" oenological vision with the unquestioned technical skills of consultants and collaborators.
A'puddara (a pole star) is an ode to Carricante, a guiding star of Mount Etna. The 2 ha vineyard was planted in 1950 at 900 meters above sea level. It is located in the Biancavilla production area (southern parts of the volcano), Contrada Manzudda. This area is composed of small volcanoes and crates from remote eras. They led to the formation of limestone caves and a terroir composed mainly of clayey particles, lapilli leftovers, sand and volcanic ash. There are tiny fractions of potassium, basaltic lavas and ancient tuffs. Combined with thermic excursion and the high rates of the genotypic acidity of the indigenous grapes (including Carricante), it is believed that the terroir produces wines with great ageing potential. Well, we have an opportunity to check it.
The fruits are crushed without de-stemming and softly pressed with separation of the musts. After cold static decantation, the wine is fermented in 3500-litre French oak barrels. Refined on lees for 6-8 months. Total production is relatively small - 6000 regular and 150 magnum bottles.
COS Cerasuolo di Vittoria Classico 2010
producer: COS
vintage: 2010
grapes: Nero d'Avola, Frappato
appellation: Cerasuolo di Vittoria DOCG
location: Vittoria, Ragusa province, South-Eastern Sicily, Italy
alcohol: 13
sugar: 1
price: 3032 UAH
The trio is known for the transformation of Cerasuolo di Vittoria wine from DOC to DOCG level (the only one on the island), as their 2005 release was the first to bear the new designation. So today, we also have a bottle of Cerasuolo di Vittoria Classico made in amphoras. A 60-40 blend of Nero d'Avola and Frappato growing at 230 meters above sea level on red soils of limestone-siliceous nature. The average age of vines is 25 years. Yet there is a strange thing that apparently can be explained by the outdated state of the site. According to their site, the wine was aged in Slavonian barrels. Where do they come from if COS got rid of all barrels? Mystery, isn't it? In any case, technical information is scarce. So the only real source is the wine itself.
Tenuta di Castellaro Corinto 2017
producer: Tenuta di Castellaro
name: Corinto
vintage: 2017
grapes: Corinto
appellation: IGP Terre Siciliane
location: Lipari, Aeolian Islands, Lipari, Northern Sicily, Italy
alcohol: 13
sugar: N/A
price: 1250 UAH
Now let me ask you a question. What do you know about winemaking on the Aeolian Islands? A volcanic archipelago in the Tyrrhenian Sea north of Sicily, best known for Stromboli and Lipari. But wines? Tenuta di Castellaro is probably the only winery known outside of this land. Alright, alright. We already tasted this particular wine on 2nd November 2021 as part of the first Il Pirata. So some of you are not amazed at all. Still…
Massimo Lentsch and Stefania Frattolillo, entrepreneurs from Bergamo (Lombardy), simply fell in love with Lipari and decided to create a work of art here. The winery came to life in 2005. They invited Alessandro Zanutta, an agronomist from Collio, and Emiliano Falsini, a winemaker from Tuscany. You see, it's all about coming there and not being able to fleet.
Today we have a bottle made of Corinto Nero. It is a rare grape that originates from Greece, though today, it also grows in Turkey and the Po Valley in Emilia-Romagna. As they joke, this bottle exists only thanks to eno-archeology. The vines grow at 350 meters above sea level on sandy, volcanic, deep and fertile soils rich in microelements. The grapes are handpicked and destemmed. Vinification happens in French oak barrels with maceration for about 10 days. After that, the wine is poured into 500L barrels where malolactic fermentation takes place and is then aged for at least one year prior to bottling.
Girolamo Russo Etna Rosso San Lorenzo 2017
producer: Girolamo Russo
name: Etna Rosso San Lorenzo
vintage: 2017
grapes: Nerello Mascalese
appellation: Etna DOC
location: Randazzo, Etna, Eastern Sicily, Italy
alcohol: 14.5
sugar: 1
price: 1578 UAH
Making wine on the slopes of Mount Etna is an intensely personal, profound and ongoing act of love.
A friend of mine once said that all people divide into two categories: those who live in Valais and those who want to live there. I have never been there, but I understand this appreciation of the land you live in. And I think the same applies to Etna, at least to some extent. Unlike Silvia Maestrelli, Giuseppe Russo is affiliated with Etna by the right of birth. A graduate of the Humanities with a Diploma in piano, he re-established the family winery in 2005 and dedicated it to the memory of the late father, Girolamo. Their vineyards cover 18 hectares, surrounded by hazelnut and olive groves.
San Lorenzo is set outside Randazzo on the lower slopes of the volcano, 700 to 800 meters above sea level. The contrada is named after the cult of St. Lawrence. The wine is a blend of Nerello Mascalese with a tiny bit of Nerello Cappuccio. The 70 to 100 years old vines grow on volcanic (who would guess?) and sandy soils rich in minerals. Spontaneously fermented with indigenous yeasts. Macerated for 15 days and aged for 18 months in used 2600L oak casks. A relatively tiny production, only 4000 bottles yearly.
Scores
| | Wine #1 | Wine #2 | Wine #3 | Wine #4 | Wine #5 | Wine #6 | Wine #7 |
| --- | --- | --- | --- | --- | --- | --- | --- |
| Daria B | 3.70 | 3.80 | 4.00 | 4.10 | 4.00 | 4.00 | 3.80 |
| Oleksandr R | 3.90 | 3.80 | 4.00 | 3.60 | 4.10 | 4.10 | 3.60 |
| Andrii S | 3.60 | 3.70 | 4.10 | 4.40 | 4.20 | 4.00 | 3.70 |
| Viktoriya Zh | 3.70 | 4.00 | 3.80 | 4.40 | 4.10 | 4.30 | 4.00 |
| Tetiana S | 3.80 | 3.80 | 3.60 | 4.00 | 3.70 | 4.20 | 4.00 |
| Dmytro S | 3.90 | 3.60 | 4.10 | 4.00 | 4.10 | 4.20 | 4.00 |
| Olena M | 3.30 | 3.40 | 4.10 | 4.10 | 4.20 | 3.90 | 4.00 |
| Oleksii K | 3.40 | 3.60 | 4.20 | 4.10 | 4.00 | 3.60 | 3.70 |
| Oleksandr Ya | 3.70 | 3.80 | 4.20 | 4.00 | 4.10 | 4.00 | 3.60 |
| Elvira K | 3.70 | 3.80 | 4.10 | 4.30 | 4.00 | 4.10 | 3.80 |
| Yulia Sh | 3.90 | 3.00 | 3.40 | 3.85 | 4.60 | 4.10 | 4.30 |
| Boris B | 3.80 | 3.90 | 4.20 | 4.20 | 4.50 | 4.00 | 4.20 |
| | rms | sdev | favourite | outcast | price | QPR |
| --- | --- | --- | --- | --- | --- | --- |
| Wine #1 | 3.7045 | 0.0333 | 0.00 | 2.00 | 890.00 | 1.7339 |
| Wine #2 | 3.6921 | 0.0647 | 1.00 | 3.00 | 836.00 | 1.8022 |
| Wine #3 | 3.9908 | 0.0597 | 3.00 | 2.00 | 2489.00 | 0.9404 |
| Wine #4 | 4.0933 | 0.0476 | 3.00 | 0.00 | 2190.00 | 1.2513 |
| Wine #5 | 4.1394 | 0.0506 | 4.00 | 0.00 | 3032.00 | 0.9695 |
| Wine #6 | 4.0453 | 0.0291 | 1.00 | 1.00 | 1250.00 | 2.0447 |
| Wine #7 | 3.8978 | 0.0474 | 0.00 | 4.00 | 1578.00 | 1.2936 |
How to read this table:
rms is root mean square or quadratic mean. The problem with arithmetic mean is that it is very sensitive to deviations and extreme values in data sets, meaning that even single 5 or 1 might 'drastically' affect the score.
sdev is standard deviation. The bigger this value the more controversial the wine is, meaning that people have different opinions on this one.
favourite is amount of people who marked this wine as favourite of the event.
outcast is amount of people who marked this wine as outcast of the event.
price is wine price in UAH.
QPR is quality price ratio, calculated in as 100 * factorial(rms)/price. The reason behind this totally unprofessional formula is simple. At some point you have to pay more and more to get a little fraction of satisfaction. Factorial used in this formula rewards scores close to the upper bound 120 times more than scores close to the lower bound.
Resources