Type

white sparkling, extra-brut

Region

Champagne, France

Producer

Vintage

NV, based on 2018

Disgorged

2023-02

On lees

~45 months

Grapes

Chardonnay

Alcohol

12.5

Sugar

4.8

Price

2780 UAH, 3250 UAH

Cellar

not available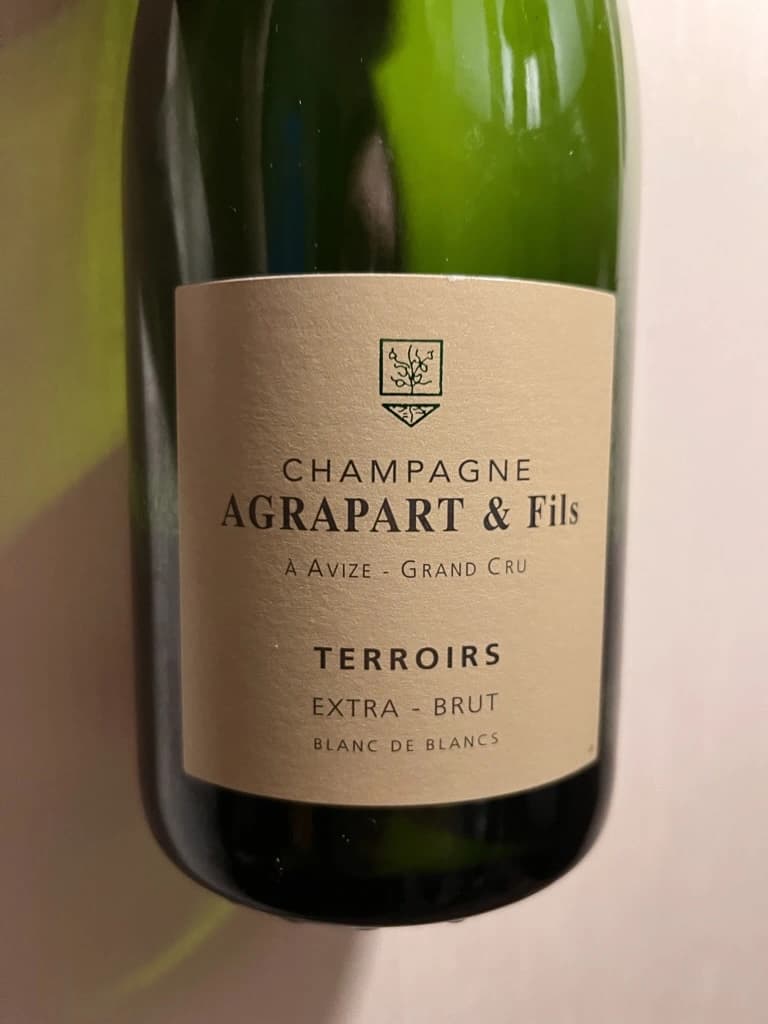 Ratings
8.25 / 10·750 ml·@Andrii Sierkov · Home Party Vol. 3
Gorgeous wine. A beautiful bouquet of wet chalk, white flowers, apple seeds, lemon, caramelised fruits and Jerez. Boy, and how well-structured it is. Pure joy! Persistent aftertaste - bone dry and chalky.
Wine #3 on Home Party Vol. 3 event.
Agrapart
Agrapart et Fils, led by the fourth-generation vigneron Pascal Agrapart, exemplifies the fusion of traditional craftsmanship and innovative winemaking in the heart of Champagne's Côte de Blancs. Based in the village of Avize, Pascal, along with his brother Fabrice, has transformed this historic family domaine into a beacon of quality and complexity in the Champagne region.
Established in 1894 by Arthur Agrapart, the domaine has a long-standing tradition of estate bottling, a practice that predates many of the smaller grower Champagne houses. Pascal Agrapart, known for his humility and expertise, has been instrumental in shaping the domaine's reputation for producing some of the most refined and complex Champagnes in the region.
Pascal's approach to viticulture is deeply rooted in respect for the land and the vines. The vineyards, some over 70 years old, are farmed organically, a practice that Pascal views not as a marketing tool but as the correct way to farm. This dedication to organic farming is reflected in the exceptional quality of the grapes, which are predominantly Chardonnay, from the Grand Cru vineyards in the Côte de Blancs, primarily in Avize, Oger, Cramant, and Oiry.
In the cellar, Pascal's talents as a winemaker shine through. He employs indigenous yeasts for fermentation and adopts a low-intervention approach to preserve the natural character of the wines. Each parcel is vinified separately in used 600-litre barrels, and the wines are finished with minimal dosage to highlight their terroir-driven profiles.
The Agrapart range includes several distinctive cuvées, each reflecting the unique terroirs of Avize. These include the "Les 7 Crus," a blend of Chardonnay and Pinot Noir from Premier and Grand Cru vineyards, and "Terroirs," a pure expression of Grand Cru Chardonnay. The vintage-dated "Parcellaires" cuvées – "Minéral," "L'Avizoise," and "Vénus" – each capture the essence of different parts of the Avize hillside, showcasing the influence of chalky limestone and clay on the wines.
In addition to these, Agrapart produces two micro-cuvées: "Complantée," a blend of six varieties from Avize, and "Expérience," a unique cuvée made without any added yeast, sugar, or dosage. "Expérience" is a testament to Pascal's innovative spirit, only produced when conditions allow for this natural method of secondary fermentation.
Agrapart et Fils' Champagnes are renowned for their purity, elegance, and expressive minerality, making them highly sought after by connoisseurs and collectors. Pascal Agrapart's dedication to expressing the terroirs of Avize, combined with his meticulous approach in both the vineyard and cellar, has rightfully placed Agrapart et Fils among the elite producers in Champagne, continuing to inspire and lead in the region's ongoing quality revolution.