Type

red still, dry

Region

Mendoza, Argentina

Producer

Vintage

2011

Grapes

Merlot

Alcohol

14.5

Sugar

2.68

Price

929 UAH

Cellar

not available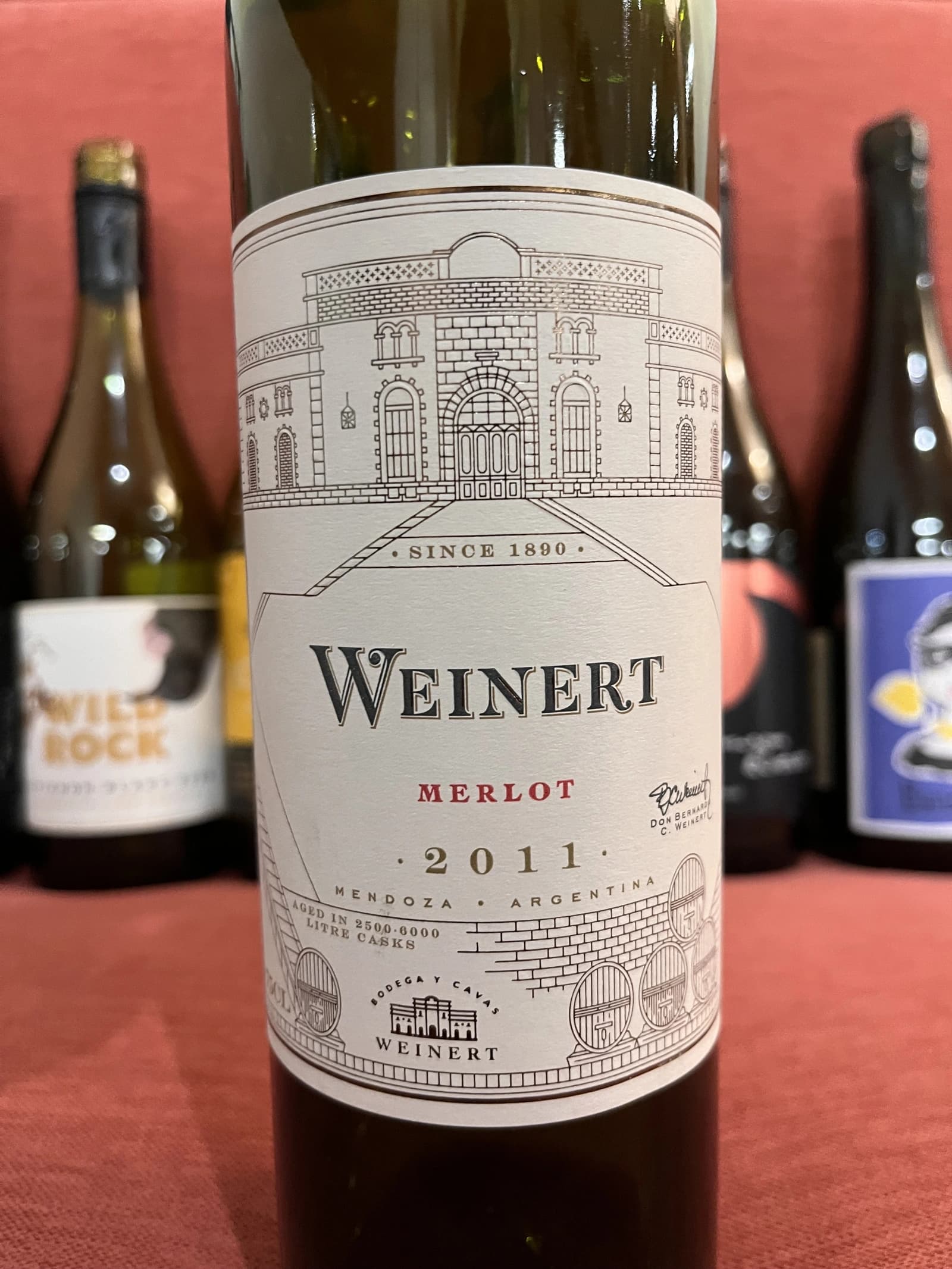 The winemaking process involves aging the wine in French oak casks ranging from 2,000 to 6,000 liters. During this period, Weber carefully selects casks to create a terroir blend of Merlot from various vineyards within Luján de Cuyo. An example of this process can be seen in a batch bottled in October 2019, which underwent eight years of oak aging. The combination of the unique terroir, extended aging practices, and the expertise of its winemakers positions Weinert as a noteworthy entity in the world of wine.
Ratings
7.75 / 10·750 ml·@Wix Kyiv Office · Norm Wines Vol. 2
This Merlot, seemingly at its peak, unfurls an enticing bouquet dominated by prunes, dark fruit jam, and balsamic nuances, with leather, wood, and subtle hints of vanilla and smoke. It presents a near full-bodied experience, underpinned by mature, well-integrated tannins and medium acidity. Offering good value for its quality, it pairs best with meat dishes, complementing their flavours.
Wine #7 on Norm Wines Vol. 2 event.
7.75 / 10·750 ml·@Kyiv
I keep repeating myself, but Weinert offers great value. Complex and mature Merlot, made in the old world style. Balsamic notes, dark berries jam, ripe decaying plum, leather, and wood. This bottle showed more energy. Full body, well balanced, round and delicious.
7.75 / 10·750 ml·@Home
Incredible value even after price adjustments. Not a simple bouquet: berries jam, ripe plum, bark, balsamic notes, and leather. Seems like it's getting close to its peak. Well-balanced, silky, mature, and deep. Medium-bodied and relatively fresh. Neat.
Weinert
Bodega & Cavas de Weinert, established by Don Bernardo Weinert, a Brazilian of German descent, is located in Luján de Cuyo, Mendoza. Before establishing the winery, Don Bernardo conducted an extensive analysis of Mendoza's climate, soil, and vines, ultimately choosing Luján de Cuyo as the ideal location for his venture. The winery, acquired in 1974, underwent significant restoration and modernization, incorporating advanced technology in its wine production processes.
A key figure in the winery's history is Rául de la Mota, renowned for his role in modernizing Argentine winemaking. De la Mota's expertise greatly influenced the winery's early development. Later, in 1996, Swiss oenologist Hubert Weber joined the team. At the young age of 27, he took on the role of the main oenologist, a position he holds to this day.
Weinert is situated in Luján de Cuyo at an elevation of 900 meters above sea level. This high-altitude region, near the Andes mountains, is conducive to producing complex and well-structured wines. Notably, Weinert has a practice of aging its wines in the bottle for extended periods before release, often offering wines that are over a decade old.