Pouilly-Loché Climat La Colonge - 2018
7.80 / 10
Type

white still, dry

Region

Pouilly-Loché AOC, France

Producer

Vintage

2018

Grapes

Chardonnay

Alcohol

12.5

Sugar

0.7

Price

1070 UAH

Cellar

not available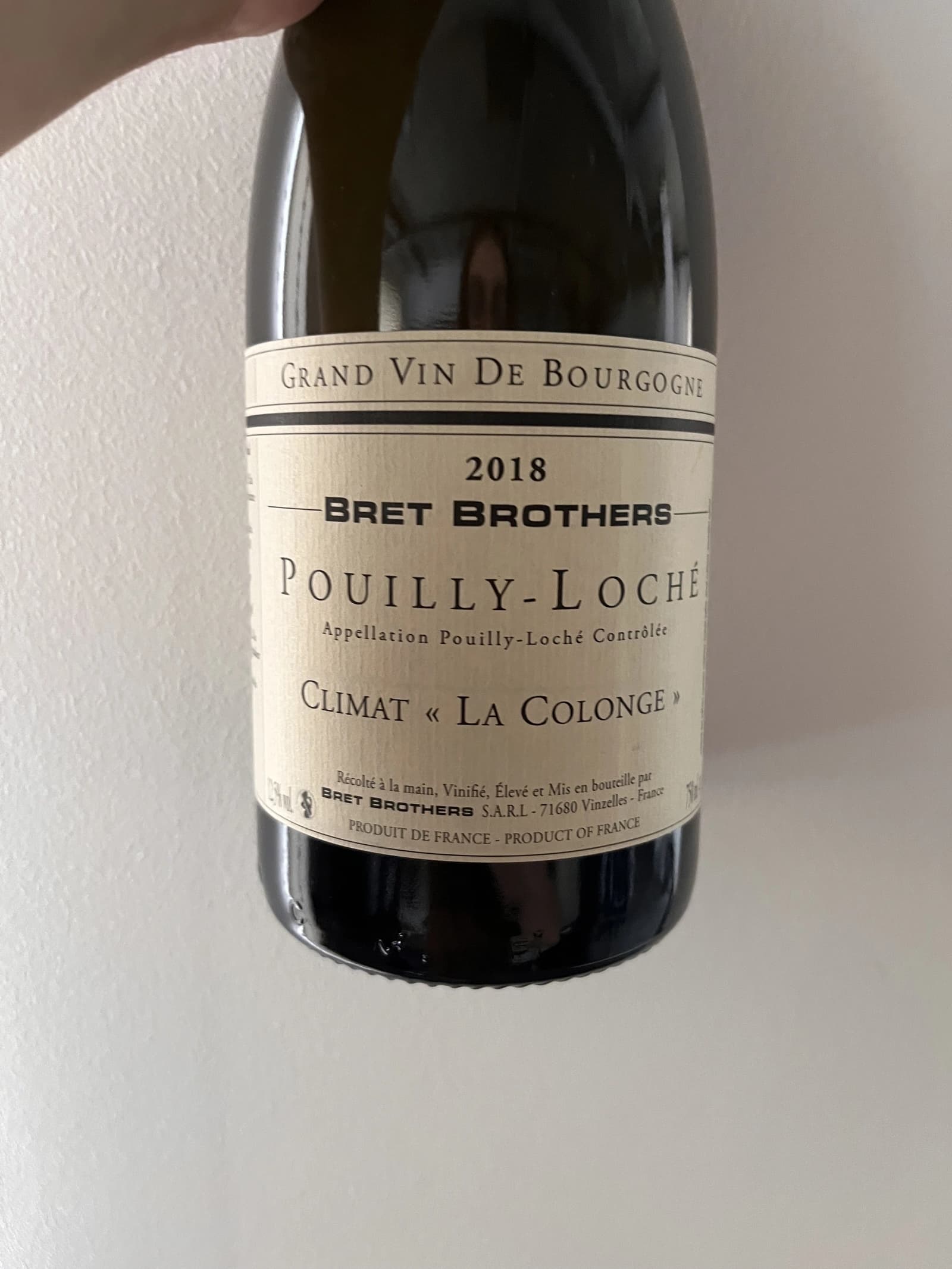 Climat La Colonge comes from a 0.35 ha plot of 35 years old vines from the Pouilly-Loché appellation (the smallest of Mâconnais). Though the real age of the vines is unclear because, unlike the website, the label talks about 45 years. Anyway, vines grow at 200 meters elevation on clay and limestone soils. 100% vinified and aged in oak barrels (228 litres each) for 11 months. 100% malolactic fermented. 2627 bottles produced.
Ratings
7.80 / 10·750 ml·@Wix Kyiv Office · Opaque Tasting Vol. 1
As good as expected. Butter, citrus, yellow fruits, and hay. Good balance, good volume, medium+ acidity. A slightly creamy palate, yet delicate, backed by minerality and citrus flavours. I didn't have enough time to assess it, so my score might be higher in a less stressful environment.
Wine #2 on Opaque Tasting Vol. 1 event.
Bret Brothers
Côte d'Or often comes to mind when you talk about Burgundy. But let's not forget that besides this golden mine, Burgundy has other wonderful regions to offer, including Chablis and Mâconnais. The latter is the home of Jean-Paul and Jean-Guillaume Bret. These brothers set up the project in 2001, intending to produce terroir wines from selected plots. Their formula is dead simple. Every wine is made of grapes from a single plot of 40+ years old vines from a single farmer. Yup, unlike their other project, La Soufrandière, they buy grapes for Bret Brothers wines.
Today they produce around 50,000 bottles in 14 different cuvées, around 8 ha. It includes grapes sourced from Beaujolais (Brouilly, Lantignié, Chénas and Juliénas). This expansion happened in 2013.