Yes, Victoria E. Torres Pecis comes from the Canary Islands, specifically from the most north-westerly island - La Palma, La isla bonita as they call it. I know, it's crazy. Western Sahara is on the same latitude! The soils are volcanic and covered with picón, the dark ashy sand. The terrain is rugged. Climatic conditions are extreme. Vineyards are constantly whipped by Atlantic winds. Yet, people grow vines here and even manage to produce wines. There are 18 winemakers on the island, but Victoria Torres Pecis is the only one exported outside Spain.
I am like the Listán Blanco. Very resistant.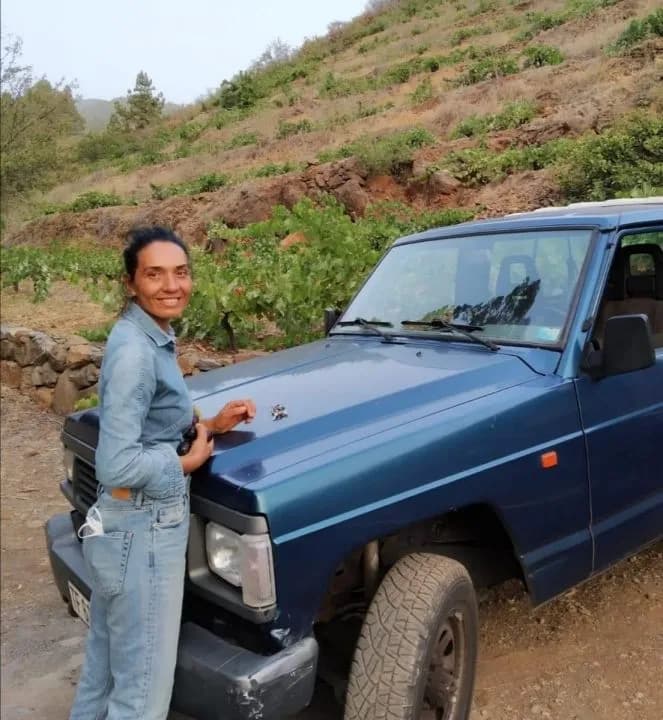 Victoria Torres Pecis is the sole owner and caretaker of her family's centenarian winery in Fuencaliente. Her father died in 2014. And since then, she has been working alone against the elements and harsh conditions of the island. Victoria learned the winemaking craft by watching her father use an old lagar (dating from 1885) to press grapes and vinify them in chestnut barrels. And not much has changed in the winery over time. It is small, with few stainless steel tanks, old American and French oak, and chestnut barrels. Only native yeasts and no temperature control.
In total, Victoria works on 4.7 hectares: 2 of them are her property, and the rest she rents. She also purchases the grapes from the farmers she works closely with. And all these vineyards are scattered around the island - from the southern tip to the west side of Roque de Los Muchachos. That also means that the altitude varies - some are at 1500 m above sea level. All vines are ungrafted (as mentioned on the labels) because phylloxera never reached The Canaries. And she works with quite old vines - some are older than 130 years!
Wines by Victoria E. Torres Pecis